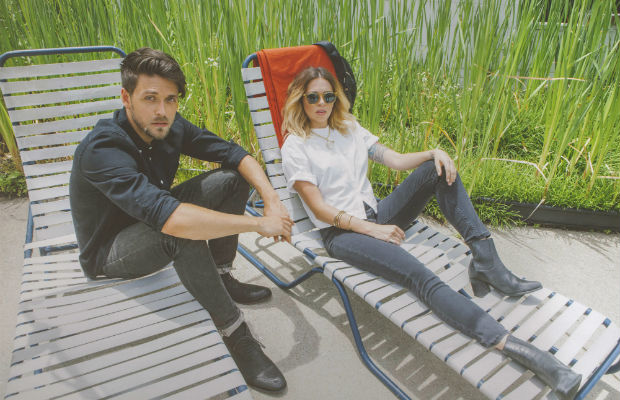 We've teamed up with local Americana duo, The Saint Johns, to give you an exclusive look into their life on the road.  We already took you to New York with the band last week, and now we join them as they continue to tour the northeast. This is the second of our three part installment, so make sure to join us next week as we wrap things up.
The Saint Johns are set to release their debut full length in early 2016, and you can get familiar with the first single, "Shadowplay" from the album here.  You should probably just open that link and listen to the single while you peruse week 2 of The Saint John's tour after the jump.
Hey Boston, we love Whole Heart!!! Uh, I mean… we love YOU with OUR whole heart!
But for real – Spindrift Seltzer Soda, if you're reading this… We love you more than La Croix.  Yea, we said it.
Thanks so much for having us Boston, you were rowdy AF, and that's why we love you.  Photo courtesy of @ginaregonini on Instagram.
Went back to NYC for the weekend for some more radio promo and a little break from things.  Lou got his hair cut by a Nashville grown, now Brooklyn's own, Tori TT Townsend.
Live from the Cutting Room on KEXP! Cross that off of our bucket list. The performance and interview were filmed and recorded and we can't wait to share.
Got to Baltimore a few hours early, and decided to spend a few hours with our fishy friends.
You know you're in Maryland when the only condiment at the Shake Shack is Old Bay Seasoning.

To get into the Halloween spirit, we've had this podcast on repeat.  High five, Aaron Mahnke, you're creepin' the shit out of us.
We've been getting lots of fun texts from our friends because "Shadowplay" has been getting some love on our wonderful local station, Lightning 100.  Thanks for the local support!
Got to spend a day at home.  Here's a pic of Jo's pumpkin and 'Hocus Pocus' in the background.  Now off to Atlanta. See ya next week for the 3rd and final installment of our tour diary.
More from The Saint Johns | Site | Facebook | Twitter |Spotify