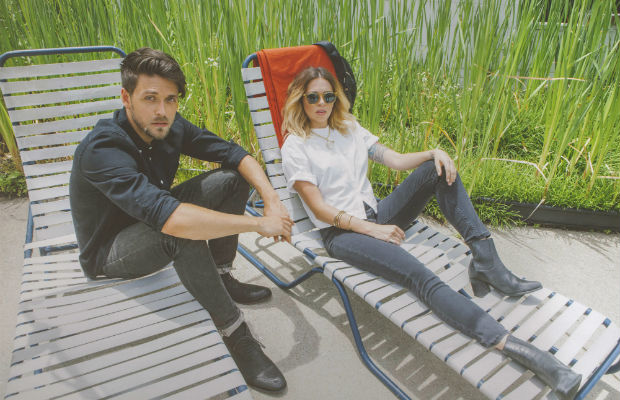 We've teamed up with local Americana duo, The Saint Johns, to give you an exclusive look into their life on the road.  This is the first of three tour diaries that we are going to share with you as they perform through the northeast and south.  The Saint Johns are set to release their debut full length in early 2016, and we recently shared the first single, "Shadowplay" from that effort.
While we wait for the new record, let's get to know The Saint Johns a little better.  Head below for photos and captions from the band's current tour.
We are officially on the road! Lou does most of the driving, but I (Jo) help I swear.
Waiting in our "green room" aka side hallway with two chairs. Very glamorous.
Got invited to a private show to see Jewel perform. She's hot and funny and her hands are not yours, they are her own.
After visiting a few radio stations around the NE- we made it to NYC. Quite the view from our managers office.
Photos with our photos are fun. Shout out to Alysse Gafkjen for her photo skills.
We played a CMJ showcase at Rockwood Music Hall.
Got to catch our buds, The Gills, melt faces at Bar Matchless. If you haven't yet-go grab their single, "Rubberband," on iTunes.
Yeezy 4 Prez
Paste Magazine session. It'll be out soon, but in the meantime you can check out Paste Magazine's premiere of Shadowplay.
So many showcases this week! We love visiting offices and hanging out.
Photo booth fun with our team- they showed us a great time this week in New York.
Here's something weird we ate. When we were done with the meat, they deep fried the skeleton, and then we ate that.
First show of The White Buffalo Tour kicked off, and we are so pumped. Photo courtesy of @maxacarr on Instagram
Loading up. New day. New city. Can't wait to meet you Boston. Till next week, No Country For New Nashville.
More from The Saint Johns | Site | Facebook | Twitter |Spotify