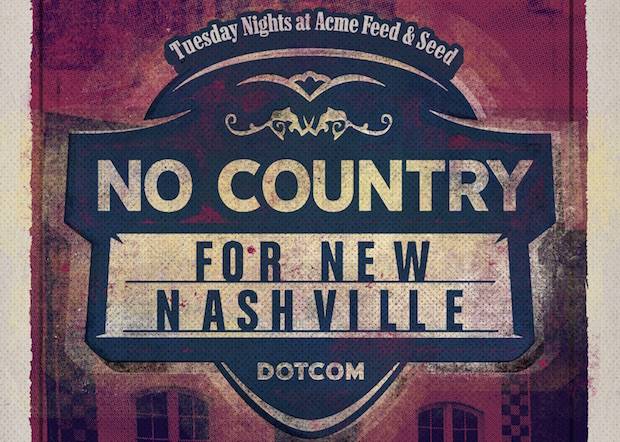 Attention all show hounds, No Country Presents' weekly showcase at Acme Feed & Seed continues to roll into fall! This Tuesday, Oct. 13 features fuzz rocker Ian Ferguson, power trio Walking Man, and pianist Zach Vinson. As we do every week, we're bringing you all this music for FREE starting around 7:30 p.m. Get there early for some Southern cookin', and to cash in on a full night of live music. For more info on the bands, please read on, and we look forward to seeing you all again on Tuesday. 
IAN FERGUSON
Back performing at our Acme Tuesday night showcase for the second time (read this post for details on his first outing), Ian Ferguson impressed us the first go round with a new backing band. Of course we recognize Ian from his time with The Kingston Springs, a local band that exploded onto the scene several years ago with their self-titled debut, before taking an indefinite hiatus in 2013, minus a performance earlier this year. With Ian's new stuff, expect the raw, bluesy, rock and roll vibes from the Springs to weave it's way into the tapestry some how. Amassing more and more performances under his solo project, Ian is probably ready to release some new material soon, so keep your eyes and ears peeled friends, or just go see him Tuesday night, and save yourself the suspense.
WALKING MAN
Starting out as a two-piece, Walking Man has exapanded to a trio, and reappeared on the scene with a recently released EP that shows them continuing to broaden their blues influenced rock sounds.  Have a listen to the single "Maybel" below to see why we are as excited to have them play at Acme as we are about the new record.
ZACH VINSON
Claming Nashville as home, via Sheboygan, WI, Zach Vinson has uniquely blended piano into indie pop-rock to dramatic effect.  His latest release, How We Spend Our Days, is just the tip of the iceberg for another talented performer who is helping to make the term Music City more than just a clever ad campaign. Get to Acme early to have a taste.
Ian Ferguson, Walking Man, and Zach Vinson will perform Tuesday, Oct. 13, at Acme Feed & Seed. The show is 21+, music begins around 7:30 p.m., and, per usual, it's totally FREE! Downtown PARKING can sometimes be an issue. However, if you're willing to walk a few blocks, street parking is typically easy to find on the numbered avenues south of Broadway or along Korean Veterans Blvd, and metered spaces are often free after 6 p.m.