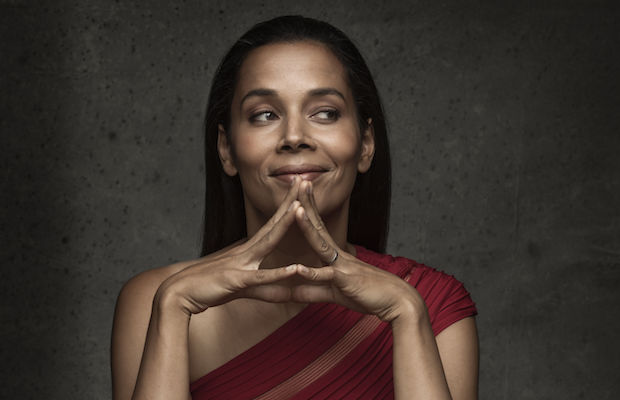 AmericanaFest may have just ended, but that doesn't mean there's no more great Americana music happening in town. We're giving away a pair of tickets to a superb roots music show Oct. 7 at Marathon Music Works featuring Rhiannon Giddens with support from the duo Birds of Chicago. Giddens is best known for her work leading the string band the Carolina Chocolate Drops, and, last year, she released her first solo record Tomorrow Is My Turn to much acclaim. The record features Giddens covering songs that were either written by or covered definitively by women in Americana she admires, including Odetta, Patsy Cline, Nina Simone, and more. Giddens is a powerful presence who oozes authenticity in her performances and has a deep knowledge of the history of American folk music, throwing everything from minstrel songs to old Gaelic tunes into her sets.
This is not a show any fan of Americana music should miss. If AmericanaFest left you a little short on cash, you can click through for a chance to win a pair of tickets, which run from $18-$38 and are available here.  The winner will also receive a vinyl copy of the new record, Tomorrow Is My Turn.
RHIANNON GIDDENS
Rhiannon Giddens first got involved with T Bone Burnett, the producer of her solo record, when playing the concert Another Day, Another Time featuring music from and inspired by the Coen Brothers film Inside Llewyn Davis. She performed a jaw-dropping cover of Odetta's "Water Boy" that brought the house down, and was cited by the New York Times as being the highlight of the evening. From that collaboration came the idea to make an album of Giddens' favorite songs by the best female musicians and songwriters in Americana.
BIRDS OF CHICAGO
We recently caught the lovely, hopeful songs of the soul-influenced Americana duo Birds of Chicago during their AmericanaFest showcase at The High Watt. Their style is a more contemporary take on the genre than Giddens' far-flung throwback in time, but the female lead of the husband-wife team Allison Russell is a similar multi-instrumentalist and vocal powerhouse. Their harmonies have been compared to Emmylou Harris and Gram Parsons, and their shows feature compelling storytelling with a celebratory atmosphere, a definite contrast from the dark, morose tone of many of their peers in the roots scene.

_
ENTER TO WIN TICKETS
Enter to win tickets (and a vinyl copy of the album Tomorrow Is My Turn) by filling out the form below. Must be 18+ to attend, per show's age restrictions. After you have entered, there will be the option to share this contest via social media. For each person that you refer to the contest, you will receive an additional entry. If you experience any trouble with the contest widget, or have any questions, feel free to email us at [email protected].
Winner will be announced Monday, Oct. 5 at 6 p.m. CDT, and will receive one pair of tickets. Good luck!
[contesthopper contest="62651″]
 _
Rhiannon Giddens and Birds of Chicago will perform Wednesday, Oct. 7 at Marathon Music Works. The show is 18+, begins at at 8 p.m. (doors at 7 p.m.), and tickets are available for $18-$38.