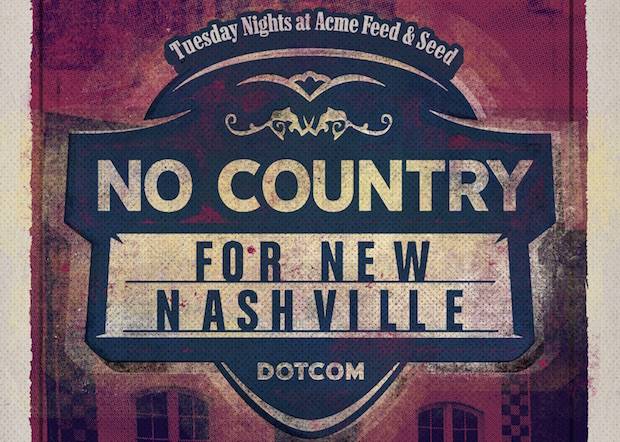 Our weekly No Country Presents showcase down on Broadway at Acme Feed & Seed continues for another week, as we continue to bring you some of the freshest faces in local, regional, and touring acts for FREE every Tuesday night.  Coming up on Tuesday, Sept. 15 we're continuing our month long residency with alt-popsters, All Deeds Done, but this time we're teaming them up with electro-pop outfit The Trinity Schill Kill and americana rock outfit The Walcotts. As it does every week, all this gets started at 7:30 p.m., and it is completely free! So, join us for a breath of fresh tunes on Broadway, and read on to find out more about the artists on the bill.
THE TRINITY SCHILL KILL
Nashville's electro-pop scene has been exploding in recent years, and the latest outfit to appear on the radar is the duo performing under the moniker of The Trinity Schill Kill.  With a sound that begs comparisons to contemporaries like Cherub or Neon Indian, TSK has been riding high on the success of their debut EP, Lover, which released earlier this year.  In order to maintain proper etiquette, we've slotted them into the late set to keep the dance party moving on the first floor at Acme.  Have a listen below to get a taste of what's next.
ALL DEEDS DONE
This is the third week of our All Deeds Done residency as they continue to support their new EP, Stellar Evolution, with it's radio ready, danceable indie pop tracks.  Clearly, residencies aren't the best way to get as many bands in front of you as we can, but these guys are poised for success, and we had to jump on the opportunity while we could.  Head on over for an earlier set this week, and get in the know on one of the fastest risers on the scene.
THE WALCOTTS
Nine-piece, LA-based Americana outfit, The Walcotts, get things started for us this week.  Their sound is a perfect meld of country, blues, folk, gospel, and jazz with a retro throwback sound that will appeal to fans of The Band, Dr. John, Langhorne Slim, and The Wild Feathers alike.  We're lucky to have them kick off a night that will be hard to keep the collective toes from tapping.  Head below to get in the know on their track "Should've Been Me".
The Trinity Schill Kill, All Deeds Done, and The Walcotts will perform Tuesday, Sept. 15, at Acme Feed & Seed. The show is 21+, music begins around 7:30 p.m., and, per usual, it's totally FREE! Downtown PARKING can sometimes be an issue. However, if you're willing to walk a few blocks, street parking is typically easy to find on the numbered avenues south of Broadway or along Korean Veterans Blvd, and metered spaces are often free after 6 p.m.