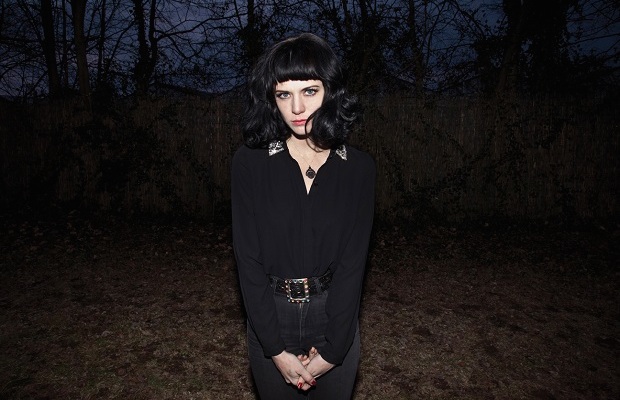 East Nashville outlaw country hell-raiser Nikki Lane has added her own headlining show Sunday, Aug. 30 at Mercy Lounge, the night after opening for a nearly sold-out Social Distortion gig at The Ryman. Lane has charmed us with her don't-give-a-fuck attitude and hipster redneck style since her Dan Auerbach-produced record All or Nothin' came out last year. The new songs she's unveiled live have been even better than what's on that album, so we're dying to hear the followup and have been catching her kick-ass live show as much as possible in the meantime. She's playing with singer-songwriters Kristin Diable and Frankie Lee, and tickets are available here. Read on for more!
NIKKI LANE
The fact that Nikki Lane's music is often labeled alt-country is a sad comment on the state of the "country" music industry, as her music is as country as it gets in the true outlaw tradition. She cusses and flips the bird and talks about her failed early marriage onstage like the ballsy, brassy, badass men and women that have historically made great country music. The new songs Lane has been playing on tour are even better than those on her acclaimed sophomore album, so if you like the record we named one of the best local albums of last year than checking her out live is an absolute must.
KRISTIN DIABLE
Louisiana native Kristin Diable just came out with a new record, Create Your Own Mythology, back in the spring that we sung the praises of upon release. She worked with country/Americana super-producer David Cobb (Sturgill Simpson's Metamodern Sounds in Country Music and Jason Isbell's Southeastern among many others) to develop her swampy soul Americana sound. She also wowed at one of our Acme showcases, so she's definitely worth catching live.
FRANKIE LEE
Frankie Lee is a Minnesota native that sings southern rock and roll circa the 1960s with country twang and folk attention to songwriting. His debut album American Dreamer is due out this fall.
Nikki Lane, Kristin Diable, and Frankie Lee will perform Sunday, Aug. 30 at Mercy Lounge. The show is 18+, begins at at 8 p.m. (doors at 7 p.m.), and tickets are available for $12 in advance, $14 at the door.