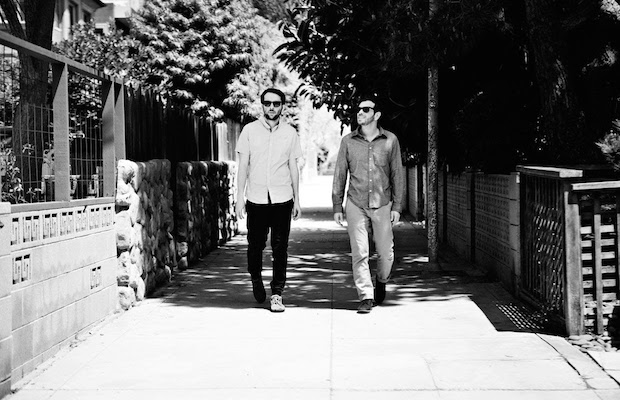 Out in support of their fantastic fourth album, Broken into Better Shape, which has been garnering universal critical praise since its release earlier this summer, and was recorded right here in Nashville, Philadelphia indie folk duo Good Old War are set to return to Nashville for the first time in a few years this Sunday, Aug. 9 for a performance at 3rd & Lindsley along with locals Smooth Hound Smith. Part of Lightning 100's weekly Nashville Sunday Night series, tickets for the show are still available right here, so secure your spot and keep reading to find out more about the lineup!
GOOD OLD WAR
Hailing from Philadelphia, PA, indie folksters Good Old War formed in 2008 as a trio (only recently losing drummer/vocalist/multi-instrumetnalist Tim Arnold, to become a duo), following the end of prior project Days Away. Quickly gaining a following with the release of their electrifying debut, Only Way to Be Alone, the prolific band soon found themselves touring with the likes of Dr. Dog, Alison Krauss, Brandi Carlile, and Counting Crows, headlining clubs around the nation, and performing on shows like Conan and Jimmy Kimmel Live! For their recently released fourth LP, Broken into Better Shape, the band recorded in Nashville, recruiting producer Jason Lehning (Alison Krauss & Union Station, Dolly Parton, Mat Kearney) and engineer Vance Powell (Jack White, Houndmouth), as well as experimenting with co-writers for the first time, Emile Haynie and T-Collar among them. The result is the best concentrated collection of songs the versatile band have ever produced, and we can't wait to hear the new stuff (as well as old favorites) translated live, in their signature harmony-laden, musically dense, and intimate style. Good Old War are, perhaps, one of the most criminally underrated bands making music today, but, with all of the buzz surrounding their latest release, we suspect they won't be so secret for long.
SMOOTH HOUND SMITH
Rootsy duo and recent Music City Mayhem winners Smooth Hound Smith channel elements of blues, folk, and soul with their complex, infectious sound. They're an incredibly compelling live band, and a really great compliment to Good Old War's layered, eclectic style. Show up early and show 'em some support!
Good Old War and Smooth Hound Smith will perform Sunday, Aug. 9 at 3rd & Lindsley. The show is all ages, begins at 8 p.m. (doors at 6 p.m.), and tickets are available for $15.