Photo by Mary- Beth Blankenship.
Last weekend, we returned to Louisville, Ky., something of an annual tradition for the No Country crew for several years running, for Forecastle Festival. A three-day celebration of music, art, and activism set on the banks of the Ohio River, Forecastle is more than just a junior version of Bonnaroo. Though the two events share a similar vibe (and a common promotional partner), Forecastle boasts a markedly different aesthetic, a slightly different crowd (waaaay less hippies, the casual festival-goers who might not be down with 'Roo's camping setup), and a more reeled in musical focus (more rock, less EDM and hip hop). This year's lineup showcased a pretty eclectic and inarguably epic assortment of bands, both national and regional, and, despite only hosting performances on four stages, we never had a moment of downtime throughout its incredible 2015 weekend. Below, you'll find a recap of what we saw! For the first time, we were able to bring a contributing photographer along (thanks Forecastle!!), so, while you're reading our collective review, take a look at some wonderful shots from Mary-Beth Blankenship!
FRIDAY
JEFF the Brotherhood. Photo by Mary-Beth Blankenship.
JEFF the Brotherhood
The drive to Louisville always surprises me in how quickly it flies by, and, arriving on site shortly after this year's Forecastle kicked off, scarfing down some Mellow Mushroom in the press tent (seriously, we can't praise this event's media treatment enough), and caking on the sunscreen, I was stoked to start my weekend with some fittingly familiar faces: hometown (ours that is, not Forecastle's) garage rock heroes JEFF the Brotherhood. Boasting the full band lineup they've come to adopt in recent years, and performing for an impressively large crowd, the brothers Orall, Jake rocking an outfit that looked straight out of the '70s, launched into a set which included a balanced mix of old and new tunes, heavy on the fan favorites, definitely playing to the festival crowd. By the time they got to "Sixpack," I was starting to feel like I could use one; I know summer in the south is hot, but man this festival season has been brutal (or maybe I'm just getting old?). Anyway, staying in the shade and staying moving quickly became my weekend strategy. [PO]
ZZ Ward. Photo by Mary-Beth Blankenship.
ZZ Ward
Buzzworthy bluesy rock singer ZZ Ward is a name I hear tossed around constantly, and is among a growing number of performers who seems to find her way to Nashville on a pretty regular basis, and, yet, I'd never managed to catch her live. That's the beauty of festivals: they offer a smorgasbord of acts you might not otherwise have the time or opportunity to see. Donning her signature fedora and rocker attire, and backed by a soulful, tight band, Ward front-stacked her set, playing "Put the Gun Down" and "Love 3X" right off the bat, all while soliciting audience participation, working the stage like a pro, and flexing some unbelievable vocal chops. There's a reason this up and comer has amassed so much hype, and not only am I stoked to see where her sophomore album evolves in sound, but I can't wait to see her in a proper, full-length setting (like Marathon Music Works this fall). [PO]
Fly Golden Eagle
Keeping this lovely little site running kept me in Nashville longer than I wanted on Friday morning, but I arrived just in time to imbibe in the sweet psych dipped jams of Fly Golden Eagle.  For a band that I've seen dozens of times, not to mention their latest release Quartz is one of my favorite local albums of the past five years, it's just plain awesome to see these guys getting some festival love.  It was a decent sized crowd, and their easily digestable brand of rock created a wave of nodding heads of, hopefully new fans, in the sticky late afternoon heat. [MH]
Cold War Kids. Photo by Mary-Beth Blankenship.
Cold War Kids
At this point, I've seen Cold War Kids a number of times, but, until a few months back when they passed through Marathon Music Works, it had been a minute. Still reeling from the high of that club show, I only had time for a short chunk of their Forecastle set, but was happy to find the same rejuvenated energy and spark they've been channeling since the release of their fifth album, last year's Hold My Home. Opening with a cut from that LP, "All This Could Be Yours," then jumping back to 2013 single "Miracle Mile," the band traded off instruments and harmonies, floated around the stage, and bounced off of one another per usual; their compelling live show is definitely the group's strongest attribute. To my delight and surprise, they unveiled a new tune, before dialing it back to debut album opener "We Used to Vacation," as the diehards in the crowd erupted. I presume the rest of the classics I was hoping to hear came later on, but it was a busy day, and I had to move on. [PO]
St. Paul & the Broken Bones. Photo by Mary-Beth Blankenship.
St. Paul & the Broken Bones
Walking over to the main stage to see St Paul, I had to double check my schedule to make sure I hadn't missed an Alabama Shakes lineup addition. There are two singers in the modern festival era that absolutely own the crowd, and Paul Janeway joins Brittany Howard in that category. His new gospel soul is something that is best served with a dancing crowd, and that was certainly the case at Forecastle. The only slot that might have been better fitting for this set would have been Sunday morning, because Janeway's gospel influenced voice took Forecastle to church. [MH]
A band that play Nashville so often you'd swear they were local, I knew I had to catch St. Paul & the Broken Bones, who, despite being dressed up to the point where I was sweating for them, delivered one of the most soulful, incredible sets of the weekend. Paul Janeway is absolutely unreal; a modern, soul treasure, and you should never miss a chance to see him and the crew perform. A true showman, Paul worked the crowd, proudly trumpeted the group's Alabama heritage, and joked between songs, remarking how their last Louisville outing was for a lot less people. A few songs in, and I was starting to melt, so I made a break for the shaded oasis of the nearby Ocean Stage. [PO]
San Fermin
I ran into old friends, and missed the beginning of San Fermin, then finally had to peel myself away after realizing they were seeing them at the late night show with Lord Huron on Friday night. So, I rushed over to catch the end of their set, and made it just in time to catch the hit from their debut album, "Sunsick" which features a nice backing of sax and trumpet in the live version. I remember first hearing San Fermin's music and thinking that it is in the same vein of Sufjan's arrangements with the male/female vocal swaps that remind me of Edward Sharpe. I often wondered how they would pull this sound off live, and, after seeing their Forecastle set, can't wait to see them in a club venue ASAP.  They finished the set off with the stellar single "Jackrabbit" off the new record, and then laid down a super fun cover of Weezer's "Buddy Holly," just to further solidify them as one of my favorite sets of the weekend. [MH]
Kiesza
While I've only really heard her hits, I'm familiar enough with dance pop phenom Kiesza to be intrigued. I only had a moment to see her in passing, while cooling off in the overpass-provided shade of Forecastle's most random stage, but her background dancers, EDM-friendly band, and acrobatic stage moves (seriously, she did a straight up handstand) were enough to put Kiesza on my "must-see" list the next time she books a Nashville date. [PO]
The Gaslight Anthem. Photo by Mary-Beth Blankenship.
The Gaslight Anthem
The most "conventionally" punk band amidst an atypically punk-leaning year for Forecastle, The Gaslight Anthem are a longtime site fave, and it's been a really interesting journey to watch them morph from more retro punk to heartland rock over the last several years. Led my charismatic frontman Brian Fallon, the band, unlikely festival staples that they are, entertained an enthusiastic and large crowd despite their too-early set time. Exploding into their performance with "Handwritten," from their 2012 LP of the same name, the band proceeded to play two more tracks from that album, strangely under-representing last year's Get Hurt for the bulk of their set. Old faves like "Even Cowgirls Get the Blues" and show closer "The '59 Sound" found their way into the mix as well, of course, and helped round out an energized, if not somewhat low key, afternoon set. Despite any particularly memorable moments, it still stands out as one of my favorites of this year's fest, just by virtue of my love of the band. [PO]
Cage the Elephant. Photo by Mary-Beth Blankenship.
Cage the Elephant
In the months and weeks and days leading up to Forecastle, we made a point to remind you again and again just how epic Cage the Elephant would inevitably be. We were not wrong. A special band on the bill for us, since they currently call Nashville home, but hail originally and still have strong ties to Kentucky, Cage, the certifiable rock stars that they are these days, were met by a MASSIVE festival crowd. Seeing them play special fan-service shows around Nashville, and seeing the guys out and about on the regular has someone spoiled our perspective, but watching them out of town and in their element for the first time in a minute was jaw-dropping. Bringing the same level of energy and fan interaction that they always channel, whether it's to 400 people or 4,000, Cage absolutely brought the house town, exploding through favorites like "Spiderhead," "Take It Or Leave It," "Cigarette Daydreams," and of course "Ain't No Rest for the Wicked" and "Come a Little Closer." Musing on their earliest shows in the area, and trumpeting a huge sense of pride for being so well-received in their home state, the group seemed to go extra hard, if that's even possible, vocalist Matt Schultz spending as much time in the crowd and roaming the pit as he did on the stage, and encouraging boisterous, sweaty singalongs throughout. Cage the Elephant are, hands down, one of the best live rock bands on the planet, and the nicest, most humble dudes to boot; seeing them utterly destroy in ever single setting just constantly serves to remind us that rock and roll is alive and well. [PO]
Alvvays. Photo by Mary-Beth Blankenship.
Alvvays
WNYC once described Alvvays as a "happier Beach House, or perhaps an even-sadder Best Coast." The observation sticks, with surfy guitar pop and lyrics tangled with messy romances. Speedy Ortiz was originally scheduled for the 8 p.m. slot, but Alvvays proved to be an excellent choice to fill in. Rattling off blog favorites "Archie, Marry Me" and "Party Police" kept any disappointed Speedy fans around, while wrapping up their own fans in a reverb-y daze. [WD]
Profoundly bummed at the absence of Speedy Ortiz (due to a last minute medical emergency involving singer Sadie Dupuis), I still managed to wander over to see a bit of Alvvays, another band I've heard a lot of buzz about. Though I only had time to catch a few tunes before the allure of Cage called me back to the main stage, I found their smart, breezy, indie pop sensibilities to be real treat, and a pleasant escape from the louder, more punk-leaning acts that dominated the bulk of my weekend. [PO]
Sam Smith
I walked into Sam Smith's headlining set on Friday anticipating a lot of emotional balladeering from the British pop star. While he did start off his set with his massive hit, "I'm Not the Only One," his set was an energized and polished package that quickly won me over. From the Motown-inspired dance breaks to his cover of Amy Winehouse's "Tears Dry On Their Own," it was a stellar performance that got the entire crowd moving and grooving. And if you're curious, yes, his voice really is as strong and impressive as it is on his debut album, In the Lonely Hour. It's a shame that his set was cut short by a pop-up storm, but he definitely made the most of the time he had on the main stage. [LL]
Photos by Mary-Beth Blankenship.
SATURDAY
Desaparecidos. Photo by Mary-Beth Blankenship.
Desaparecidos
More often than not, when very famous musicians (such a Bright Eyes' Conor Oberst) purposely distance themselves from the project they're best known for, the results can be underwhelming at best and clunky and insincere at worst. Oberst's post-hardcore/punk outfit Desaparecidos are an exception, a group whose very existence not only compliments Bright Eyes (and Conor's more recent solo career), but, at least as far as my money's concerned, in some ways surpasses it. It helps that they're not a new band, but rather a reformed one, whose short-lived run and debut album in the early '00s was cut short after Bright Eyes' runaway success, but their reemergence, channeling a newfound socio-political voice that serves as a reaction the state of privacy and global unrest, feels completely organic, and their sophomore effort, released this year after a couple of years of dipping their toes in the water with singles, is nothing short of stellar. A proper part of a real band, rather than a focal point, Oberst, hair grown out and beard long, dressed unassumingly punk, handkerchief flags draped around his ankles, blended into the fold, screaming his lyrics earnestly, but never overshadowing the lofty message of the music, reinforced by propaganda-inspired pre-recorded bumpers. Channeling a healthy mix of new material and old, and playing to a crowd who looked eager to listen, though not quite sure what they were watching, Despareacidos, loud, aggressive, and unwavering, played one of the weekend's best sets, certainly landing in my top three. [PO]
Chris Stapleton
It was an unfortunate stroke of luck that Chris Stapleton's set ended taking place at one of the hottest moments of the day. It was hard to truly appreciate the emotion and beauty that was taking place on stage as he poured out his heart alongside his wife and backup singer, Morgane. The crowd did fight off the heat exhaustion to cheer and dance along to his more upbeat, boot-scooting tracks, which shows just how powerful of a performer Stapleton is. [LL]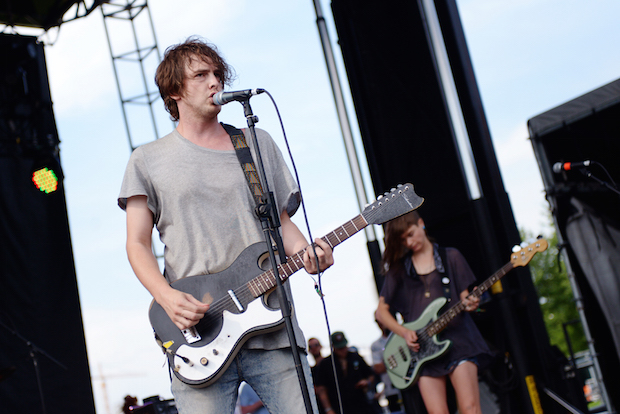 Broncho. Photo by Mary-Beth Blankenship.
Broncho
Spazzy and entertaining, Oklahoma's Broncho abruptly launched into their performance following a screechy introduction from frontman Ryan Lindsey, largely mimicking the electrifying, punk-tinged set was just saw at Bonnaroo. Feeling defeated by the heat of the day and in need of shade, I cut things a little short and made a break for some hydration (which, I know, seems like the theme of the weekend, but damn Kentucky is hot in July). [PO]
The Word
I'm not sure if it was the sticky heat or the banging morning hangover, but Saturday took forever to get going.  However, the plethora of poor Friday night decisions were swept away with the first notes to come out of the gospel inspired, instrumental magic of The Word.  A band of virtuosos featuring Robert Randolph (pedal steel), John Medeski (keyboards), and Cody (Drums) and Luther (guitar) Dickenson and Chris Chew (bass) from North Mississippi All Stars.  While this definitely led to some jam band vibes, it was really more of a gospel and soul inspired set of musical genious that is led by Randolph squealing the "lyrics" through some intense pedal steel playing.  It was a masterful set that will resonate in my memories of Forecastle for years to come. [MH]
Shovels & Rope. Photo by Mary-Beth Blankenship.
Shovels & Rope
A site favorite who we've had the pleasure of seeing in spaces from small rooms to numerous festival stages and everywhere in between, I just had to spend a few minutes at Shovels & Rope, despite practically being able to recite their set word for word at this point. In their signature fashion, the husband and wife duo, Michael Trent and Cary Ann Hearst, traded off harmonies just as quick as they traded instruments, showcasing their country and folk tunes with the nearly punk attitude and unpredictability. Hearst announced that they would be taking a bit of time off following this run of shows, making me extra glad to have squeezed them in to a packed Saturday. [PO]
iLoveMakonnen
Though I really only saw unlikely breakout pop rapper iLoveMakonnen twice in passing, it was like 15 or 20 minutes apart, and both times he was performing what seemed to be a mashup of his most famous hits- "Tuesday" and "I Don't Sell Molly No More." Seriously, what's up with that? Does he have other songs? Did he only play his hits over and over again on a loop??? Inquiring minds want to know! [PO]
Twin Peaks. Photo by Mary-Beth Blankenship.
Twin Peaks
After the local radio station WFPK, who sponsor the Port Stage, came out to introduce the band and say that the set was going to be aired live, I thought to myself "uh oh." My concerns were realized when the band came out and immediately started cussing about the heat.  Not surprising.  The Chicago based punks aren't going to play by the rules, and we hope that the station had the set on a delay for such shenanigans.  They poured through their high energy punk songs with much gusto though, apparently, they decided to just get sweaty with the rest of us. [MH]
We've covered Twin Peaks a bunch, and, while I'm very familiar with the buzzy rockers, whose indie/garage/punk sensibilities compliment the Nashville Infinity Cat scene very well, I hadn't had a chance to see any of their numerous Music City outings over the past year. But hey, that's what festivals are for, and the rowdy, sun-soaked performance was just the pick me up I needed to power through the afternoon. Props to Forecastle for so expertly curating their undercard stage this year. [PO]
The War on Drugs. Photo by Mary-Beth Blankenship.
The War on Drugs
The War on Drugs wowed us at Marathon Music Works last fall, and were a definite highlight earlier this summer at Bonnaroo, so naturally, despite a schedule conflict-filled middle of the afternoon, I had to wander over to the main stage to give Adam Granduciel and co. some love. Wowing fans with favorites like "Red Eyes" and "Under the Pressure," the band didn't make any drastic departures from their recent stellar shows, but hey, don't fix it if it ain't broke. [PO]
Sturgill Simpson. Photo by Mary-Beth Blankenship.
Sturgill Simpson
I'd been waiting to see Sturgill Simpson live since last year's release of his breakthrough third album, Metamodern Sounds in Country Music. There's something completely hypnotizing about Sturgill's smooth but well-aged voice that sounds like it was sampled from a 1970s outlaw country legend's vinyl recording. He's one of the few artists out there who can power up a crowd by simply showing up, walking out and opening his mouth. Even so, Simpson was never boring to watch, especially during the moments when he showed off his incredible finger-picking skills during some epic acoustic guitar solos. [LL]
Though I only really got to see him in passing, I couldn't help but marvel at the insane year Sturgill Simpson has been having, nor could I be prouder of Nashville's embrace of someone doing something so brazenly authentic and different in country music. Forecastle continues what's been a seemingly endless run of festival outings for the acclaimed singer, and he deserves every bit of buzz that he's amassed. [PO]
Cherub. Photo by Mary-Beth Blankenship.
Cherub
Dashing from Sturgill Simpson to the Ocean Stage – Forecastle's most oddball area, to be sure, and one I wished I'd had more time to devote to – I arrived just in time for another local favorite, Cherub. Capitalizing on a huge run, fueled by the buzz of last year's breakout release, Year of the Caprese, Cherub were met by a crowd that could only be described as MASSIVE. I've seen the duo play sold out clubs, and even festival stages, in the past, and, while last summer's Bonnaroo stint was certainly nothing to scoff out, I think Forecastle's crowd edged them out in not only numbers, but enthusiasm, getting wild from note one. At this point, Cherub have boiled their stage show down to a science, incorporating as much live instrumentation as electronic and track-based dance music, and their immense talent and hybrid sensibilities help set them apart in an otherwise copycat kind of scene. Needles to say, I couldn't be more excited about how huge they've become; it seems like only yesterday they were playing to a couple hundred drunken fans at East Nashville Undergorund. [PO]
My Morning Jacket. Photo by Mary-Beth Blankenship.
My Morning Jacket
You know that feeling when hometown favorites come back to town?  It's hard to exactly tag who that would be in the Nashville rock world, but for Louisville it's pretty easy… My Morning Jacket.  Jim James and company tore through hits from their stellar new record and some old favorites as well, all with an adoring crowd singing along to every word and members of the Louisville Orchestra providing background ambience for the ethereal songs.  Some folks went to Forecastle for Modest Mouse, some for Widespread Panic, all came to see My Morning Jacket absolutely dominate.  [MH]
Amassing what was, undoubtedly, the largest crowd of the weekend, hometown rockers My Morning Jacket sounded absolutely transcendent on the Forecastle stage. Despite being the millionth time I've seen them in a festival setting, the band's insane stage presence, crazy huge back catalogue, and ability to adapt in a jam-esque but not exactly jam band way, set them in a class of their own. Though I haven't given their latest record as much attention as it deserves, hearing a set stuffed with mostly new cuts was nice, just for the sake of keeping things fresh. [PO]
Photos by Mary-Beth Blankenship.
SUNDAY
Noah Gundersen. Photo by Mary-Beth Blankenship
Noah Gundersen
Feeling something of a second wind, I managed to make it into Forecastle's final day extra early, in order to catch indie folk singer-songwriter Noah Gundersen. While, inexplicably, Gundersen has yet to become a household name, his fanbase is rabid, and, despite his early afternoon slot, he still managed to pull an impressive crowd. Remarking at how peculiar it was to be playing his signature sad and melancholy tunes so early and in daylight, Noah nonetheless sounded stellar, opening the show on just an acoustic guitar, joined by his brother and sister who all possess freakishly good singing voices and unrivaled abilities to harmonize, before gradually building to a loud, electric, full band sound. A solid mix of old songs, compositions from the singer's upcoming Carry the Ghost, and even a tastefully stripped down cover of Nirvana's "Smells Like Teen Spirit," Gundersen's performance was emotionally nuanced, unbelievably good, and probably way more intense than we deserved at 1 in the afternoon. I can't think of a more magical way to kick off the fest's last day. [PO]
White Reaper
I've been hearing about White Reaper through national blogs and publicist emails for months, but this was my first time catching them live.  I headed over to the Port Stage (where I apparently spent a lot of time) to see the end of their set, and walked up to them pumping the crowd up with the Gary Glitter smash "Rock N Roll, Part 2" before tearing into a garage punk explosion of original work.  These guys have essentially reached JEFF The Brotherhood or Diarrhea Planet fame in their hometown, and the crowd surfing masses were out in full support of their brethren.  Here's to hoping that a club sized set will materialize for them in Music City soon. [MH]
First Aid Kit. Photo by Mary-Beth Blankenship.
First Aid Kit
I've been a fan of twangy Swedish duo First Aid Kit from the periphery for a while.  I've heard songs, seen impressive videos, heard incredible stories about their live performance from folks that I wouldn't even expect to like their music, and I even (from the periphery) heard their Bonnaroo performance last year while meeting a colleague outside of This Tent.  So, this Forecastle Festival was my first opportunity to actually slow down and focus on their live show.  It pretty much lived up to expectations with their beautifully harmonized vocals and cool stage presence despite the torrid heat.  What I didn't expect was their incredible cover of Black Sabbath's "War Pigs" that had the crowd roaring, and me texting friends, "Is this really happening?" [MH]
The Lone Bellow. Photo by Mary-Beth Blankenship.
The Lone Bellow
Though there was a time, a couple years back, when it seemed like New York folk rockers The Lone Bellow had practically taken up residence in Nashville, their Music City stops have slowed down a bit, as their career has really picked up steam. Admittedly, I spent a lot more time with the trio's self-titled debut than with this year's Then Came the Morning, so several songs were unfamiliar to me. Still, the band perform with a unique passion and otherworldly energy that's simple hypnotizing, and they're always a delight in concert. [PO]
Diarrhea Planet. Photo by Mary-Beth Blankenship.
Diarrhea Planet
Easily garnering the largest crowd that we saw at the Port Stage all weekend, it's awesome to see a band of kids that have grown so much on the stage. When we first saw them, they were ready to party, but their banter at Forecastle lets me know that these guys now consider the stage home. They asked the crowd how many had seen them perform before. It was a smattering of hands, but the endless smiles, hands pumping in the air, and bobbing heads clearly meant they made more than a few new fans. I'd imagine most will go home, and when asked "Who was your favorite of the weekend?" The only answer will be "Holy shit, Diarrhea Planet fucking killed it!" [MH]
Easily my most-anticipted Sunday performance, I managed to meet up with the Diarrhea Planet dudes early in the day, chatting about all of the runaway success they've experienced recently, the support of the Nashville rock scene, and the other Forecastle bands they were most excited about (White Reaper, King Tuff, Twin Peaks). Feeling like a little slice of Nashville had been transported to Louisville, I later wandered backstage to find a whole host of familiar faces, just minutes before the rockers' afternoon set, and wound up watching the whole thing from on the stage. From my newfound vantage point, it was truly surreal to see just how packed the crowd was, a sea of faces squeezed into the bottlenecked nook that is the Port Stage. Bringing 1000% pure rock with the unstoppable energy and momentum only they can channel, Diarrhea Planet, the arsenal of guitar slinging warriors that they are, proceeded to utterly crush, for one of the best, if not the best performance I've ever seen them deliver. Climbing speakers, (unintentionally) blowing up amps, endlessly engaging the crowd, and rocking Nashville-branded apparel from our pals at DCXV, DP were hands down the most fun I had all weekend, and their unwavering enthusiasm, chaotic energy, and top-notch tunes are hard to beat. In a just world, they'd be the biggest rock band on the planet, but, for now, I'll settle with coolest little band on the stacked festival lineup. While, at least for several thousand attendees, the cat is clearly out of the bag, I hope memorable outings like this will continue to propel the guys to much-deserved widespread recognition. [PO]
Portugal. The Man. Photo by Mary-Beth Blankenship.
Portugal. The Man
Portugal. The Man have been a favorite of mine since their earliest days, and they're another act I just can't bring myself to miss whenever I see their name on a festival bill. Coming off of an energetic Diarrhea Planet high and drastically needing to take a breather in the shade, I only hovered around long enough to see the psychedelic, Alaskan indie group play "Hip Hop Kids," "Holy Roller," "Atomic Man," and "Floating" before retreating for the sanctuary of the press tent. My memories of Portugal were always of seeing them in tiny clubs, so whenever they pull thousands upon thousands of fans in festival outings, it forces me to do a double take; they've certainly earned it though! [PO]
Robert DeLong
If you are like me, EDM is generally boring to watch live. That's why you have antics like mouse heads and robot masks. Enter Robert DeLong, who sat on a stage with instrumentation befitting a full electro rock band. Yet, with the benefit of multiple loops and backing tracks, he plays all of the instruments (including joysticks and wii controllers) and mans vocal duties himself.  The first song that I caught had him destroying on a drum set over looped beats.  His track "Long Way Down" had the crowd going nuts, but his cover of the Rolling Stones' "Miss You" is the moment that I have been telling everyone about since I got home. [MH]
Modest Mouse. Photo by Mary-Beth Blankenship.
Modest Mouse
For a lot of folks, Modest Mouse was the real draw to Forecastle this year.  The elusive band tours sporadically, and tends to almost fall off the radar between album cycles.  However, their fans are ravenous, and this set, which featured hits from all of their records, was essentially a giant sing along.  You know it's a sign of a good show when our pals from Nashville's Cream's The Spin were singing along.  Caught ya! [MH]
While Modest Mouse never exactly disappeared completely, it sure felt like it. During their inexplicable eight year gap between albums (and, let's be real, the new LP is fine but definitely not worth the wait), the band continued to tour, though, without something specifically out to promote and center their actives around, it felt disconnected and infrequent. I don't know if I missed opportunities, or if there genuinely haven't really been any, but my last Modest Mouse show was also nearly eight years ago (and, iconically, featured short-lived guitarist and ex-Smiths member Johnny Marr). As one of my favorite bands, and a seminal part of my teenage taste shift from pop punk to indie rock, Isaac Brock and co. were easily one of my most highly-anticipated artists on the whole Forecastle lineup, and one of the main selling points to get me there this year. The fan-friendly set, which, to its credit, attempted to touch on every era of the multifaceted band, essentially played like they had consulted me on it; I knew every word to every song, and it was magical. Energized and weird, the group sounded flawless, and, even while I watched from the very back of the crowd, their ability to connect and to dazzle with their quirky, earnest compositions has not diminished in the slightest over the years. I couldn't be happier than they're coming to Nashville this fall, because I did not want their Forecastle set to end. [PO]
The Tallest Man on Earth. Photo by Mary-Beth Blankenship.
The Tallest Man on Earth
Fittingly, The Tallest Man on Earth closed the very same stage I'd watched Noah Gundersen open on Sunday, Swedish singer-songwriter Kristian Matsson brandishing a similarly folky, personal sound, which wouldn't be hard to imagine Noah (and fellow Swedes First Aid Kit) taking some cues from. Unique to this tour cycle, Matsson has finally employed the assistance of a full backing band for his live shows, and not only does it feel necessary in totally capturing the layered, sweeping compositions of his latest, Dark Bird Is Home, but it revitalizes the wonderful catalogue of the talented singer's prior releases. Bolting early to catch King Tuff, I almost second-guessed my decision not to stay, because The Tallest Man on Earth would have been one seriously memorable way to cap off a fantastic festival weekend. [PO]
King Tuff. Photo by Mary-Beth Blankenship.
King Tuff
Much less of a marathon than other weekend fests, by the time I took my place for King Tuff, the last act I'd  be seeing for the season, I was still feeling pretty great. Other than the heat, the vibe and pace of the riverfront fest were at once leisurely and never sedentary; there's nothing else quite like it. A sort of punk meets pop punk meets party rock figure, King Tuff, tatted up, punked out, backed by a huge banner, and grinning ear to ear, stepped on stage and opened with singalong ready single "Madness." Live, King Tuff had a bit more clarity and rawness than his compressed, sometimes lo-fi, records, and both his stage presence and his guitar chops were really fantastic. Beginning my 2015 Forecastle with JEFF the Brotherhood and ending it with King Tuff seemed like perfectly sonically synced bookends, and both bands really speak to Forecastle's incredible taste and relevancy. We surely say it every year, but this is absolutely one of the summer's best musical events, especially for fans of the bands we often cover, and we feel incredibly lucky to live so close. Well, not that close. Widespread Panic were tapped to close down Sunday evening, but the No Country crew and I all had a bit of a drive ahead of us, faced with the looming realization that Monday was mere hours away, and signaled a harsh turn to reality. So, eager to get home and get a good night's sleep, we snuck out a little early, buzzing with pleasant memories of another Forecastle well spent. [PO]
Photos by Mary-Beth Blankenship.
_
[LL] Lorie Liebig
[MH] Matt Hall
[PO] Philip Obenschain
[WD] Wes Davenport