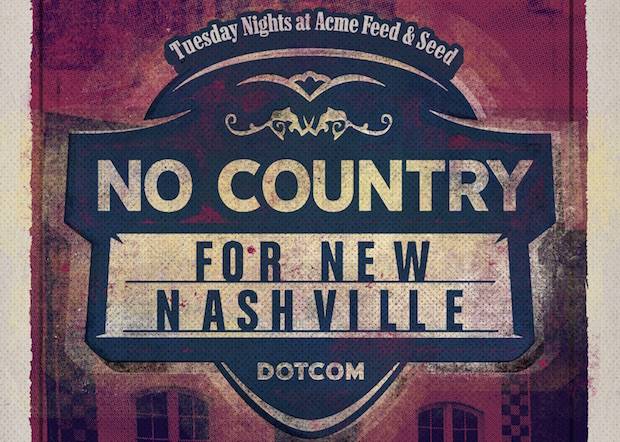 By now we hope you've heard, our live events production wing, No Country Presents, has taken up residence at Lower Broadway's hippest new restaurant, lounge, retail, and event space, Acme Feed & Seed, where we've been bringing you a weekly, FREE, Tuesday night showcase, featuring some of our favorite emerging local and national talent for exactly a year as of our next installment! The curated showcase runs from 7:30 to 10:30 p.m. each week, and has featured everything from folk to funk to rock to indie. For our next installment, on Tuesday, July 28, we're bringing you local bill, boasting a solo set from Kingston Springs frontman Ian Ferguson, new psychedelic outfit Lasso Spells, and folky, psychedelic singer-songwriter OJR. Keep reading to find out all about them, and cancel any other plans you might have Tuesday night, because you're coming to hang with us. Got it?
IAN FERGUSON
While we don't know a ton about the solo material of Kingston Springs frontman Ian Ferguson, we loved his band (who are more or less inactive these days, following a buzzy run a couple years back), and expect the raw, bluesy, rock and roll vibes to sneak in in some capacity. We're waiting on Ian to drop some solo material, so, for the time being, relive the best of the Springs with the video below, and come out to Acme to see what Ian has up his sleeves these days!
LASSO SPELLS
Boasting an impressive eight member lineup, and harboring an affinity to retro production, groove-laden guitar work, psychedelic tones, and moody, vibey hooks, new local group Lasso Spells only recently started playing out as a full band, and we couldn't be more excited to welcome them to the Acme stage.
OJR
A contendor in this year's Music City Mayhem completion, OJR, the live acronym of singer-songwriter Oliver John-Rodgers, plays self described "acid cowboy" music, his sound channeling the same retro affinities present in the rest of this bill. Definitely influenced by folk and country, but with fuzzy, psychedelic, and indie rock sensibilities, Rodgers' knack for crafting personal, hypnotic songs is fantastic, to say the least. Be sure to show up early and show him some support!
Ian Ferguson, Lasso Spells, and OJR will perform Tuesday, July 28, at Acme Feed & Seed. The show is 21+, music begins at 7:30 p.m., and, per usual, it's totally FREE. Downtown PARKING can sometimes be an issue. However, if you're willing to walk a few blocks, street parking is typically easy to find on the numbered avenues south of Broadway, or along Korean Veterans Blvd. Metered spaces are often free after 6 p.m.