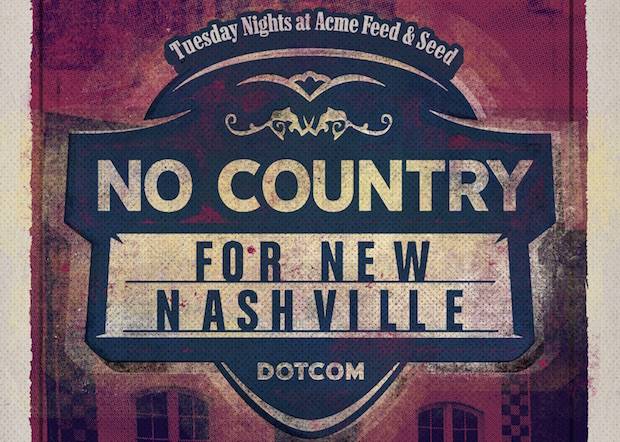 By now we hope you've heard, our live events production wing, No Country Presents, has taken up residence at Lower Broadway's hippest new restaurant, lounge, retail, and event space, Acme Feed & Seed, where we've been bringing you a weekly, FREE, Tuesday night showcase, featuring some of our favorite emerging local and national talent. The curated showcase runs from 7:30 to 10:30 p.m. each week, and, so far, has featured everything from folk to funk to rock to indie. For our next installment, on Tuesday, July 7, we're bringing you local(ish) bill of buzzworthy Bowling Green psychedelic/indie outfit Buffalo Rodeo, dance rock act and recent New Orleans transplants What Up, English, and folk-tinged eclectic rockers The Stoves. Keep reading to find out all about them, and cancel any other plans you might have Tuesday night, because you're coming to hang with us. Got it?
BUFFALO RODEO
A longtime site favorite, Buffalo Rodeo hail from the nearby musical hotbed of Bowling Green. When we first got hip to the buzzworthy young band, towards the end of 2013, their sound harbored a more indie rock slant, and they were fast becoming to the go-to opening act for some of our favorite local performers. In the year and a half since, Buffalo Rodeo have settled into a sweeping, psychedelic, layered, and surprisingly poppy style of their own, dropping their most recent (and best) EP to date, 123 Water, earlier this year. Boasting guy/girl harmonies, diverse instrumentation, and hypnotic melodies, Buffalo Rodeo are fast becoming the local band to keep an eye on, and we couldn't be more excited to host them at Acme.
WHAT UP, ENGLISH
Another No Country favorite from their (and our) earliest days, dance rock outfit What Up English have been perfecting their energetic, indie infused sound for several years now, most recently reemerging in early 2014 with their hypnotic EP, By the Way You Look. Though they recently relocated to New Orleans, WUE will always be a Nashville band in our hearts, and, apparently hard at work on new tunes, we suspect that their homecoming will feature at least one or two tracks you might not know!
THE STOVES
We're not sure what's in that Wisconsin water that churns out such amazing talent, but whenever we see Nashville transplants hailing from the Badger State, we know they're going to be good (see: Foreign Fields, Boom Forest, Daniel and the Lion). The Stoves are no exception, boosting three writers (five members total), who channel a folky, nostalgic, straightforward flavor of rock and roll. The group are hard at work on new material, so show up early and expect to see some of it live!
Buffalo Rodeo, What Up English, and The Stoves will perform Tuesday, July 7, at Acme Feed & Seed. The show is 21+, music begins at 7:30 p.m., and, per usual, it's totally FREE. Downtown PARKING can sometimes be an issue. However, if you're willing to walk a few blocks, street parking is typically easy to find on the numbered avenues south of Broadway, or along Korean Veterans Blvd. Metered spaces are often free after 6 p.m.