The Ignorist, Ben Elkins, Allison Bencar
Acme Feed & Seed; Nashville, TN
June 23, 2015

Review by Philip Obenschain (@pobenschain). Photos by Mary-Beth Blankenship.
Every single Tuesday since last summer, we've been teaming up with hip downtown restaurant and performance space Acme Feed & Seed to host a free showcase of some of our favorite emerging local and national talent. For our latest installment, we were thrilled to bring you an all-local lineup of noisy, indie, alt rockers The Ignorist, a special stripped down solo set from ELEL frontman Ben Elkins, and folky singer-songwriter Allison Bencar. Read on for more about it!
 Allison Bencar. Photo by Mary-Beth Blankenship.
Probably our first Acme artist to show up in cowboy boots, singer-songwriter Allison Bencar, backed by her incredibly talented band, kicked off another eclectic (and, this week, all-local) edition of our weekly showcase. A little all over the map in sound, I'd categorize the bulk of her tunes as leaning heavily on pop and folk, with some definite country and punchier rock influences in the mix. Originally hailing from Detroit, Bencar  has firmly settled into the Nashville singer-songwriter scene (though not without some initial trepidation, and she explained during one of her many in-between song stories throughout the night), and performed with a poise and confidence few emerging artists so strongly possess. The show also apparently served as something of a sendoff for a couple of Bencar's bandmates, who she introduced to the crowd and dedicated some selections to. Admitting to having a country flair, but understanding our site's philosophy on spotlighting all genres of music in town, she came across as humble, sincere, and delightful to watch. If you're looking for some new tunes to supplement your local playlist, give Allison Bencar a spin.
 Ben Elkins. Photo by Mary-Beth Blankenship.

As fans of local indie pop outfit ELEL from literally day one (we were in attendance at the first ever show, and haven't missed many since), we were beyond elated when frontman/chief songwriter/friend of the site Ben Elkins contacted us about playing a solo set. I moved to town around the time Elkins' prior band, Heypenny, were fizzling out, so, as long as I've known him, I've only ever seen Ben play in the context of ELEL (save for a few special shows missing some bandmates, and the acoustic tunes he performed for our podcast). One of my favorite local songwriters and a compelling live performer, Ben showed up with just an electric guitar and keyboard in tow, and proceeded to perform a few familiar ELEL tunes (re-worked to make up for the lack of his usual six or seven bandmates) and some songs I didn't know, but really enjoyed. Amidst the thick, chaotic pop of his main project, Ben's calm, subdued delivery style always keeps ELEL anchored, and hearing that element of the music alone, the compositions distilled to their core, was such a treat. Part way into the first tune, Elkins stopped to re-sing a verse, explaining that he promised himself he'd sing the right line about his wife, in the hospital an unable to attend. Switching between guitar and keys, and employing some minimalist tracks, Ben hypnotized the audience throughout his lean set, and, as a longtime ELEL fan, I had a blast watching him do something different. Also of note, comedian/actor Aziz Ansari, apparently filming a show for Netflix upstairs, wandered down a few times and watched part of the set. Nashville is weird, right?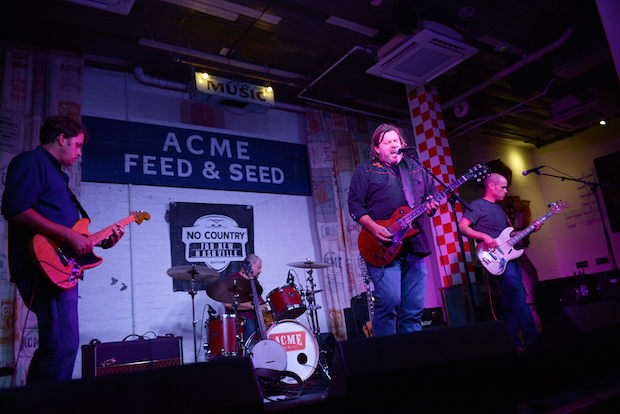 The Ignorist. Photo by Mary-Beth Blankenship.
Consistently making good on our promise to shake things up with our artist selections, The Ignorist, a somewhat under the radar act originally from Murfreesboro, with ties to Glossary and Daphne's Operation, closed out the evening with, perhaps, the most frenetic rock set since The Lees of Memory. Channeling a lo-fi, slacker, art-rock sort of vibe, the group played with a '90s indie nostalgia, though less ironically than many contemporary acts, because that's what they clearly and sincerely grew up listening to. Blasting through tracks from last year's criminally underrated There Is No Vacancy, the quartet performed with the automatic, energetic grace of a band who's been at it for awhile; while they only formed a few years ago, they've all been active in the local scene for quite a number of years. Loud, tight, and with no bullshit, the group kept the rock fans in the building thoroughly entertained, making sarcastic quips between songs and generally bringing to Lower Broadway a sound we wish we got to hear much more often. Definitely a new band to keep an eye on!
Our free, weekly Acme showcase continues this Tuesday, June 30, with Ashlee K. Thomas, Mick Leonardi, and Behold the Brave. We hope to see you there!
_