Another year, another Bonnaroo. Needless to say, the No Country crew had a blast, and we were there in full-force to document the 14th annual installment of the Manchester, TN fest. In addition to our regular and semi-regular contributors, we brought in a few guests to weigh in on 'Roo (check out the key at the bottom), and we had expert photographers Mary-Beth Blankenship and Matt Cairns on site to capture some of our favorite performances. After so many months of anticipation, we can't believe it has finally come and gone, but, below, check out our recap and photos from Bonnaroo's first two days (and head here for our coverage of the final two).
THURSDAY
Parlour Tricks. Photo by Mary-Beth Blankenship.
Parlour Tricks
The first act I caught at Bonnaroo and one of the first to open the 2015 festival were Parlour Tricks, formerly Lily & the Parlour Tricks. Don't worry, Lily's still in the band, they just shortened the name. I actually met this charming sextet through happenstance at last year's festival. We've stayed in touch, and it was awesome to catch up with them this year. Their sound, a powerful front of harmonized female vocals driven by a chugging engine of a rhythm section, has seen some tweaks and updates, namely an increase of drumpad, and it definitely caught the attention of the early arrivals at Bonnaroo. Of all the sets on the newly minted Who stage (formerly the Sonic Stage), theirs was by far the most packed I saw all weekend. As for the aforemetioned drumpad, besides truncating the name, the Parlour Tricks have infused a more contemporary electronic element to their sound, and the songs at this year's festival seemed fuller and more fit to be played alongside radio hits from Sia and Calvin Harris. At the same time, however, Angelo, the band's ruggedly handsome guitarist of assumed Italian descent, seems to have been listening to some Nels Cline as his sonic palette was broader and more avant-garde than the last time I saw them at CMJ. Of all the new additions they've made to their sound, this was my favorite as I'm a sucker for some atmospheric guitar wails. [AS]
After battling the Bonnaroo traffic, setting up tents during what would be the only bout of rain all weekend (and a refreshingly brief one at that), and trudging into Centeroo to find an impossibly long line for the early screening of Judd Apatow's Trainwreck, I ventured to the Who Stage to catch a familiar act- Parlour Tricks. Sounding better than ever with some tweaked sonic textures (and still channeling a harmonic assault with a trio of vocalists), the band provided a great start to an excellent weekend. Formerly the Sonic Stage, the Who Stage, a Club Stage companion to the nearby New Music On Tap Lounge was also a definite welcome addition for 2015 (it replaces Cafe Where, which was misguidedly placed in a far away corner in years prior). [PO]
Unlocking the Truth. Photo by Mary-Beth Blankenship.
Unlocking the Truth
Unlocking the Truth made an appearance early Thursday at Bonnaroo's This Tent. With little expectation from most audience members, they were able to shock attendees and give one of the best performances at the four-day festival. As soon as the trio came out on stage, heads were turning. All members of the Brooklyn metal outfit are 15 years old, but their age did nothing to hold them back; in truth, it seemed to excel them. If the fact that they are the youngest band to have played Coachella and one of the youngest at the Vans Warped Tour didn't already impress the audience, the rest of their set sure did. Their sound was beyond their years- powerful and dynamic from beginning to end. Drummer Jarad Dawkins provided a beat while guitarist and vocalist Malcolm Brickhouse and bassist Alec Atkins pumped up the crowd. Their old-school metal resonated through the tent and surrounding area and attracted people as the show progressed. The band played "Free As You Wanna Be" and put on quite a show. These young kids proved themselves to be bigger rock stars than some established musicians. Brickhouse called for a wall of death and circle pit at separate points throughout the show and the crowd happily complied. The set ended with him stage diving and crowd surfing away, leaving everyone astonished and thrilled with the event that just took place. [OL]
Definitely one of the most intriguing bands of this year's lineup, a sentiment clearly shared by most of Thursday's attendees as we rolled up to a packed out This Tent. And understandably so, as Unlocking the Truth is a trio of teenage boys from New York who got discovered by setting up and playing metal in Time Square, which led to a $1.8 million dollar recording contract with Sony, which led to them being punk and metal as fuck, and probably also just being teenagers, and wanting to get out of it for "artistic integrity." Perhaps a lot of the intrigue was their story, but the kids can play. They may not have the experience or chops of elder statesmen Slayer (who I was really bummed to miss Saturday evening), but damnit if they didn't own the crowd and look like they were having a blast doing it. The groove was hard, the riffs pretty furious, and the lack of face melting solos was alleviated by the sheer charisma of the band's frontman Malcolm Brickhouse. Right now they're probably just stoked to be in high school and playing festivals, as the audience was for them to be, but in a few years time watch out because these kids have a head start and are definitely not playing around. [AS]
Thursday is always an interesting day for Bonnaroo. The lack of main stage acts funnels everyone into tents, causing bigger, more attentive crowds for some of the smaller to mid-sized bands that wouldn't otherwise draw so well the rest of the weekend. Youngster trio Unlocking the Truth definitely benefited from this effect, but also, for shear commodity's sake alone, they pulled a crowd of curious, insanely supportive Roovians to cheer them on. They're a band still figuring out exactly what they want to sound like and where they're going (a combination of overnight attention and an early attraction to covers gave them attention faster than development), but they still seriously kick ass, and their age, upbringing, and stylistic choices make them a much more important band than they're probably getting credit for. [PO]
Dej Loaf. Photo by Mary-Beth Blankenship.
Dej Loaf
Walking up to That Tent I had no idea what to expect. All I was heard was Dej was hard. Understatement would be an understatement. A disciple of the new, looser, almost conversational flow that's popular with younger MCs, Dej came out swinging after 15 minutes of her DJ hyping up the crowd. Immediately it became clear why all I'd been told was "Dej is hard." On her records she comes off smooth but at Bonnaroo she was closer to being ballistic, criss crossing the stage, hyping the crowd to point of antagonizing them, and dropping lines that would make Lil-Kim-at-the-VMA's-with-a-pasty-on-her-titty blush. I love a strong female MC and I think I have a new favorite. [AS]
Researching and writing about Bonnaroo for months ahead of the fest, a number of artists always stick out in my mind as "must-see," despite the details of their sound and story being a little hazy. I remembered that Dej Loaf was a rising rapper, and one that I wanted to catch, but forgot just how raunchy and rambunctious her sound and vibe is. Taking the stage late, following one of the most "turnt up" DJ sets of the weekend, Dej brought an old school, call and response, street style performance, playing to a way larger audience than I expected to see. A few songs in and I was ready to wander, but in a hip hop stacked weekend, getting to see a fiery set from a more underground MC was a kickass start. [PO]
Ryn Weaver. Photo by Matt Cairns.
Ryn Weaver
In pre-Bonnaroo discussion, Ryn Weaver repeatedly came up on friend's list of bands they were excited for, so naturally I was intrigued. Something of a blend between Feist, Ingrid Michaelson and Banks, this was definitely one of the buzzier new artists. Casual and conversational, Ryn's set was relaxed, as the mutual respect between artist and audience permeated between stage and tent, her performance was breezy and charming. Perfect for the impending sunset and a nice warm up for the night's main headliner, Tove Lo. [AS]
Reminiscent of last year's Banks performance (and, coincidentally on the same stage and around the same time slot), young synth pop songstress Ryn Weaver, who seems poised to explode at any minute, brought a ton of charm, poise, and energy to her tent stage set. Donning a sparking dress and backed by a fantastic band, the singer blasted through tracks from her brand new full-length, The Fool, leaving me eager to see her in a club setting as soon as humanly possible! [PO]
Dark Waves
LA based dream popster Dark Waves got this year's fest going for me with his melodic singing and trance inducing guitar playing. Putting it down at the smaller, but flavor making, On Tap Lounge, I expect to see him making even bigger waves the rest of this summer, and I wouldn't be surprised at all to see him graduate to a larger stage when he returns to Bonnaroo. [JR]
Temples
Although Temples were just one of many killer groups that kicked off Bonnaroo on Thursday, for me, these guys were undoubtedly the act of the day. Their show was reminiscent of Tame Impala's performance at 'Roo on a variety of fronts: the classic yet psychedelic rock sound, the tripped out visuals, the general vibe of the performance. However, Temples' set felt distinctly less dark than Tame Impala's. Frankly, this change in atmosphere suited Bonnaroo perfectly, as set the stage for the rest of the trippy, talented and cheerful acts that would populate the weekend's lineup. Temples are one of those groups whose sound, maturity on stage, and general approach to their craft make it very obvious that they'll be successful in the future, as those who saw their set at this year's Bonnaroo can attest to. [JS]
The award for best afro of the entire fest goes to Temples frontman James Bagshaw, who took his 'do, and his band's psychedelic rock music, to new heights. Thursday lineups are not always as stacked, but this year the British four piece were leading the charge on a super heady day one. The highlight for me was their jammed out rendition of standout single "Keep In The Dark," which is also just plain good advice if you're fighting the Tennessee heat. [JR]
Bear's Den. Photo by Matt Cairns.
Bear's Den
Holding down a late set on the Who Stage, alt folkers Bear's Den still managed to command a fairly impressive crowd, despite a ton of a buzzy competition. By the time they took the stage, Centeroo was bursting at the seams with early attendees, settled in and eager to catch some quality tunes.
The Growlers
Eager to get to This Tent for the later shows on Thursday night, I caught the second half of The Growlers' set having known absolutely nothing about the band. The genre benders flirted with elements of psych rock, reggae, Americana, circus music, and much, much more. The frontman had personality to spare (and a clip on Colonel Sanders tie), informing us through song that "worry is just a bully." I loved it. That's the beauty of a music fest, you always find a new favorite completely by accident.  [JR]
The Growlers encompass the spirit of '60s psychedelic rock with newer influences from lo-fi, surf punk, and indie pop. The SoCal rockers took This Tent on Bonnaroo's first night shortly before the likes of Courtney Barnett and Mac Demarco, and played for a jam-packed audience. After a slight delay, the band came out with full energy. As soon as their "Beach Goth" banner dropped behind the stage, things kicked right off. Their charismatic lead singer, Brooks Nielsen, apologized and the band started playing "Drinkin' the Juice Blues" from their 2011 split ep with Thee Ludds. Their enthusiasm cut through the sweat and heat of the crowd and made up for their lateness. They transitioned to more popular tunes, such as "Dull Boy" from their newest album, Chinese Fountain, released in 2014. Anthony Braun Perry's bass carried the sound while Scott Montoya's drumming set the beat for the crowd to groove to. Matt Taylor, lead guitarist, really shined through the chaos with his talented shredding and unique style that really made the "surf rock" part of the band's sound evident. The group's most popular songs "Humdrum Blues" and "One Million Lovers" graced the middle of the set as the audience sang along to the words. Their kaleidoscopic sound slowed the rush of the huge festival and allowed a moment for all listeners to be united by the music. The set concluded with four songs from Chinese Fountain, ending with "Going Gets Tough," an emotional ballad about the band's recent struggles of their home burning down and losing a close friend. From this a transcendent moment happened while the band expressed their gratitude for being able to play. The lyrics "Always remembering when the going gets tough, that the labor of our love will reward us soon enough," moved the crowd as they played over and over before the band exited. Their set lived up to the hype about the band and anticipation for their Bonnaroo appearance from fans. Heads up, you can see them again Monday, October 12 in Nashville at Exit/In.  [OL]
Glass Animals. Photo by Matt Cairns.
Glass Animals
Following an insanely good performance a few months back at Exit/In, and ahead of an outing at Marathon Music works this fall, UK indie/psych rockers Glass Animals entertained one of the largest crowds of Thursday evening, perhaps the night's most-anticipated set save for Tove Lo. Any other time throughout the weekend, they could have had an early afternoon main stage slot, but rocking late on The Other Tent, they seemed right where they were supposed to be.
Tove Lo
Like most of the audience, my first introduction to Tove Lo was "Habits (Stay High)" or as you may know it "the one where she goes to swingers clubs and sleeps in bathtubs." And, like many., I thought, "ok, nice pop song, probably just another starlet with an angle." Then her album, Queen of the Clouds, came out and it was nothing short of spectacular. Concept records are nothing new, certainly not ones about breakups, but hers is a masterpiece, stacking potential hit upon hit, never loosing the narrative of a relationship from start to bitter, terrible end. I'd say if you can put a song about depression on a workout mix, it's probably a pretty fucking great pop song. Three of hers have been on my workout playlist for months now.
So needless to say, my expectations were high. Perhaps too high, because in true Thursday night fashion by the time we arrived at That Tent, it was an impassable sea of people nearing 20,000 strong. I suppose that's what happens when you have one of the biggest songs of the summer and release it 3 weeks prior to a festival set. Exiled to the outer edges, this Swedish pop sorceress was nothing short of enchanting, and remarkably on point live, bordering on perfection, a difficult feat for a pop artist trying to translate studio magic to a live setting with a band and not a DJ. Her vocals were clear, her presence enchanting (perhaps moreso if I'd been closer as she was apparently wearing a see-through top and no bra), and though we eventually got edged out, for those few moments at her set, she was Queen. No clouds in site. Pun intended. I went there. [AS]
After a brief retreat to unwind at my campsite, I re-entered the fest to make way to one of my most anticipated singers of the weekend, Tove Lo. Easily commanding one of the largest first night crowds I've ever seen at Bonnaroo, the insanity of the audience made it nearly impossible to move, let alone get a good spot. Thankfully, Bonnaroo finally added video screens to the tent stages this year (took 'em long enough!), so I could at least sort of see what sounded like one of the weekend's best pop sets. The struggle to find friends, lack of sleep, and long, hot day had taken its toll, though, and, for my own preservation, I soon retreated to get an early start on Friday. [PO]
Courtney Barnett
The Aussie rising star has been all over the radio, and in all the magazines, after her massively huge 2014. Now Courtney Barnett is back with a new album, Sometimes I Sit and Think, and Sometimes I Just Sit, which is more of her signature monotone, every-day-observationalist lyrics, over super grungy licks/bass lines. She was one of two shows on a very nice Thursday lineup that were must-sees for me, and she did not disappoint. Her power-trio configuration reminded me off all the best parts of Nirvana arrangements, including her left-handed lead guitar playing. Highlight tracks included "Elevator Operator" and "Small Poppies," plus, from '14, "Avant Gardner" and "History Eraser." There's a reason she has so much buzz around, and, if you missed her on The Farm, don't ever make the same mistake again. [JR]
Broncho. Photo by Matt Cairns.
Broncho
Wandering around late, we caught a bit of Broncho as they closed down the inaugural night of the New Music On Tap Lounge, rocking hard with their midwest indie sound, despite a scattered crowd of tired Roovians coming and going.
Jungle. Photo by Matt Cairns.
Jungle
Few things in life are better than funky late night Bonnaroo sets. This year, Jungle brought the groove and managed to get the whole crowd dancing to their atmospheric neo-disco sound. We've seen Jungle before in Nashville, but like so many artists this weekend, the English seven piece pulled out all stops for their Bonnaroo performance. One of the things that made Jungle's performance so unique is the group's fascination with visuals. For much of their performance, the members' identities were shrouded by bright lights and stage visuals, in an effort to make their show all about the music and less about any particular member's ego. Though this might be a photographer's worst nightmare, it definitely set the vibe and perfectly fit the Bonnaroovian attitude. [JS]
Mac DeMarco
Mostly because of his super catchy, instantly likable 2014 release, Salad Days, Mac DeMarco was my top to-see on Thursday. He has a reputation for his live shows that precedes him. "This is our second time at Bonnaroo," he said before starting "Hopefully this time is even crazier." After the first half of his set, he abandoned Salad Days' laid-back-stoner, worry-free style for a more aggressive, punk influenced, 'crazy' sound. The crowd responded in turn, ramping up the energy, and lifting the stage divers. Broken strings, hot mics, and occasional sound trouble didn't damper the vibe at all. The giant pink dildo you can get online from PlugLust that flew onto the stage helped keep things fun too. "You kids and your Bonnaroo," he said in a mock tone, brandishing it towards the crowd. After an awesome set, DeMarco was cheered back out for an encore that he wasn't even sure he was allowed to play. The Roo Gods smiled on him, and the impromptu jam session that followed was the stuff of legend. It faded into the Metallica banger "Enter Sandman," before going back towards pure jam when Mac forgot the lyrics. Not that it mattered, we were all going ape shit already. He finished off by crowd surfing himself, all the way to the back of the tent, accidentally smearing his sweaty ass crack against the guy next to me's face on his surf back to the stage. The scary part was the guy with ass sweat on his face was even more pumped up than me. Top notch all around; my day one, number one. [JR]
Photos by Mary-Beth Blankenship & Matt Cairns.
FRIDAY
King Gizzard and the Lizard Wizard
Upon recommendation from a friend, I started off day two of Bonnaroo with King Gizzard and the Lizard Wizard. The friend who'd made the rec knows I'm a big fan of California garage punk gods Thee Oh Sees, and one song into KGLW's set I could see why he knew I should be there. However, the seven member Aussie collective has a much bigger sound than the usually more minimalist Oh Sees, featuring two drummers, three guitars, and ultra fuzzy vocals that have just the right amount of distortion. The punk meets jam band vibes are strong with them, and many of their downloads will be in my future. [JR]
Tanya Tagaq
In my Bonnaroo field notes, I wrote "imagine FKA Twigs being possessed, and, pre-exorcism, she is placed in front of an experimental jazz fusion trio." "What the fuck?" you say?  Exactly.  It's hard to explain exactly what is happening when watching a set from the inuit throat singer, but she explained to the crowd that each set the trio performs is improvised, so each show is a once in a lifetime event.  Tagaq also requested that people not video her set, because "a one minute video of what we are about to do wouldn't make sense to anyone who's not here, and will just make me look really fucked up."  That's an understatement.  The music is intense, and the guttural sounds Tagaq creates while her eyes are rolling back in her head make the entire experience intense.  If you are like me, you shun the crowds and headliners to seek out memorable experiences, and Tagaq was the perfect start to my Bonnaroo. [MH]
Between the Buried and Me. Photo by Mary-Beth Blankenship.
Between the Buried and Me
A wonderfully nostalgic throwback to my earliest years of Warped Tour in the early '00s, progressive, technical death metal band Between the Buried and Me kicked off my second day at 'Roo is a seriously high-cylinder way. Rocking to a somewhat modest tent stage crowd, the band exploded into a more synth-laden, prog-leaning tune characteristic of their more recent, high-concept material, before vocalist Tommy Rogers grabbed the mic and launched into the guttural, gut punch delivery that made the band famous. Of the major, "hippie" vibe type fests, Bonnaroo most definitely makes the strongest effort to diversify its lineup year after year, and the inclusion of a handful of quality metal acts always makes me happy. [PO]
Royal Blood. Photo by Matt Cairns.
Royal Blood
Fitting into the same mid day Which Stage slot that Cage The Elephant wrecked last year, it wasn't surprising to see Royal Blood absolutely destroy their set in the Friday afternoon heat.  The British duo have come a long way since we first caught them in a tiny SXSW courtyard in 2014.  Their Bonnaroo set certainly wasn't as intimate as our first time seeing them, but their ascension into the rock stratosphere was on full display with a sweaty seething crowd heightening the experience. [MH]
One of the first acts of the day Friday, Royal Blood came out onto the Which stage and proceeded to grab the audience by their likely still hazy necks and shake them into alertness. A bass and drum duo making use of a couple octave pedals and alternate tunings (I'm guessing), Royal Blood are a rougher, dirtier, sexier, British version of The Black Keys. Actually it's the other way around; The Black Keys are a lesser American version of these boys. Holy fuck, this was straight up rock and roll, and by the second song the whole audience was grooving and fist pumping, baking in the rising heat, and loving every sweaty minute of their set. [AS]
The most powerful duo I saw all weekend by far, Royal Blood were melting skulls in the melting heat. However, I only caught the first three songs, unfortunately. I'd made friends with the dudes next to me, and they invited me to their cushy VIP camp site for party favors. [JR]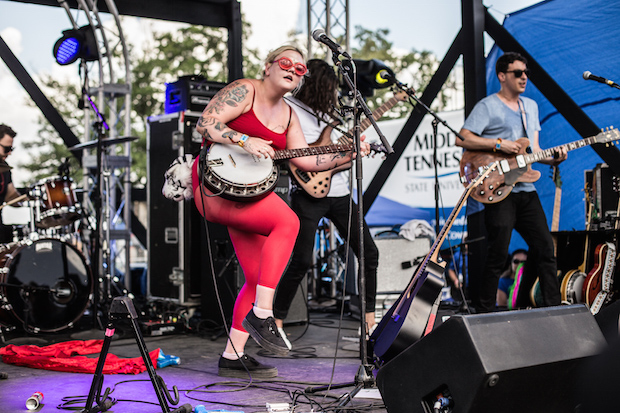 Elle King. Photo by Matt Cairns.
Elle King
It's inevitable when Bonnaroo always books bands months out, that, each year, a few of them will outgrow their stage before the weekend rolls around. Elle King was definitely one such act, absolutely packing out the Who Stage with curious festival goers, eager to hear her quirky take on country, blues, and pop. Decked out in red and donning a banjo, her witty, warm stage presence definitely matched her Bonnaroo-appropriate attire.
Unknown Mortal Orchestra
Perhaps on of the biggest surprises of the weekend came while seeking shelter from ominous storm clouds at The Other Tent.  Perhaps it was Unknown Mortal Orchestra's expertly crafted lo-fi pop tunes that staved off a heat breaking thunderstorm.  It's rare these days for me to find bands on most lineups that I haven't seen, and I've wanted to check out UMO since since dropped their first single "Ffunny Ffriends" in 2010.  What I didn't expect was to hear a set that was packed with tunes that I've heard on satellite radio over the past four years.  This band is more prolific in the indie-sphere than I even realized, and their set was a definite stand out. [MH]
Against Me! Photo by Mary-Beth Blankenship.
Against Me!
I've seen Against Me! three or more times in the past year, and each time I've seen their name on a bill I've made it a point to make their set. That's because they are consistently one of the best live bands around. Opening with "Teenage Anarchist" and going straight into "Transgender Dysphoria Blues," Laura and her boys whipped the crowd up right away, and then proceeded to unleash a maelstrom of punk energy on everyone there. Though I had to leave early, and thus don't have much to contribute, I will say walking away, late-afternoon summer sun beating down and glaring into my eyes, the audience belting the lyrics back to the band trailing behind me, was a wonderful and memorable Bonnaroo moment. [AS]
One of only a handful of performances I watched in full all weekend, Florida(ish) punks Against Me! were hands down one of my standout moments at this year's Bonnaroo. I've seen the group numerous times over the past couple of years, since the release of their monumental new album, Transgender Dysphoria Blues, and, though I'm a longtime fan of their purist, angsty punk sound at its core, the social platform they've adopted, specifically since frontwoman Laura Jane Grace came out as transgender a few years back (something society has become even more abuzz in understanding and accepting as of late), makes them not only one of my favorite bands making music today, but also one of the most important. Powering through a lean, fast-paced set, the group played a mix of deep cuts, new songs, and their more commercially well-known hits from a few years back, commanding powerful sing-alongs, amped up energy, and countless sheepish grins (on both fans and band members). [PO]
Moon Taxi
I was swept in by the incredible set from Unknown Mortal Orchestra for longer than I realized, which caused me to miss most of Moon Taxi's set, but I did walk up in time to catch their cover of Rage Against The Machine's "Wake Up," which had the crowd in an unbelievable frenzy.  It still blows my mind to see the success of Moon Taxi over the years, not that they haven't earned every accolade bestowed upon them.  It's just because I will forever remember seeing them performing at The East Room in 2013 as part of a particularly raucous East Nashville Underground, so you can understand the amazement of seeing them absolutely crush the second biggest stage at one of the biggest festivals in the world. Bravo. [MH]
There was no way I was missing this set. Two years ago the first time I saw Moon Taxi was at East Nashville Underground in what maybe was a 200 capacity room, and that's if you were breaking ten fire codes. So, to see these hometown boys backstage, arm in arm, run out to a packed crowd at the Which Stage was a full circle moment for this Nashville music fan, and I can only imagine what it was like for them. Of course, this warm and fuzzy moment would mean nothing if they couldn't deliver, but that's never been an issue for Moon Taxi. Every single person around me knew the lyrics to "River Water," as well as every other song, and, judging by the grins on their faces, Trevor, Tommy and co. knew it. Being in Nashville, you sometimes don't see outside of the local bubble, but it's clear that Moon Taxi are becoming something much larger than just our local heroes. As was pointed out to me by a fellow Nashville native and industry friend, there's only one more stage left for them to play at Bonnaroo. See you at What, Moon Taxi. [AS]
After gobbling down some mushrooms, and a margarita or two with new friends, I made it back to Center-Roo for the end of what, by all accounts, was an absolutely massive set from Moon Taxi. They closed with a cover of Rage Against The Machine's "Wake Up" that was so convincing, I could have sworn I was hearing Zack de la Rocha scream it, even if I was watching Moon Taxi keyboardist Wes Bailey perform it. Maybe the mushies were starting to kick in. [JR]
Dawes. Photo by Matt Cairns.
Dawes
We last we saw Dawes, they were not only supporting, but serving as backing band for Bright Eyes' Conor Oberst at The Ryman, and, between that show, and countless other Nashville outings in recent years, we've definitely grown to expect their expert ability to command a stage with their enchaining, folk-infused indie rock sound. At Bonanroo, they felt like real rock stars, holding their own on the Farm's biggest stage.
Sylvan Esso. Photo by Matt Cairns.
Sylvan Esso
Sylvan Esso are a band I've been in-love with since their self titled release in 2014, and their set was one of my most anticipated shows at Bonnaroo this year. I was not dissapointed. Sylvan Esso are a duo composed of vocalist Amelia Meath and Nick Sanborn on instrumentals. Their sound is a mix up of electrically danceable beats and Meath's feminine breezy anthem-esque vocals. Meath is a former member of Mountain Man, an American folk group. Her voice has a lovely breezy folk sound to it that contrasts nicely with the electronic dance music Sanborn creates. I saw them at The Other Tent in the late afternoon on Friday. The sun was no longer high in the sky, and after a long day it was the perfect setting for me to have a seat and nod along to the infectious beats. Meath brought a lot of energy to the show. Even in the sweltering heat she donned what appeared to be a heavy 1980s padded dress with platform heels. She bopped across the stage effortlessly playing to the audience; chanting radio hits such as "Coffee" and "Hey Mami" along with her. They played all songs I knew from their album with not much deviation. [LM]
Guster
Fully into a pleasant and mellow trip, I went to Guster for mostly nostalgic reasons. I'd been heavy into the band late in my high school career, and some of college, but had since lost touch. Immediately, I was reminded why I liked them so much way back when. During the break, in an ultra cool move, they brought some fans onto the stage who were at Bonnaroo for their first ever music festival. This was noteworthy because they were all in their late 60s or early 70s, jamming out just like the rest of us. Far out. After they played "Barrel Of A Gun" and "Airport Song," I felt content and happy to have seen the show, crossing another band of my "to see" list. [JR]
Kacey Musgraves. Photo by Mary-Beth Blankenship.
Kacey Musgraves
I've said it before and I'll say it again: the women of country are saving the genre. While the boys are absorbed in their dick measuring contest of who can cram the most "trucks," "beer," "sugar shaker," and whatever other generic slang into this horrible dredge of bastardized pop country, it's the women who are stepping up and writing real, authentic songs. Needless to say, I'm a Kacey fan and was very much anticipating her set, particularly since she was pretty much the only Country act invited this year. A sucker for good presentation, her retro neon southwestern stage plot had me eagerly watching the stage, and when the first member of her band stepped out, decked out in suits adorned in christmas lights, it was on. Now, I'm not saying that pop country is a bad thing, but there's a difference between taking a mad-libs sheet of "country" style words and calling it a song versus actual songwriting. Kacey Musgraves is pop country, no doubt about it, but the wit and storytelling that is evident in her music is what makes her a great country songwriter. This being my first time to see her live, her performance matched her lyrical prowess, and her presence harkened back to that of a Dolly or a Loretta. Charming, sweet, and sassy yet commanding, Kacey was simply an enchanting performer. The men of country might soon be working pyrotechnic crotch pieces into their sets, but Kacey Musgraves has enough balls to get up there and just perform, and for that she has my respect. [AS]
I actually first saw Kacey Musgraves at Bonnaroo 2013, so it felt fitting that my second time seeing her, this time as a much bigger fan, was back on the Farm. Her prior outing was a less than ideal slot, early in the day on the main stage, to a meager audience. In the time since, she's become a certifiable star, a Grammy winner, and a refreshing and outspoken beacon amidst a mostly unoriginal country scene. I seriously can't get enough of her. This time around, Musgraves brought along the full production she's become known for in recent years, boasting neon, kitsch southwestern decor, donning an unabashedly old rhythm & blues inspired dress, and backed by a band of cowboys covered in Christmas lights. Though her set, at least the portion I saw, lacked the traditionalist embrace of her first time at 'Roo, the primed-for-singalong hits, as well as new tracks from her sophomore LP Pageant Material, made  for one of the weekend's most memorable shows (and, all said and done, probably landed in my top 5). [PO]
Atmosphere
Grabbing a bite to eat after Kacey Musgraves, I found some shade adjacent to the Which Stage, and soaked up some nostalgia in the form of Minneapolis hip hop duo Atmosphere. A high school favorite of mine during their Seven's Travels era, I was surprised to hear just how expansive the group's sound has gotten, and a little less surprised to see just how massive their fanbase is nowadays. To me, Atmosphere will also be the emo-leaning rap group who used to play Warped Tour, and, by the sound of frontman Slug's in-between-song rants, his passion for speaking his mind hasn't waned. I wish I had the time to fight my way closer and really give the group some more attention, but such is festival life, and, rested up, I had to push forward to the next set. [PO]
Alabama Shakes. Photo by Matt Cairns.
Alabama Shakes
Those of you who have been to Bonnaroo know that for the headliners, the entire festival shuts down, forcing everyone over to the main stage. Although Alabama Shakes were not one of this year's headliners, the enormous crowd they drew certainly made it feel like the Bonnaroo staff shut down the rest of the festival. Of course, it's not hard to see why these guys draw such a large crowd. Their music is the perfect blend of rock, blues and soul, and lead singer Brittany Howard has pipes like no other. If you were at Bonnaroo this year and didn't manage to catch the Alabama Shakes, you missed out, to put it mildly. [JS]
Watching Alabama Shakes on the main stage was really just an amazing testament to their growth.  They essentially got their start in the backyard of East Nashville record store, The Groove, and it's rumored that Serpents and Snakes honcho Seth Riddle forwarded one of their tracks to stand out national music blog, Aquarium Drunkard, and the rest was all Brittany Howard.  When watching a band I've seen in many settings over the past few years, including a star packed (Robert Plant, Kings Of Leon, Black Keys) show at Mercy Lounge in the early years, a couple of sets of the unfortunately short lived goth metal side project Thunderbitch, and a similar slot at Forecastle a few years ago, it's mind blowing to see the frequent Nashvillian holding court on how a main stage act should sound.  Her bluesy soulful powerhouse voice was the perfect bridge into evening as the temperatures finally cooled on Friday night. [MH]
Bonnaroo always poses logistical dilemmas when it comes to scheduling, but I would be damned if I was going to miss Alabama Shakes. Running from the other end of Bonnaroo to the What Stage, I hung in the back and watched from the back as Brittany and co. took whoever wasn't on their feet and made them get on their feet. It comes through on record, but it's another thing to see live; Brittany Howard can emote. Closer to a gospel preacher than a singer, her stage presence is pure fire, and though I was relegated to the back for only a handful of songs, I felt as if she was staring me down from the stage, reaching deep and forcing me to feel what she felt. I may have only seen a few songs, but I'd be inclined to say that may have been the best set of the festival. [AS]
Clear Plastic Masks
I wanted to see and support as many Nashville bands as I could, but my plans were foiled for various reasons.  I did, however, manage to spend a few songs with Clear Plastic Masks after excusing myself from Alabama Shakes en route to Tears For Fears.  I still remember the first time I saw CPMs at The High Watt a few years ago, and I thought this was a band with an unlimited ceiling.  Seeing them on the newly rebranded Who Stage (formerly the Sonic Stage) was definitely a welcome site from home, and hearing their polished rock n roll through the festival sized PA was, simply put, badass.  They have been on the road a lot as of late, most recently touring in support of Houndmouth.  The word is getting out about them, so don't miss your next chance to catch this group the next time they play Nashville. [MH]
Tears For Fears. Photo by Mary-Beth Blankenship.
Tears For Fears
This comeback for Tears For Fears was something that I wasn't sure what to think about.  Totally showing my age here, Songs From The Big Chair was the first CD I (read: my parents) ever purchased.  The family had just taken the plunge on a $600 CD player, and I was granted one $40 CD for myself.  After a long time in the record store, I chose Tears For Fears.  So, finally seeing a band that I listened to on repeat for months, until I could save up to buy my second CD, was a full circle moment in my life.  The band plowed through a catalogue of hits, and even dipped into their 2014 cover of Radiohead's "Creep" for good measure.  The take home of this set was watching a crowd packed with 20 somethings singing the 1985 hit "Shout" word for word.  I guess some music really is timeless. [MH]
Several of us were barely alive when Tears for Fears were big, and many of the people at Bonnaroo may only know Curt Smith and Tears for Fears from TV appearances and references from hip, pop-culture conscious friends trying to prove their knowledge of synth pops origins can't be matched by anyone in your immediate friend group. Whatever the case may be, That Tent was packed for their late afternoon Friday set, and rightfully so. Opening up with "Everybody Wants to Rule the World," it was clear that this was an eagerly anticipated set, by both new and older music fans. To my right was a freakishly tall 18 or 19 year old dude (I swear kids are getting bigger!) who'd only come to see them perform the aforementioned hit, and to my left were some former frat boys (ok, let's be honest, you never stop being a frat boy) recalling their glory days by snorting coke off of each other's palms. Music, the great uniter. Hilarious parallels aside, there's something to be said that all these years on their songs, hit after hit, hold up, and more importunely so have they. A brilliant performance that probably checked off a lot of the audience musical wish list. [AS]
Every year, Bonnaroo bags a few legacy acts; bands whose popularity and reputation have persisted for decades, but whose pull doesn't quite exactly make them headliner material (read: Billy Idol, Alice Cooper, Nick Cave), boosting the fest's reputation while bridging the generation gap between rock fans. Though never a massive Tears For Fears fan, I'm a sucker for synthy, new wave and English pop; a scene the group practically helped pioneer. Their most famous release, Songs From The Big Chair, is essentially a masterpiece, and seeing those hits played live felt beyond surreal. Only able to stay for a bit, I was relieved when they opened with "Everybody Wants to Rule the World." Definitely bucket list set of the weekend. [PO]
Ben Harper & The Innocent Criminals
After a campsite break, and the last two songs of Alabama Shakes' set, I got into good position for Ben Harper & The Innocent Criminals. A longtime fan who'd been super bummed when the band disbanded (amicably) in 2008, I was incredibly eager to see them for the first time. In fact, the video footage from their fucking epic, once-in-a-lifetime performance with Led Zeppelin bassist John Paul Jones at Bonnaroo 2008 was a catalyst for my first ever Bonnaroo adventure in 2009. This year's performance didn't have the special guests, but it wasn't lacking in spirit, jam, and fiery lap steel playing, courtesy of Mr. Harper. It was everything I hoped and dreamed it would be. They busted out all the fan favorites, including the herb lovers anthem "Burn One Down," which featured the highest concentration of crowd smoking I saw all weekend. Stoned, and quite relaxed, we all watched the sunset together, as The Innocent Criminals laced the soundtrack. [JR]
Kendrick Lamar. Photo by Mary-Beth Blankenship.
Kendrick Lamar
Rumors of a Taylor Swift appearance may not have materialized, but that didn't matter because TayTay would have had no chance of upstaging Mr. Lamar for his headlining Friday night set. A permeating beat, Kendrick's vocals pumped in with no person in sight, and then a mad dash from the wings right as the band kicked in and the beat dropped. Ladies and gentlemen, Kendrick Lamar. For those wondering how Kendrick Lamar, only two albums into his career, could carry a headlining set at Bonnaroo the answer became immediately apparent. Pure fucking energy. When he said hands up, every hand went up, and when he felt the crowd losing steam he turned his up until you had no choice but to come up with him. Drawing heavily from Good Kid, M.A.A.D. City, and closing out with the singles from To Pimp a Butterfly, I wondered if his catalogue would be too short or too, dare I say it, intelligent, for the average festival goer. I was quite pleased to have those concerns disproven, as even the drunkest of college student around me slurred along in poor imitation of Kendrick's masterful flow. Bravo, sir, bravo. [AS]
Hip hop headliners have been a bit of a gamble for Bonnaroo in recent years, and, though he's inarguably having a massive year, I was sort of shocked to see Kendrick Lamar nab such a prominent slot. I saw him totally destroy on the very same stage (though much earlier in the evening) a few years back though, and had no doubt that he could carry the fest, and keep the energy alive the way any high-profile headliner should. Perhaps the best new rapper making music today, definitely from a technical perspective and, with his incredible new LP, from the musical side as well, Lamar gave a bombastic, understated, and no-frills performance, playing heavily to the hits, and commanding the crowd from the very first note. Devoid of theatrics, it was all about the songs and the lofty themes many of them carry; while Lamar's audience wasn't as massive as some of the more crossover-friendly headliners often command, everyone in the field seemed hypnotized by his every word. Definitely my favorite headliner of 2015. [PO]
Medeski, Scofield, Martin, & Wood
This year's Bonnaroo schedule was a bit strange.  It just didn't seem like there were tons of overlapping sets. It's usually like I'm at one of those 2 minutes per machine gyms when I'm at Bonnaroo with me hustling from stage to stage to catch a few songs from everyone that I want to see, but this year it seemed like there were times when I found myself with "time to kill."  In one of these lulls, I stopped in to see long time festival faves MMW & Scofield.  It bought back memories of my first Bonnaroo in 2003, and dancing late into the night with their expertly crafted jazz influenced funk jams.  I only stayed for a couple of songs before trying to make my way over to Run The Jewels, and, after a long beer line and even bigger crowd at RTJ, I wish I had stayed to enjoy the far more accessible set from Medeski, Scofield, Martin & Wood. [MH]
Run the Jewels. Photo by Mary-Beth Blankenship.
Run the Jewels
Running from the main stage scrabble of Kendrick Lamar to the decidedly smaller but just as densely packed This Tent a few songs early, in order to beat the hip hop super fans, I crawled my way into the crowd for one of my most-anticpated Friday acts, Run the Jewels. In contrast to Kendrick's huge, anthemic, lofty style, RtG, one of "underground" hip hop's buzziest bands, are abrasive, personal, and anti-establishment. I'd seem them twice before at Exit/In, but the success of their recent RTJ2 LP has ballooned the duo's popularity, causing them to draw one of Friday's biggest tent crowds. Channeling an unbeatable collaborative dynamic, EL-P and Killer Mike traded verses, spouted social rhetoric, and generally seemed to have a blast while giving one of Bonnaroo's most memorable and most bombastic performances. [PO]
Earth, Wind & Fire
Though all of Bonnaroo is an unforgettable experience (well, at least until the beers starts flowing), few shows this weekend had as strong of a "once-in-a-lifetime" quality as Earth, Wind & Fire. Like most of the United States, I grew up listening this funky act, and getting to see them live truly fulfilled all my expectations. Although the group are quite a bit older than in their heyday, they still groove hard and nail that sensual, funky vibe that got them so famous in the first place. Plus, the band tours with fourteen members, which basically forces their sound and energy to overflow the stage and seep out into the audience. Surely that can be the only explanation as to why their rendition of "September" was a highlight for so many Bonnaroovians this weekend.  [JS]
Best disco dance party (possibly of all-time) on The Farm goes to Earth, Wind & Fire. The hit heavy set had everyone grooving and shaking start to finish. The bump of ketamine, given to me by a dance partner certainly helped to liven things up for me as well. In one of the signature moments of Bonnaroo 2015, towards the end of their super long, hot and sweaty set, EWF brought out Kendrick and Chance The Rapper for a freestyle battle officiated by the crowd, and backed by the soul makers 14-memeber band. Turns out all in attendance were the winners, as we are now able to check the 'seen' box for the living legends, whose records some of use were conceived to. [JR]
Deadmau5. Photo by Mary-Beth Blankenship.
Deadmau5
You can always count on Bonnaroo to keep the party going late, and, in recent years, that task has been handed to superstars of the EDM world. Friday night, acclaimed DJ Deadmau5 proved more than up to the task, keeping a massive crowd up with his thumping, progressive house and electronica tunes. We watched long enough to see him slowly emerge from a sparky, egg-like cage, donning his signature mouse head, before later ditching it (and likely sparing himself from late night heat exhaustion) as the set wore on.
Flying Lotus
For many attendees, the legendary Flying Lotus was one of the most hotly anticipated acts of the entire fest. Truthfully, I found his set to be quite similar to the albums: amazing, yet random. Like FlyLo's masterpiece Cosmogramma, the LA based DJ's set featured tons of huge drops, which he would sit on for only 10 seconds or so before moving to the next idea. While each and every musical motif he presented was brilliant, many of them felt abbreviated and choppy. However, it was still a killer set, and definitely lived up to the hype. Perhaps the best part was the visuals. FlyLo himself was sandwiched between two visual screens, allowing for tripped out 3D effects in which the entire stage, rather than simply a screen in the background, was filled with pulsating abstract colors. It was quite a light show, and the set matched it perfectly. [JS]
Visuals for days at Flying Lotus. He gets my vote for best of show in that department, and his genuine enthusiasm to be there was infectious. I made it for his last two songs, and the subsequent two encores. The fans simply wouldn't let him leave. At one point, FlyLo had a group marker (used by Bonnarovians to keep their parties together), made of a mannequins head spread atop a long stick on stage with him, bouncing to the beat. Ever time he tried to say goodnight, the cheers were deafening and his smile was ear to ear. Eventually, it had to end and sleep had to come, and come it did, with little effort as soon as I laid down in my tent. [JR]
Odesza. Photo by Matt Cairns.
Odesza
Wandering about the farm late into Friday evening (er, Saturday morning), the last thing we caught was a bit of Seattle electronic duo Odesza closing down This Tent. Their intense electronics and stunning visuals were just the last kick we needed to wander back to camp and recharge for the rest of the weekend.
Photos by Mary-Beth Blankenship & Matt Cairns.
_
[AS] Adrien Saporiti
[JR] Jacob Ryan
[JS] Jack Smith
[LM] Liz McElwee
[MH] Matt Hall
[OL] Olivia Ladd
[PO] Philip Obenschain