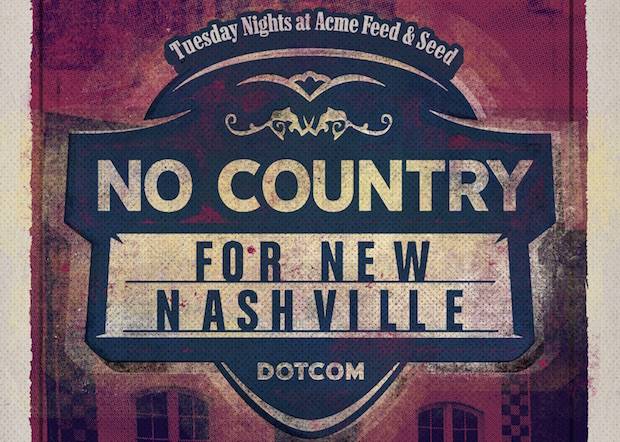 By now we hope you've heard, our live events production wing, No Country Presents, has taken up residence at Lower Broadway's hippest new restaurant, lounge, retail, and event space, Acme Feed & Seed, where we've been bringing you a weekly, FREE, Tuesday night showcase, featuring some of our favorite emerging local and national talent. The curated showcase runs from 7:30 to 10:30 p.m. each week, and, so far, has featured everything from folk to funk to rock to indie. For our next installment, on Tuesday, June 23, we're bringing you local bill of lo-fi/art-rock act The Ignorist, a solo set from ELEL frontman Ben Elkins, and folky pop rock singer-songwriter Allison Bencar. Keep reading to find out all about them, and cancel any other plans you might have Tuesday night, because you're coming to hang with us. Got it?
THE IGNORIST
Founded by guitarists Mickey Ethridge and Jason Manley, formerly of acclaimed Murfreesboro band Daphne's Operation (and act which would, more or less, give way to Glossary), The Ignorist added bassist Brian Pitts and drummer Greg Williams to their ranks in 2012, subsequently getting serious and making a concentrated effort to craft new music, which led their last year's wonderful (and incredibly underrated) There Is No Vacancy. Gloriously nostalgic in their '90s-esque flavor of noisy, indie rock, affinity for lo-fi sounds, and slacker/art-rock approach, The Ignorist are, without a doubt, one of Nashville's best kept secrets, and we can't wait to host them on the Acme stage.
BEN ELKINS
A longtime friend of the site and one of our favorite local songwriters, Ben Elkins is best known these days for fronting eclectic indie pop band ELEL. Prior to that, he spent several years in poppy, upbeat indie rock act Heypenny. While you can expect to see a more stripped down set at Acme, we'd definitely bank on it leaning more towards the music of the former; though ELEL's sound is layered, hypnotic, and driving, the core of the songs translate well into just about any arrangement, and that's the vibe Elkins seems most attracted to these days.
ALLISON BENCAR
Channeling a folky, pop rock sound with some country twang, local (by way of Cleveland) singer-songwriter Allison Bencar adds even more musical diversity to this lineup, citing influences like Tom Petty, Pat Benatar, Roy Orbison, and Radiohead. A resident of Music City since 2012, Bencar released her fantastic debut full-length, First Call, last year, and we can't wait to see it performed live.
The Ignorist, Ben Elkins, and Allison Bencar will perform Tuesday, June 23, at Acme Feed & Seed. The show is 21+, music begins at 7:30 p.m., and, per usual, it's totally FREE. Downtown PARKING can sometimes be an issue. However, if you're willing to walk a few blocks, street parking is typically easy to find on the numbered avenues south of Broadway, or along Korean Veterans Blvd. Metered spaces are often free after 6 p.m.