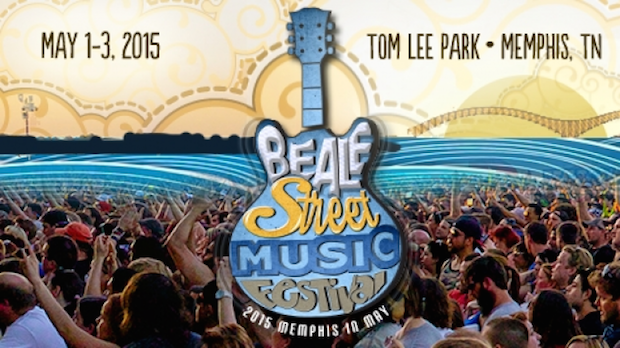 Are you heading west this weekend for the annual Memphis in May Beale Street Music Festival? You should be. Priced at only $40 a day or $120 for the weekend, the annual fest, hosted at Tom Lee Park in Memphis, seems to bring the most bang for your buck year after year, especially of the major events that are easily road-trippable from Nashville. This year's bill includes a diverse array of acts like Cage the Elephant, Paramore, Pixies, Lenny Kravitz, The Flaming Lips, The Avett Brothers, Ed Sheeran, Hoozier, John Fogerty, Robert Randolph, Slash, Band of Horses, Bleachers, The Vespers, and tons more, and we've taken it upon ourselves to run down our top 15 picks for the artists you simply can't miss. Check it out below, and get ready for one fantastic weekend of music in Memphis!
#15: FLOGGING MOLLY
Saturday | Bud Light Stage | 7:45pm
Part of the surprisingly punk-leaning lineup at this year's Beale Street, Los Angeles-based Irish/folk punks Flogging Molly are always a great festival act, with their unbelievable and high energy live show. Plus, they have a new album on the way this year!
#14: LENNY KRAVITZ
Friday | Bud Light Stage | 11pm
Admittedly, we did a bit of a double take when we saw Lenny Kravitz' among this year's headliners. And, while his high profile acting roles (The Hunger Games) seem to have overtaken his musical output in recent years, the neo-soul rocker still has quite an impressive back catalogue, and his massive '90s and early '00s hits, especially, are primed for one big nostalgic singalong.
#13: SHOVELS & ROPE
Sunday | FedEx Stage | 4:15pm
We've watched Shovels & Rope grow from one of the south's most promising up and coming acts, to a certifiable mainstream success, and it's been quite a thrilling ride. The folky, Americana duo have connected with audiences of all backgrounds through their genuine, high energy, and transcendent performance style, and the passion that fuels it scales from tiny clubs to festival stages without missing a beat.
#12: JENNY LEWIS
Friday | Bud Light Stage | 7:45pm
For the second summer in a row, indie rock songstress Jenny Lewis is out making festival rounds, propelled by the well-deserved success of her amazing 2014 album, The Voyager. We've seen her live show several times over the last year, so we can absolutely vouch for how unforgettable it is. Even if you've seen Jenny on this run already, you might want to catch her again before she takes a breather.
#11: RISE AGAINST
Sunday | Rockstar Energy Drink Stage | 7pm
Melodic hardcore punks Rise Against are definitely one of the heaviest acts on this year's lineup, and will certainly serve to satisfy fans looking for a more aggressive, high energy set. Something of an unlikely runaway success, the band, who sprang from modest punk beginnings and runs on fests like Warped Tour, have become a massive, big-name draw.
#10: WILCO
Sunday | FedEx Stage | 9:10pm
Legends in the alt rock scene, Wilco command a rabid fanbase and a reputation for putting on some of the best live shows in music, period. Though we prefer watching them do their thing in comparatively more intimate spaces like The Ryman, they've got the chops (and the expansive back catalogue) to win over festival crowds as well, and we'd never miss another chance to see them.
#9: COPELAND
Saturday | FedEx Stage | 2:10pm
Back from a lengthy hiatus, Florida indie pop group Copeland didn't even expect to tour in support of their new album, Ixora, but plans changed when their longtime friends (and, now, mega stars) Paramore invited them out for a short run. We already saw them play a one-off in Nashville earlier this year, but wouldn't miss another chance so soon; it doesn't sound like the group will be performing a ton going forward.
#8: BLEACHERS
Saturday | FedEx Stage | 9pm
It's been a year since Bleachers made their debut, secretly booking festival dates before even announcing their existence. A nostalgic, synth pop project from fun. (and Steel Train) guitarist Jack Antonoff, the group's impressive debut, Strange Desire, has been on repeat in our playlists pretty much ever since. Though new, the band benefit from years of huge, individual touring experience, and they're an incredible live force.
#7: PARAMORE
Saturday | FedEx Stage | 10:40pm
Undoubtedly the biggest Nashville act set to play Beale Street (and one of the biggest acts, period), Paramore are currently winding down a whirlwind of a tour cycle in support of their massively successful self-titled fourth album. Whether or not this will be a stripped down "Writing The Future" show remains to be seen (probably not; we'd bet a festival warrants the full spectacle), but regardless, Paramore are an unstoppable and endlessly entertaining live act.
#6: ST. VINCENT
Sunday | FedEx Stage | 7:30pm
Put simply, we're absolutely obsessed with St. Vincent. We last saw the eclectic art rocker open for The Black Keys (and nearly steal the show) at Bridgestone Arena, and were wowed by her Bonnaroo set with David Byrne a few years back. She's an unpredictable, dynamic, and enchanting performer, and deserves every ounce of newfound attention and praise surrounding her eponymous 2014 LP.
#5: CAGE THE ELEPHANT
Sunday | Rockstar Energy Drink Stage | 8:40pm
It seems like a bit of an oversight that Cage the Elephant have been booked for what looks like a smaller stage, and that's what makes their (already unmissable) set even more unmissable. The Nashville (by way of Bowling Green) band are one of our favorite groups making music today, and their raw energy, live passion, and punk spirit never fails to blow our minds. They bring the roof down at every festival they're apart of, and this one will be no different.
#4: DIARRHEA PLANET
Saturday | Rockstar Energy Drink Stage | 3:35pm
Nashville rockers Diarrhea Planet have exploded over the past couple of years, thanks, in no small part to their endlessly enjoyable 2013 full-length, I'm Rich Beyond Your Wildest Dreams. They're due for a new record soon, but, in the meantime, they're touring nonstop, saving rock and roll one show at a time. Their huge, guitar-assault, arena punk sound couldn't be better suited for music festivals, and what makes DP's outings like this even cooler, is watching them win over legions of new fans with their unparalleled and crazy show.
#3: PIXIES
Friday | FedEx Stage | 9:25pm
One of the most celebrated and important bands in alternative rock, Pixies have been in full comeback mode for the last few years, going so far as to release their first full-length in decades (broken up ahead of time into EPs) in 2014. Though they're noticeably absent bassist/vocalist Kim Deal, the band are still sounding extra stellar these days, as evidenced by their unbelievable Ryman show we caught last year. If for their history alone, they should be on your must-see list.
#2: THE FLAMING LIPS
Friday | FedEx Stage | 11:05pm
We've seen The Flaming Lips many, many times over the years, and, while their psychedelic performance art meets musically orchestrated set starts to feel a little redundant, it's never not magical. Last we saw them, at last year's Bonnaroo, the Lips had reworked their set, production, and presentation the most we've seen in years, so, old fans, expect a new twist, and new fans: if you've never seen The Flaming Lips live before, get ready for one of the most indescribable, positive, and coolest musical experiences of your life.
#1: RYAN ADAMS
Friday | Bud Light Stage | 9:20pm
On any other day, he might have been a spot or two lower on the list, but having just seen Ryan Adams' current tour, we're beyond sold that he's firing on all cylinders right now. One of the most talented, prolific songwriters and performers of our generation, Adams' latest, self-titled release is a masterpiece, and he's currently out playing a career-spanning show, which offers something for longtime fans, casual listeners, and even total newbies. His set won't be the loudest or flashiest or most dangerous or most complex at Beale Street, but we have a feeling it just might be the best (not to mention, you can score a single day ticket for roughly the cost of a single show; beat that)!
More from Beale St Music Festival | Site | Facebook | Twitter | Tickets