Femke, Sudonistas, The Harmaleighs
Acme Feed & Seed; Nashville, TN
April 21, 2015

Review by Philip Obenschain (@pobenschain). Photos by Matt Cairns.
Every single Tuesday since last summer, we've been teaming up with hip downtown restaurant and performance space Acme Feed & Seed to host a free showcase of some of our favorite emerging local and national talent. For our latest installment, we were thrilled to continue our April-long residency with local indie pop singer Femke, along with local rock outfit Sudonistas and indie folk/Americana duo The Harmaleighs. Read on for more about it!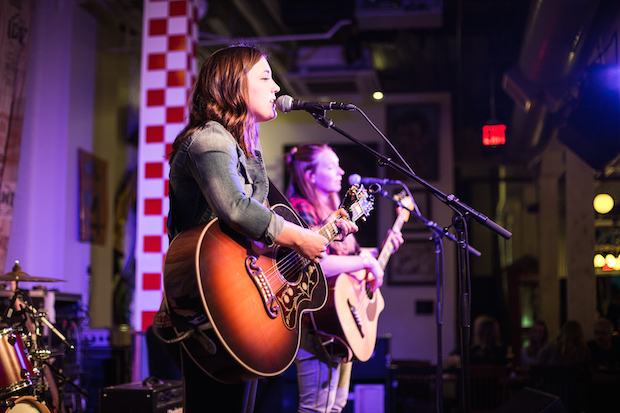 The Harmaleighs. Photo by Matt Cairns.
One thing we pride ourselves in doing for these Acme showcases is pairing bands of all different genres, who might not otherwise find themselves on the same bill. Our latest installment was certainly no exception, exploring the realms of folk, rock, and indie pop. I entered the room just as new-ish folk/Americana duo The Harmaleighs took the stage. The group, made up of Haley Grant and Kaylee Japerson, have been touring lately in support of their fantastic debut album, Pretty Pictures, Dirty Brushes, and road-worn confidence and polished performance style definitely shows. With expert musicianship, the gals, who reminded me a bit of Sweden's First Aid Kit, especially with their abashed folk sensibilities in a modern package, and unbeatable harmonies, played an energetic, hypnotizing set, balancing their handful of fantastic originals with all kinds of unexpected covers- everything from Miley Cyrus to Johnny Cash. Funny, cheery stage banter and storytelling peppered in gaps between tracks, and, by the end of the set, everyone seemed just as enchanted by The Haramaleighs as we are.
Sudonistas. Photo by Matt Cairns.

We've been know known to book loud rock and roll bands in Acme from time to time (what's up, Lees of Memory), and we absolutely love doing it. Sandwiching local rockers Sudonistas in between a folk duo and an indie pop singer, however, seemed to catch a faction of the dinner crowd by surprise. No matter; those who got it, really got it, and, erupting into their set with an unbridled energy and seasoned performance chips, Sudonistas upped the intensity to a new high, and sonically gut-punched us with layered, original tunes. Taking a sonic cue from the golden era of college radio rock, Sudonistas' sound is a fresh spin on the indie and garage rock trend that has run rampant in Music City, and their vocal tradeoffs, thick, fuzzy riffs, and power pop and punk sensibilities made them a more interesting, nuanced, and fun live act than their many peers. We relish in bringing bands downtown who might not otherwise find themselves performing on Lower Broadway, and Sudonistas represent everything cool about what the Nashville music scene has become.
 Femke. Photo by Matt Cairns.
Capping off the show, Femke started with an explanation that her cat escaped shortly before the performance, and she had worn out her voice calling for its return. Disclaimer unnecessary, because she sounded as lovely and professional as ever. This week's set was pretty similar to the first; high energy, percussion heavy tunes, which transitioned into more synthy, pop-driven material. A skilled multi-instrumentalist, Femke performs as flawlessly on accordion as she does ukulele, keyboard, and any other instrument she seems to touch. Her band, collectively called Femke as well, are just as fine-tuned, and, three weeks in, their level of energy, freshness, and enthusiasm never seemed to falter. For this round, Femke opted to tackle a Britney Spears cover; the '90s pop cover trend seems to be a recurring thing for this residency, and, of course, it was awesome. We looked forward to a fourth and final show this week, and, if you haven't made it down to see what all the fuss is about with Femke, this is your last chance (for now)!
Our free, weekly Acme showcase continues this Tuesday, April 28, with Wildfront, Morgan Bosman, and Femke. We hope to see you there!
_