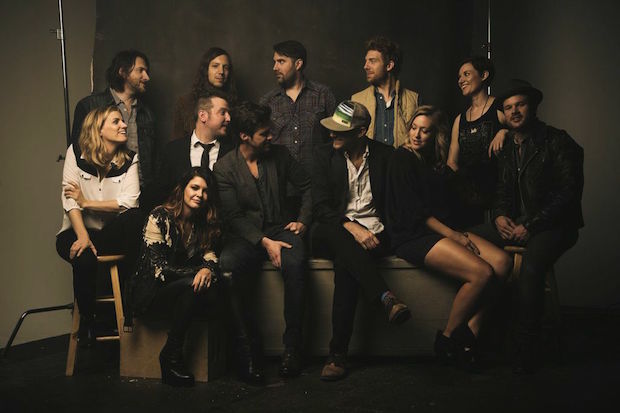 Ten Out of Tenn is celebrating TEN YEARS of existence, and they've chosen The Ryman Auditorium as the place for their big anniversary party. Everyone is invited, and for a meager $25-$35 per ticket, why wouldn't you want to be part of this historic event?
Ten Out of Tenn stand out as an impressive collection of individual local artists working together to give each other a chance to shine, and that's why their continued success for the last decade is drawing so much attention. Instead of competing with one another, these musicians have vowed to help one another, and have all gone on to do amazing things over the years. Continue reading to find out just who is currently part of the collective, revist our interview with a handful of members here, and get ready for an exciting night of celebrating Ten Out of Tenn turning ten (the alliteration is so satisfying).
AMY STROUP
Indie singer/songwriter Amy Stroup is not new to the music world; with her songs featured on over 20 television shows and advertisements, her music has most certainly infiltrated your home (even if you're not aware of it). This has been accomplished by releasing three digital EPs and two nationally distributed full-length albums, the most recent of which is titled Tunnel. While all of these took extremely hard work and skill, it's not difficult to see why Amy Stroup has been pushed into the spotlight. Her abilities and talent are endless, which you can see in one of her recent music videos for her song "Falling."
ANDREW BELLE
Chicago native Andrew Belle released his debut album, appropriately titled The Ladder, in 2010, and he has been climbing up ever since. In addition to releasing a second full-length album as well as two EPs, Andrew Belle has spent the last four years of his career touring with Ten Out of Tenn. His hard work and determination have not failed him, and we're excited to see him take a place on the legendary Ryman Auditorium stage.
ANDY DAVIS
Straight out of Louisiana has emerged the soul-singing Andy Davis, who first gained notice with his debut album Thinks of Her took off in 2010 on college campuses across the nation. Not only did the album sell out on its initial print run, the hand-written lyrics of the artist on the album cover became a collector's item within months of being released. Andy Davis has continued to climb to the top, working with major names in the music industry to refine and perfect his skills that were already so impressive. Now a major name in the industry in his own right, he is a proud member of Ten Out of Tenn.
BUTTERFLY BOUCHER
Despite being caught up in the insanity that was the collapse of A&M Records, Butterfly Boucher has emerged stronger and more determined then ever to succeed in the music business. Given that her debut album Flutterby drew attention from the likes of David Bowie, Madonna and Ben Folds, we think she's done a pretty damn good job. Her more recent work has brought her back to her roots, though – and by roots, we mean her current music shows the innocent happiness she felt when she was a young girl recording on a cassette recorder. It's Butterfly Boucher at her happiest, and this talented songstress will show off her happy self on stage tonight.
ERIN MCCARLEY
Once part of a country cover band, this girl with Texas roots has been all over the place – from the Lone Star State right on over to San Diego, where she began her music career, and then Music City, where she began to cement herself as a singer/songwriter. Her debut album Love, Save the Empty was released in January 2009 and this was after her music made its television debut. With this kind of attention before even releasing an album, you know Erin McCarley is damn good at what she does.
JEREMY LISTER
As the son of a preacher, Jeremy Lister got his start learning church hymns, and this humble start quickly projected him into the world of music. After numerous EP releases, the musician joined a cappella group Street Corner Symphony and came in second on NBC's second season of The Sing-Off. Shortly after the competition ended, judge Ben Folds invited Street Corner Symphony out on tour with him. After making his fame within the group, Jeremy Lister decided to step out on his own. The move has been a wise one and his career has taken off, propelling him to The Ryman stage with Ten Out of Tenn for tonight's show.
KATIE HERZIG
After the explosive aftermath following the release of her 2011 album The Waking Sleep, Katie Herzig finally had some time to put together and release her latest album Walk Through Walls on April 8. Somehow, between packed tours, playing numerous festivals, playing as support for the likes of Brandi Carlile, Ingrid Michaelson, and The Fray, it's a miracle that she could put an album together at all (we have to assume she's the queen of multitasking). Katie Herzig is a household name now for anyone in the music world as she drifts from singing/songwriting to producing (co-producing Ingrid Michaelson's hit single "Girls Chase Boys," for example), proving she is a jack of all trades.
K.S. RHOADS
As one of the most sought-after collaborators here in Music City, K.S. Rhoads has been regarded as having one of the most creative minds in Nashville. This is quite the compliment for a person in a city filled with artistic souls. As the band leader of Ten Out of Tenn, he has been a member since 2008 and proudly continues to work with his fellow artists involved in the group. To hear the single "Orphaned" off of his latest album The Wilderness, watch the video below.
MATTHEW PERRYMAN JONES
Getting his start nearly 20 years ago in Decatur, Georgia, Matthew Perryman Jones released his first album Nowhere Else But Here in 2000 and has been working on touring and releasing music ever since. In addition to his touring and numerous albums, the singer/songwriter has had several tracks featured on popular television shows like Grey's Anatomy, Bones, and Pretty Little Liars (just to name a few). And this is just the short list of Matthew Perryman Jones' accomplishments… if you're not already impressed (which we assume you most definitely are as wow'd as we are), then we recommend you watch the video below.
TRENT DABBS
Originally from Mississippi, folk-pop artist Trent Dabbs made the move to Nashville and has never looked back. Proud of his past and drawing from it for inspiration, he aims to tell a story with each song he writes. Even though his music has been featured on numerous television shows (including Nashville) and his albums have received praise from all corners, Trent Dabbs maintains a humble and appreciative disposition – which of course endears us all the more to the singer/songwriter.
TYLER JAMES
Tyler James is one of the very original members of Ten Out of Tenn, having joined the group all the way back in 2005. In the last decade, a lot of things have happened for Tyler James – he began the two-piece band Escondido, played keyboards for Edward Sharpe & the Magnetic Zeros, released several albums, and had numerous songs featured on hit television shows and in big name films. Tonight, Tyler James will join the other members of Ten Out of Tenn in honor of one of his earliest projects on The Ryman Auditorium stage.
Ten Out of Tenn will hosts is 10th anniversary show tonight, April 24 at The Ryman Auditorium. The show is all ages, begins at 8 p.m., and tickets are available for $25-$35.