alt-J. Photo by: Jake Giles Netter.
alt-J
w/ Tycho
The Grand Ole Opry House; Nashville, TN
April 6, 2015
Words by Jacob Ryan (@GonzoWithGusto). Photos by Jake Giles Netter.
Well, it isn't everyday that your pals here at No Country get a chance to cover a show at the usually country-centric Grand Ole Opry House, but, when we saw that international experimental/indie rock sensations alt-J were returning to town, we started salivating at the mouth. It didn't matter where they were playing; we had to be there. With electro instrumental jammers Tycho in the warm-up spot, it was one hell of a show! Not surprising to anyone, this puppy sold out, so, if you weren't able to get a ticket, or you just want to relive it, read on after the jump. Also, don't miss out on some out of this world photos from contributing photographer Jake Giles Netter.
Everything about The Grand Ole Opry House is big, including the parking lot. After weaving through the back way into the Opry Mills Mall compound, I found a parking place only a mile from the actual concert hall. Even giving yourself ample time to arrive early, spots were hard to come by, so once I saw the herd of people walking towards the venue, I knew I better take what I could get. It was my first time at the historical venue, so I was just going with the flow, and trying not to look like a tourist.
The first time you actually see the building, peaking through the well maintained property foliage, it really is captivating. It looks much different than it does from afar, when driving on Briley parkway. It's warm and inviting, much like a super-sized place of worship, as opposed to just another concert hall; it has so much more character, when you're up close and personal, clever architecture that manages to not look dated, although it's thirty plus years old.

Tycho. Photo by: Jake Giles Netter.
After waiting forever in line for our required-if-you-want-to-drink bracelets, we got in another line for beers. With all that hassle, might as well get two. Finally we made it to our seats, just as Tycho was finding a groove on their first song. Their instrumental, electronic infused jams, sometimes called chillwave or electrogaze, were infectious from the start. The beats, produced by their fucking amazing drummer, had me bopping my head from start to finish. The entire set they had a projector playing a crazy mash-up of images and art house style film shorts: footage of cumulous clouds floating in a perfectly blue sky, fading into a sunset, kaleidoscoped into a dizzying array of colors, imposed on top of outer space images. Later, it was looped footage of a witch clad in all black, and a wizard in all white, with ambient guitar and synth effects blasting the whole time. The experience was trippy as hell, to say the least. These guys would (and no doubt have) absolutely kill it on the fest circuit.
In between bands, I sipped my beer and people watched. The crowd was pretty young, folks in their early 30s, all varieties of couples in their 20s, and down to high school aged kids with (and without) parental chaperones. Most everyone was at least a little dressed up; it was the Opry after all. The crowd were not nearly as casual as most shows I've become accustom to attending. Of course, people were still in t-shirts and jeans too, myself included, but there was just a slight feeling in the air that this wasn't going to be just another show.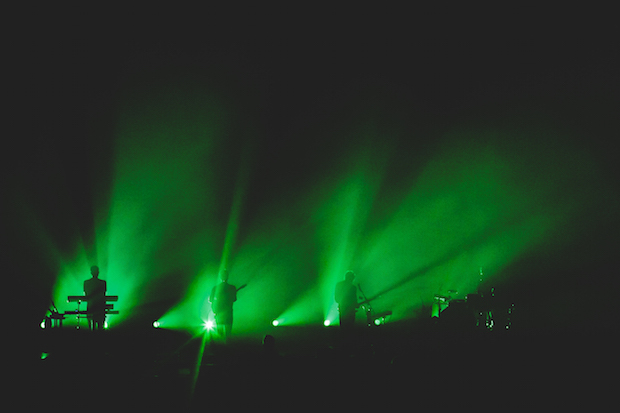 alt-J. Photo by: Jake Giles Netter.
As the house lights dimmed, people were still funneling into the already packed great hall. Cheers swept the crowd as alt-J took their places, all four members standing at the very front of the stage, the drummer elevated by a two foot riser. As they opened with their first notes, the epic light show, that wouldn't let up all night, kicked into gear. Blazing greens, reds, blues, whites, and magentas strobed and flashed in step with the music. It was the first show I'd been to in a long time that I left with my eyes and ears ringing. Tickets should come with warnings to those who suffer from Photosensitive Epilepsy.
"It's great to be here," keyboardist Gus Unger-Hamilton said after a few songs. "This is a fucking awesome venue, it really is amazing, so thanks for having us."
They then broke into their latest smash-hit single "Left Hand Free," much earlier than I thought they would, but nonetheless, it had us all rocking. Honestly, we all pretty much knew their set list ahead of time, since they've only released two albums. Two critically acclaimed albums, by the way, that have catapulted them into international stardom. All they do is sell out shows, including both of their previous trips to Nashville, once at Cannery Ballroom and again at the Ryman. Now they can scratch The Grand Ole Opry House of their list too. What's next, Bridegstone?
In a night that would feature two amazing drummers, alt-J's Thom Green may have stolen the show completely. He had the most elaborate non-drum accessories I'd ever seen. Of course he still has a kick, tom, snare, etc, but the rest of his unique percussion sounds were coming from various bells, blocks and conch shell looking apparatuses. He'd intentionally break beat, and come back into rhythm for the chorus, all the while the guitars and vocal harmonies adding layers to his syncopation. The most unique, and one of a kind indie rock band you will ever see.
Other show highlights included the chill inducing crowd participation during "Matlida," and the encore, which featured the alt-J version of Bill Withers' "Lovely Day," and, of course, the single that broke the Brits stateside, "Breezeblocks," to close. In summation, I think this band's records are meant to be listened to as complete albums, in their arranged order. This complete album style of LP is a lost art, if you ask me, and if you've given either An Awesome Wave or This Is All Yours a good listen, you know exactly what I'm talking about. That being said, sometimes their songs lose meaning and panache when they are dropped into a set list, away from their neighboring album tracks. However, as the band's catalog grows, and they can do three or four song chunks, from multiple albums, I think this complaint will be nullified. A Weezer-at-the-Ryman style performance, doing a record in it's entirety, in order, would also be badass to see.
That's a very minor gripe, and a back handed compliment about their records, from an otherwise unworldly perfect performance. I will NEVER forget my first time at The Grand Ole Opry House thanks to alt-J and Tycho. If you were there, you won't be forgetting about it anytime soon either, and, if you weren't in attendance, you can just pretend with the amazing photo gallery courtesy of Jake Giles Netter below. When alt-J make there return, be sure to snag a ticket fast, because the way they put on a show, and with their previous Music City track record, a Bridgestone Arena sell out isn't out of the question.