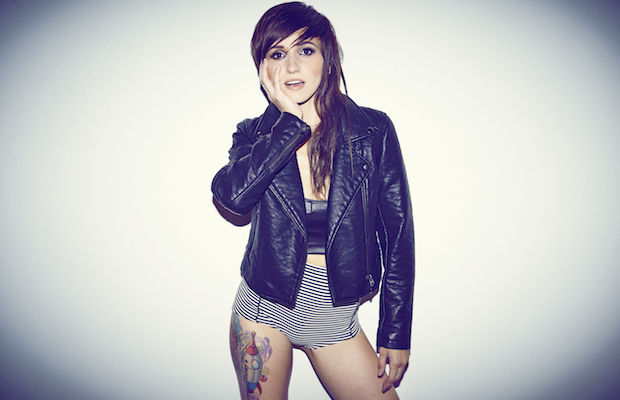 Returning to Nashville for the first time in three years, Canadian indie pop singer Lights is out in support of her stellar new album, Little Machines, and she's bringing her tour with X Ambassadors to our very own Rocketown this Sunday, March 1. Not a bad way to kick off the month, huh? Though she started as more of a straightforward synth pop singer, over the last six years and three LPs, Lights has evolved to adopt a more eclectic and EDM-influenced sound, and her live show has become an incredible, unparalleled experience. If you want to see it for yourself, you can still grab tickets here, and read more about it below!
LIGHTS
Though she claims Toronto as her home base, Lights (that's really her legal name these days, though she was born Valerie Poxleitner) was raised by missionaries, moving around through various corners of the world. Gravitating towards playing in bands at a young age, Lights developed her signature synth-heavy pop sound in the mid-'00s, largely a DIY writing effort, finding swift and significant success with her self-titled debut EP and subsequent LP, The Listening. With even more acclaim and award recognition in her native Canada, the singer connected with the punk community in the U.S., nabbing an early spot on Warped Tour and gaining further attention with a national ad campaign with Old Navy. Though her debut is a near-perfect pop album, later releases would incorporate both more conventional instrumentation and broader EDM, hip hop, and dubstep-dervived influences, helping Lights connect with a wider and even more eclectic audience. Through years of touring with a wide array of acts, she's developed an unbelievable live show to match, boasting a full backing band, light show, tons of synths, and incredibly polished performance chops. If you've seen her before, you know that this is a can't-miss show; if not, this should be a must on your weekend to-do list, because it could be a few years before she passes back through.
X AMBASSADORS
Sporting a bit of a musical contrast to Lights, Ithaca, New York's X Ambassadors have found success touring with a variety of acts in the realms of punk and indie (so, they're a good nod the scene that helped propel Lights to fame in America), and embrace a more alt-rock aesthetic. The group released a major label EP, The Reason, last year, and, presumably, will be following it up with a full-length in the near future.
Lights and X Ambassadors will perform Sunday, March 1 at Rocketown. The show is all ages, begins at 6 p.m., and tickets are available for $16.