Joanna Barbera. Photo by Sundel Perry.
Joanna Barbera, Mercy Bell
Acme Feed & Seed; Nashville, TN
February 10, 2015
Words by Jacob Ryan (@GonzoWithGusto). Photos by Shawn Jackson/Sundel Perry.
The hits keep coming for FREE, every Tuesday night at Acme Feed & Seed, thanks to No Country Presents and a local talent pool so deep, we're booked well into spring. If you attended, you know this week featured folk singer songwriter Mercy Bell and Americana ballad performer Joanna Barbera, but, if you missed it, we have a recap and great photos from Sundel Perry Photography after the break. At this point, if you haven't been to our showcase yet, there really isn't a good excuse, ESPECIALLY if you're local. It's cool though, because every seven days you'll have another opportunity to check it out. Read on for more and don't miss it next week when Half Brass and special guests are set to keep it going late night for our Pollstar / Fat Tuesday Party!
Running behind, I decided to just pay the damn $10 and park in a garage on 3rd. Crossing Broadway on my way to Acme Feed & Seed, I couldn't help but notice the massive, block party set-up going on for the Sports Illustrated Swimsuit Issue Release Party this weekend. Why they chose Nashville to host … in February … we may never know.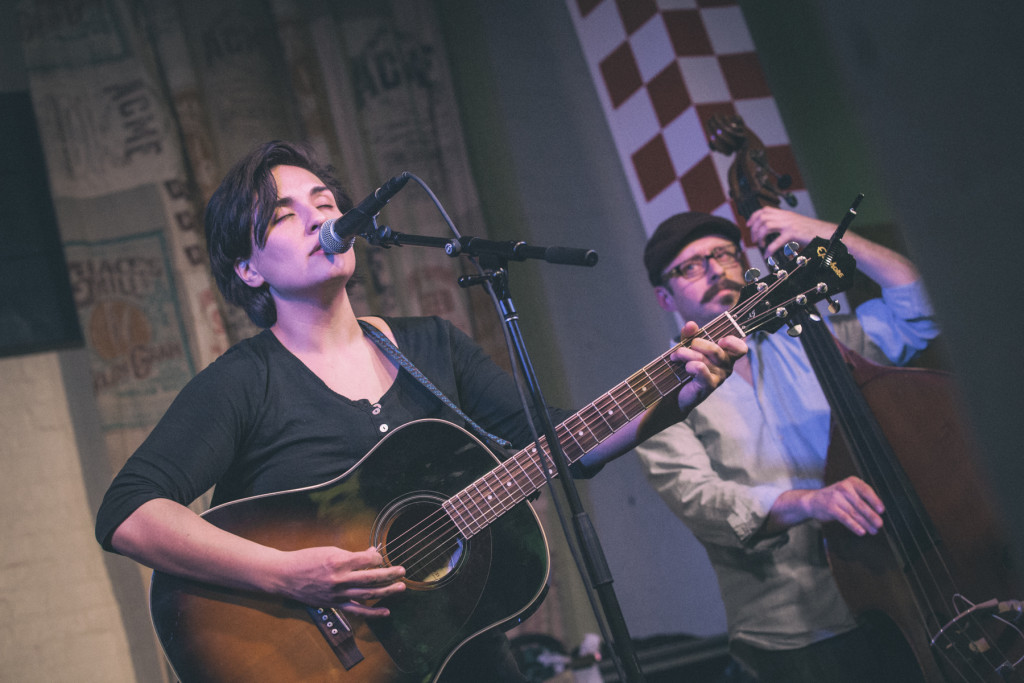 Mercy Bell. Photo by Sundel Perry.
The place was pretty packed with the usual dinner crowd; half local and half out-of-owners. Taking a spot at the near bar for a change, I got comfortable for the first act, a fellow East Nashvillian, Mercy Bell. She took the stage with two other musicians, said hello, thanked her hosts, and hit the ground running. I was immediately taken aback by her sweet, pitch perfect singing. She sang her folk/Americana yarns, while keeping rhythm on her guitar, up-right bass and wonderful lap steel playing accompanying. Her songs have a "heartland" Springsteen feel to them, but the beautiful voice was nothing like The Boss. At one point, she stopped strumming, only singing, letting the other guitarist take lead to great effect.
After her set, we chatted over some drinks, which is how I found we were "neighbors," and she told me there are new projects on her horizon. With talent like hers, we're excited to hear what's next, so stay tuned to No Country for more details as they become available, and get her latest release in your rotation right now.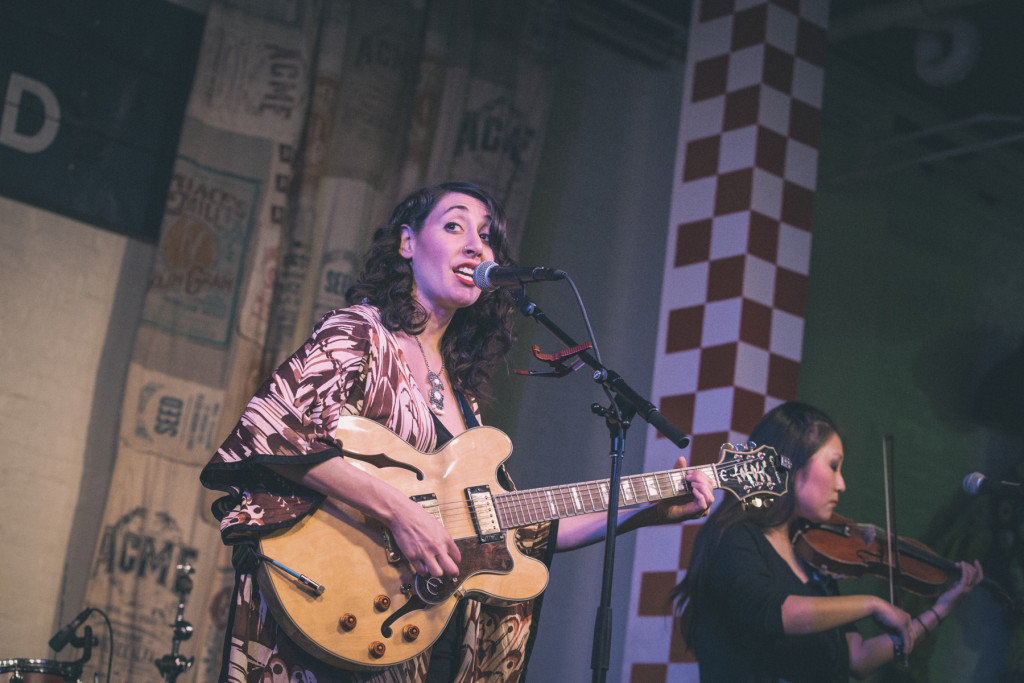 Joanna Barbera. Photo by Sundel Perry .
A newcomer to Music City (she moved her from Austin, TX a little over five months ago) Joanna Barbera is eager to get things rolling in her new home, and what better way than in the neon glow of Broadway. She came out in a flowing psychedelic patterned shawl, a gorgeous hollow body Epiphone strapped over her shoulder. It was obvious from the start that she is a seasoned performer and there was very little time wasted. She played some new songs and some tunes I recognized from her latest release Forget.
Joanna's sound is a wonderful mix of smoky folk and just-enough-dark ballads; at times, sad Ryan Adam-ish storytelling, and more uplifting Americana soul at other points. If you combined Gillian Welch with early Sarah McLachlan, and added just a touch of Lana Del Ray malevolence, you'd have a feel how she sings, and her wonderful fiddle and keyboard players added important weight to her arrangements. Everyone that stuck around seemed very impressed, myself included, and I look forward to seeing her around town, chasing her dreams just like the rest of us. Be sure to browse the photos from Sundel Perry Photography below, and join us next week on Fat Tuesday for Half Brass and we promise some special guests!