Copeland
w/ Schematic, Valise
Mercy Lounge; Nashville, TN
February 4, 2015

Review by Philip Obenschain (@pobenschain). Photos by Mary-Beth Blankenship.
Returning from a four-year hiatus, Florida indie rockers Copeland, back with a haunting new album, Ixora, treated Nashville to one of their first live shows of 2015 (while the band originally maintained that they weren't likely to tour, making this one of very few stops scheduled, they recently announced a run with Paramore, which will bring them back to Music City on May 17), along with like-minded acts Schematic and Valise. A nostalgic, and surprisingly loud and upbeat affair, we caught the group for the first time in six years, and couldn't have been happier to welcome them back. Read on for more!
Valise. Photo by Mary-Beth Blankenship.
A relatively new act out of Dallas, Valise weren't on my radar prior to this, but I'm really glad to have discovered them. The band are gearing up to release their debut album, Young Bloomer (produced by Copeland's own Aaron Marsh), later this month, but had some early copies available for fans as a little pre-release surprise. Not dissimilar from Copeland's own flavor of harmonically dense, sweeping and pop-tinged indie rock, Valise also took cues from bands like Death Cab For Cutie and Arcade Fire, fleshing out their upbeat sound with sampled backing tracks, keyboard flourishes, and tons of tasty and singalong ready hooks. Lead singer Vince Penick, switching between guitar and tambourine, proved to be a charismatic and engaging frontman, endlessly thanking the crowd for showing up early for the band's first Nashville gig. Valise set the perfect tone for the evening, and I definitely expect to see big things from them in the near future.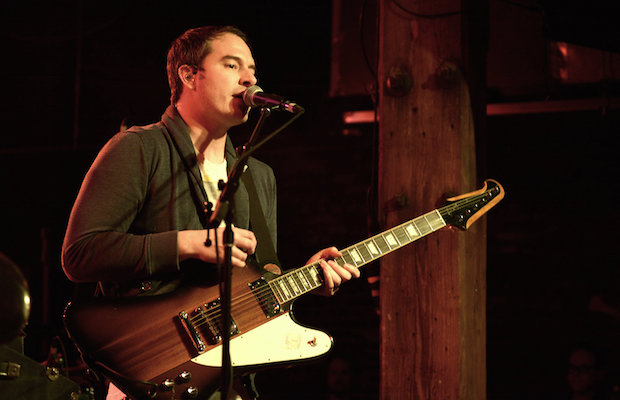 Schematic. Photo by Mary-Beth Blankenship.
While Schematic were setting up, I had an immediate moment of déjà vu. I just caught Mae (one of Copeland's sonic and thematic contemporaries) last month in Baltimore, on the 10th anniversary tour for their classic LP The Everglow, and there, setting up his equipment, was lead singer Dave Elkins. A quick Google search on my phone would inform that not only is Elkins the brains behind Schematic (Mae fan fail), which serves as both a musical outlet as well as a label/studio/management company, but also that he's also a Nashville resident these days (Nashville music journalist double fail). Feeling dumb for my lack of prepwork (I must have just been too overly excited to see Copeland), I braced for what suddenly became the evening's most unexpected surprise.
Dave's voice is unmistakable, no matter what music is surrounding it, and Schematic, though a distinctly separate entity, still pulled from the same base of stylistic choices that make up Elkins' artistry. Honestly, I sort of lost track of Mae towards their later albums, and my first impression of Schematic was that it was more contemporary, sonic evolution I would have wanted from them. Backed by a live band and employing the use of an array of loud, tasteful synths, Schematic fused indie rock and pop with a more experimental edge, benefiting from Elkins' years of songwriting experience and cool, relaxed performance style. Seeing him twice in a month in two vastly different settings was a really great way to experience his artistic duality, and, especially now that I know they're local, Schematic are a band I'll be keeping much closer tabs on going forward. Dave commented that this was one of only a few Nashville show's they've played so far, but I couldn't tell; their set alone was worth the cost of admission, and I couldn't have asked for a more perfect act to set the stage for Copeland.
Copeland. Photo by Mary-Beth Blankenship.
Partially based in Nashville (I know at least one or two members are Music City residents at this point), and having made a point to stop through on nearly every tour of their entire career, Copeland's return seemed inevitable, though I was still thrilled when we became one of very few shows announced for their long-overdue return to performing live. What started as simply a project to release a new LP has, thankfully, given way to a full-fledged Copeland reunion, and, though they've noticeably aged a few years, lost a little bit of critical traction, and added a new face (the group have been without a bassist since even before their hiatus), the moment they stepped on the stage, I felt like I had been transported back to 2007. Appropriately, and perched at a keyboard, frontman Aaron Marsh began the show with a new tune titled "I Can Make You Feel Young Again," and proceeded  to do just that.
The group, whose chemistry hasn't faded an ounce, though, at times, still seemed to be relearning how to be a live unit, were much, much louder than I remembered them being before, pushing forward an energy and intensity beyond the more melancholy, harmony-driven style for which they're known. I felt that the evening's set was a little short, and, again, this might just be a product of Copeland only recently beginning to play out again, but, still, it was stacked with lots of fan favorites. The Ixora songs, though a bit less familiar, landed hard; clearly, they're excited about having something new to share, and that passion for creating was infectious. Unlike many of their peers, who have returned to capitalize on nostalgia in recent years, Copeland, whether through lineup changes or general forward-thinking, didn't seem to be as fixated on their earlier material, only delivering two tracks a piece from fan favorites Beneath Medicine Tree and In Motion. Still, to see the emotional response that leaps forth upon hearing cuts like "Coffee" and "You Have My Attention," more than a decade later, was unreal, and made for a nice balance between old and new.
Copeland never quite exploded to the degree I would have expected at their height, and, though excitement surrounded their return, I was unsure how their fanbase would look in 2015. The sold out Mercy Lounge room, packed with passionate, devoted fans of all walks of life provided my answer. Benefiting from the power of amazing songwriting equally, if not moreso, than from their live show, Copeland's exit always felt premature, and I'm glad to see them back, genuinely looking like they want to be here. Switching from keyboard to guitar for the latter part of the set, Marsh expressed the deepest of gratitude for the years of support, and delivered an earnest, show-stealing solo performance of "Love Affair." Though his range allows him to flesh out Copeland's sound with sweeping harmonies, dense orchestration, live tracks, and more, the encore reminded me what makes Copeland so special in the first place: at their core, they write songs that deeply personal, emotionally resonant, broadly relatable, and, well, downright amazing, and their return to Nashville was a nostalgic reinforcement of what made them simply one of the best bands of the last 15 years. If you didn't catch Copeland's incredible show this time around, I couldn't recommend their upcoming Paramore date at the Opry more.
_
Setlist:
I Can Make You Feel Young Again
Chin Up
The Grey Man
Chiromancer
The Day I Lost My Voice (The Suitcase Song)
Sleep
Coffee
Erase
Eat, Sleep, Repeat
Disjointed
I'm a Sucker For a Kind Word
Love Affair (Aaron Marsh solo)
You Have My Attention
_