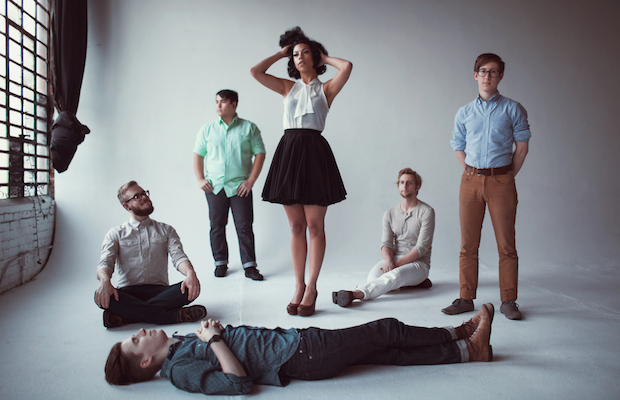 If you follow us regularly, then surely, by now, you're familiar with Wisconsin indie pop outfit Phox. By our count, the group played Nashville three times last year, once in a headlining spot at The High Watt, and also in high profile opening slots with Paolo Nutini and, most recently, The Head and the Heart. Tonight, the buzzy rockers have graduated to Mercy Lounge, this time with Field Report along to open. Phox's eponymous, debut LP was one of our favorite records of last year, but, to truly understand their immense talent, they're a group you have to experience live- and hey, it's Monday, so clear your schedule and kick off your week right. Grab your tickets here and read on for more info.
PHOX
Hailing from the Madison-adjacent small town of Baraboo, Wisconsin, the members of Phox, friends since high school, reconvened in their twenties to spend several years crafting what would become one of the most dynamic, eclectic, and refreshing new bands to emerge on the indie scene in recent years. Anchored by the unbelievable vocal prowess of frontwoman Monica Martin, the sextet have achieved a folk, indie, nostalgic, and sweeping sound which conjures soaring melodies, lush instrumentation, and boundary-pushing orchestration at every turn. There's a reason they've amassed so much hype in such a short span of time, and, at this rate, Phox will be one of the biggest acts in music in no time. Catch them in a small room while you still can!
FIELD REPORT
Milwaukee, Wisconsin's Field Report, another band we've seen buzzed about quite a bit as of late, definitely share Phox's knack for diverse instrumentation and unforgettable melody, though they land a bit more on the folk side of the spectrum. Their sophomore album, Marigolden, was one of last year's most underrated releases, and, as perfectly matched as they are, you'd be crazy to show up late and miss them.
Phox and Field Report will perform tonight, Feb. 9, at Mercy Lounge. The show is 18+, begins at at 8 p.m. (doors at 7 p.m.), and tickets are available to purchase for $15.