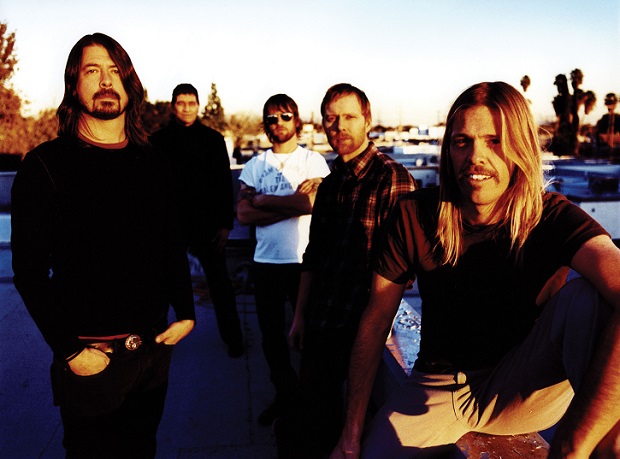 [UPDATED]
Foo Fighters confirmed their show at The Ryman this morning.  Tickets go on sale on Wednesday October 29th at 10am CST, and, amazingly, will only cost $20 per person! Start refreshing here at 9:30am CST for even the slimmest of chances to make the cut!  Tickets are available ONLINE ONLY!  Show poster below, and then you can keep reading to see our speculation about this starting last week!
[Original Post]
Yes, this is a speculation post, and not an actual confirmed news post, but hear us out before you angrily slam your laptop closed.  There is solid reason to believe that the Foo Fighters will make a Music City appearance on Halloween (or at least Halloween weekend), and why the Mother Church may be the most appropriate location.
So, by now, most of you Foo fans are well aware that the Foos are releasing their eighth studio album, Sonic Highways, in November, and the same lot of you probably spent last weekend glued to your TV trying to catch the documentary series of the same name on HBO.  The series documents the making of the album which was uniquely recorded in several American musical landmark cities, including Chicago, Washington DC, Los Angeles, Seattle, New York, New Orleans, Austin, and… of course, Nashville.
The Foos announced last Tuesday that the series premiere of Sonic Highways would highlight their recording experience in Chicago and would be followed by a show at the Cubby Bear, a small, 800-capacity club where David Grohl saw his first concert back in 1983. Tickets for the show went on sale Wednesday and 'Something From Nothing,' the first single from the new album and the song recorded in Chicago at Electrical Audio, was released on Thursday.
The next episode of the series is set to air this Friday and will highlight their time in Washington, DC, which is where 'The Feast and the Famine,' the second track on the album, was recorded. Earlier today the band announced a show at the Black Cat, a 700-cap club in Washington DC, with tickets going on sale tonight that can only be purchased at the box office.
Based on the information above, it's safe to assume that the Foo Fighters will play a show in Nashville at some point. And if you're like us, you're probably already having a panic attack trying to figure out the details by stalking their social media pages 10-15 times a day looking for clues, overanalyzing every tweet and Facebook post. You start sweating when you imagine what it would be like to attend this historic (and possibly imaginary) event. You have nightmares about having to refresh the Ticketmaster page over and over again only to find that you didn't get tickets in time. Ok, we're the only ones those things, but that's not the point.
So now let's get to the fun part. If there is a possibility of the Foos coming to Nashville, we need to figure out when and where so we can stay on top of our game.
When
The first episode of Sonic Highways took place in Chicago, which is where "Something From Nothing" was recorded. This song also happens to be the first track on the album. The second track is called 'The Feast and the Famine," which was recorded at Inner Ear Studios in Arlington, VA, which is about 20 minutes from Washington, DC, which is where this week's episode takes place. So if we follow this pattern, next week's episode will take place in Nashville, where the third track 'Congregation' was recorded at Southern Ground Studios. That could mean the show will be on Friday, October 31. Can you think of anything cooler than seeing the Foo Fighters on Halloween? We sure as hell can't.
Where
The Cubby Bear in Chicago only holds 800 people, which makes for a very intimate setting – and based on the pictures, it looks like there is a GA floor and no reserved seating. This venue also had a special connection with the band, who haven't played Nashville since 2008 at Municipal Auditorium, which seems unlikely for this time around given that a roller derby is already on the docket. There are several other venues that would make sense for them to play here in Nashville, but most of them are already booked up for Halloween:
Marathon Music Works – The Devil Makes Three
War Memorial Auditorium – STS9
Exit/In – Promised Land Sound w/ JP5
The End – Halloween Party ft. Jesco White
The Basement – Semi-annual Halloween Bash
3rd and Lindsley – Chris Stapleton
Mercy Lounge, Cannery Ballroom, & The High Watt – Country music benefit concert
Municipal Auditorium – Roller Derby
The only venue in town that is currently not publicly booked is the Ryman, and what could be more of a historical musical landmark than the Mother Church.  Throw in the fact that the title of the song recorded in Nashville is "Congregation", and the evidence seems overwhelming.
How we'll know
Both shows so far have been announced around noon on the Tuesday before via social media, and have put tickets on sale the same day or the very next day. The best thing to do is to start checking their Facebook and Twitter next Tuesday (10/28) for the big reveal (if there is one…), and, of course, we'll be sure to let you know all the deets here on the site (once we have secured our own tickets, of course).
Track Listing for Sonic Highways:
1."Something From Nothing" ft. Rick Nielsen (recorded at Electrical Audio in Chicago)
2. "The Feast and the Famine" ft. Bad Brains" (recorded at Inner Ear Studios in Arlington, VA)
3. "Congregation" (recorded at Southern Ground Studios in Nashville)
4. "What Did I Do/God as My Witness" (Austin)
5. "Outside" (recorded at Rancho de la Luna in Los Angeles)
6. "In the Clear" (New Orleans)
7. "Subterranean" ft. Ben Gibbard (recorded at Robert Lang Studios in Seattle)
8. "I Am a River" (recorded at The Magic Shop, New York, NY)
More from Foo Fighters | Site | Facebook | Twitter | Spotify