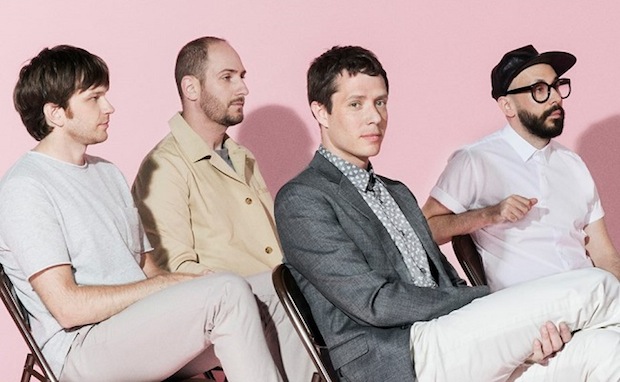 True to the Halloween season, California alt-rock quartet OK Go have just dropped their new album Hungry Ghosts this past Tuesday, and they are wasting no time! Only 3 days after the album release, they will be taking it to Nashville themselves at the Mercy Lounge; 9 PM TONIGHT!
OK Go are creative pioneers and mad scientists constantly experimenting with their legendary brain bombing music videos, and their sound has become a collage changing throughout their four album portfolio. However, one thing about tonight's show is predictable: The band will ooze positivity and good times. We've got more details and OK Go's latest addition to their famous music vids right here after the jump.
OK Go
In preparation for covering this show, we've been holed up with a massive bag of Doritos watching and re-watching all of OK Go's music videos. The things we do for our readership. In case you're not aware that OK Go puts out the coolest vids around with some seriously impressive and carefully orchestrated choreography/stunts/chaos, let us describe what these dudes are capable of. We've seen them dancing on treadmills, leading marching bands in Ghillie suits, singing with Rube Goldberg devices, and dancing with a gang of dogs all in one uncut stream of video. They practice good safety with seat belts and helmets as they drive around a dusty road playing their song with gadgets hanging off the vehicle, and spend the night in a park making a stop-motion video. Did we mention they've got friends in the Muppets and Sesame Street? Go ahead and grab a bag of chips and make yourself acquainted with their YouTube channel before tonight's show.
This past Tuesday, the band dropped their fourth album Hungry Ghosts under their own label Paracadute, and, rest assured, we'll be hearing all kinds of new stuff at Mercy Lounge tonight. The album was preceded by the Upside Out EP that consisted of four tracks that absolutely scream boisterous fun and certainly built the anticipation for the full album. Now it's here. This is it. Let's all go see it.
OK Go will perform October 17th at Mercy Lounge. The show is 18+, begins at 9 pm (doors at 8 pm), and tickets are available for 16$ at the door and 14$ here.