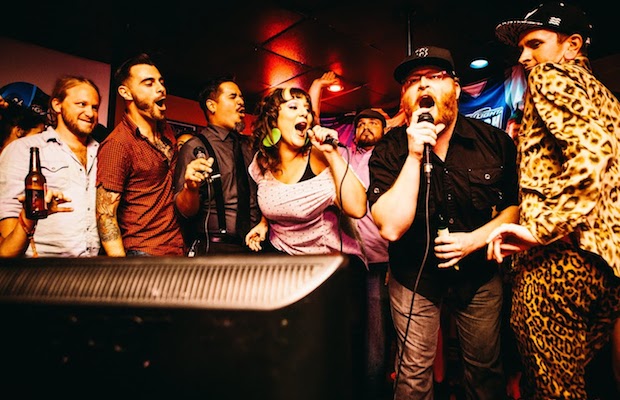 One of our most-anticipated local shows of the fall, and easily the can't-miss club performance of TONIGHT, longtime friends of the site Alanna Royale are celebrating the release of their debut full-length album, Achilles, at Exit/IN with two of Nashville's other finest acts: Kansas Bible Company and ELEL. If you don't already know these three bands, then, sadly, we've failed you as a site. But, tonight, you'll have a chance for redemption, all for the low price of $10. If you do know these three bands, then we're clearly going to see you there. Duh. Read on for more.
ALANNA ROYALE
You can get caught up on everything you ever needed to know about Alanna Royale in our recent podcast, but, for you newbies, here's the short version. After moving from Boston in the summer of 2012, frontwoman Alanna Quinn-Broadus and guitarist Jared Colby quickly and organically formed what would become a soulful horn-infused funk/r&b outfit, exploding onto the scene mere months later with no recorded music but one hell of a turbocharged live show. They quickly became the buzziest new band in Nashville, and went on to release an EP in early 2013, shortly before nabbing a spot at Bonnaroo and proceeding to tour. Now road worn and well-respected as one of Nashville's most consistent and killer live acts, Alanna have finally unleashed an LP several years in the making, and it's simply dripping with soul and passion. Listen to it here in full, buy a copy if you dig it, and head to Exit/In tonight to see what all of the fuss is about!
KANSAS BIBLE COMPANY
If Alanna Royale's six person lineup seems like a lot, Kansas Bible Company's 12-man band is simply massive. Combining brass, psychedelic guitar work, bombastic percussion, and carefree vocals, Kansas Bible Company are a high energy wall of sound, and an instant party starter. We literally could not think of a better band to get you pumped for Alanna, so get ready to get wild. The group are expected to release a new album next year but, for now, here's a classic:
ELEL
Much like Alanna, we've been keeping tabs on indie/soul/afro cuban band ELEL since basically day one, and, also like Alanna, we've seen them grow to become one of Nashville's best and most-buzzworthy artists on the rise. You can get a detailed history in our podcast with frontman Ben Elkins, and enjoy their official first single, "40 Watt" below. We've heard rumblings of some exciting announcements coming soon, and expect the group's debut album to arrive early next year.
Alanna Royale, Kansas Bible Company, and ELEL will perform tonight, Oct. 4, at Exit/In. The show is 18+, begins at 9 p.m. (doors at 8 p.m.), and tickets are available for $10.