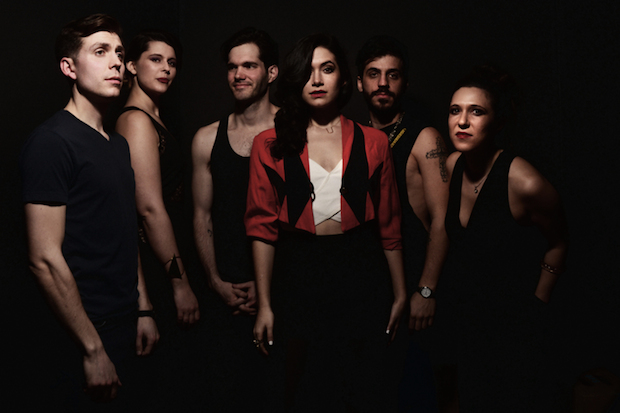 Lily & the Parlour Tricks, Anna Haas + The Effect
The High Watt, Nashville, TN
September 16, 2014
Review by Jacqui Sahagian

The New York City-based indie pop band Lily and the Parlour Tricks played their first real show in Nashville at the High Watt on Tuesday night, but the band has been nursing a love affair with Music City for the majority of the year while recording their debut album with producer Emery Dobyns here as well as playing two sets at Bonnaroo this summer. The band plays digital pop with girl group-inspired harmonies for music that's just throwback enough to be cool but forward-thinking enough to have the potential for popularity. Openers local singer Anna Haas and her band The Effect make music that sounds like if Annie Lennox could sing soul and was in a rock and roll band.
Click through for our full review of the show, plus our interview with Lily and the Parlour Tricks.
Nashville-based singer Anna Haas and her band The Effect opened, playing retro pop influenced by soul and disco. The five-piece band was tight and Haas is obviously a seasoned performer, knowing how to show off her pipes and get the audience — or what was there of an audience so early in the evening — engaged. Haas played cuts from her recently-completed E.P. PASSION/POISON as well as a cover of Janis Joplin's "Get It While You Can," which was performed as a duet with her guitarist boyfriend. Haas was recently chosen to play keyboards and sing backup vocals in Ruby Amanfu's (Jack White's backup singer) new band, and she jumped between tinkling the ivories and just showing off her pipes throughout her set. Haas is doing some traveling coming up, including playing CMJ Fest with Lily & the Parlour Tricks in New York, but she'll be back and is definitely a singer to keep an eye out for if you're into old-school, danceable pop.
The Parlour Tricks' sound has evolved a ton since their beginnings as a four-piece New York City rock band. The group has introduced a lot of digital sounds into their repertoire, pushing away from sounding super vintage to being a modern pop band that harkens to 60s girl groups with their three-part female vocals and throwback choreography. The Tricks played their single "Requiem," the video for which was shot in Nashville, as well as a cover of Nine Inch Nails' "Closer" that the crowd loved. We got to talk to the band before the show about recording their debut album, how their sound has changed, and what the proud New Yorkers think of Nashville.
NC: So you guys have finished your debut album, right?
Lily: Finished recording it, yes.
NC: So tell me about that. How did it go? You did it Nashville, right?
Morgan: We did.
NC: How do you guys like Nashville?
Morgan: We love it.
Brian: We love it.
Morgan: We can't seem to stay away.
Brian: We really love it. It's a good vibe. It's relaxed. We're relaxed here.
Lily: We have our spots, we have our people, it's fantastic.
NC: Has anything about Nashville inspired you guys musically?
Lily: Yeah, sort of inadvertently I guess. Just being here. Because we came here initially to work with our producer Emery Dobyns, who actually is from New York, where we're from, but moved here a few months before we started working with him. So it was just a matter of practicality, like we were gonna come work with him and then staying here and um, just livin' was so phenomenal and became such a part of the process that we came back and then we came back and then we came back. So we've been recording incrementally over the year… So it's had a huge influence on what we did, for sure.
NC: So tell me a little bit about the record. What are some of the influences, what's it gonna sound like, how did recording go? Tell me about it.
Terry: Recording was great. But Emery really pushed us out of the nest so to speak, as far as where we were and where we all felt like we needed to go. Every kind of recording we'd done up to this point had been all live tracking, as a band. And this one we kind of broke down and definitely incorporated newer sounds and added a little bit more layers to the recordings. And I think it added, it changed a lot of things as far as the recorded music goes, but I think for us as a band the way we approach live shows now is with a kind of broader scope of musical colors in mind…
Brian: I think before it was very, it was very retro. Like very retro. Not to a fault, but you know it was like three-part harmonies, drum, bass, guitar, very almost 60s girl group and then we've now been able to take what we loved about that and kind of bring it into a more modern sound to the point of it's now just something totally different, which I'm like really, really excited about.
Lily: It was where we wanted to go and we just didn't know how to get there ourselves. And with Emery's guidance and patience, tremendous patience, we are getting there and it's exciting. It's really exciting now because we're taking what we did in those recordings and we really started from scratch. It's like the band started again, which is funny because now people ask us, how long have you been together? And it's like, oh we've been together for a really long time, but this band has only been together for like a year. So it's, I don't know, it's exciting. And it's new, and every show is new. Which is fun for us.
NC: So how has the sound changed, from before you guys went in and recorded this album, to after?
Lily: I think, I mean what Terry and Brian said is exactly right, it was very retro and the music that I was writing was like of a period. It just came out that way, and gradually over time we were all sort of moving away from there naturally, like, it wasn't any big climactic decision or anything. It was just like, alright, we're growing in to something else, how do we do that? And we didn't really know. And we were trying stuff. And, that period of time happened to coincide with us getting together with Emery. And that just is how, everything evolved very naturally. But the music is — I don't know, y'all. It's just different.
Brian: We say "ya'll" now too. [Laughter]
Lily: Jesus… No, it's slightly different instrumentation. It's still three voices and guitar, bass, and drums, but there are synths and synth drums and um, it's bringing a bunch more elements in to what we're already doing. And it makes it something else entirely.
NC: So are you [Lily] the primary songwriter? What's the process like for when you guys write music, because there's so many of you?
Lily: I'm the songwriter, but there are so many of us.
Brian: Are you intimidated? Should we move closer? What was that question again? [Laughter]
Lily: Yeah, I'll write something and then record it, very bare bones. Fortunately at this point everyone knows, we're very attuned to each other and like what the vibe of something is even when it's barely fleshed out and we arrange together and make the songs what they are together. And so I would say that —
Brian: I would say when you started writing on an omnichord —
Lily: It changed everything!
Morgan: It did!
Brian: It did. It was a totally different approach as opposed to like plucking out a bass line on a piano versus an omnichord — do you know what an omnichord is?
NC: No, I don't. Tell me what that is.
Brian: It's like a toy, from the 80s.
Lily: It looks like a little beige computer spaceship. I got it for my birthday a year ago and it just changed everything. It has like, not all of the chords, it has like twelve chords or something and it's buttons and so you press…
Brian: So if you want A major you hit a button and if you want A minor you hit another button.
Angelo: It's almost like an autoharp.
Lily: Yeah, and like there's a little sustain thing on the side where you can make a beautiful, synth-y harp happen and like shitty beats that you press on the side.
Brian: Yeah there's like a pre-programmed drum loop on it as well —
Lily: It's like the worst one man band you could ever have, but it's amazing for writing, so I started writing a lot of the newer stuff on that. Which is great because I don't really play an instrument, and that isn't really an instrument, so that works to my advantage. Yeah, that's how we do it.
NC: So how did you guys form? Did you know you wanted it to be three girls and then a band, or was it more organic than that?
Lily: Not at all. Who wants to do it?
NC: Tell me your story.
Brian: We all actually went to the same college, but not at the same time, so that's sort of the loose actual connection.
Terry: There was a couple gigs at the beginning where it was Lily and the three guys and we tried to sing backup harmonies and it was awful.
Lily: Just the worst.
Brian: It was really bad.
Angelo: It was pretty good.
Brian: Angelo and Terry are actually very good singers, I am not.
Angelo: I just remember Lily walking me down the street before the one gig and she's like trying to go over this one part of the song —
Lily: Oh yeah!
Angelo:  — singing and I'm like I'm trying, I'm trying my hardest, but I totally fucked it up.
Lily: And distant in the back of my mind was just like Morgan and Deedee, somewhere, framed in gold. Yeah, it was the four of us and then it just was calling for three-part female vocals, that's what I was writing. And then they grew out of the earth, here they are.
NC: So when is the record gonna be out? Do you have any idea when it's gonna be done?
Lily: We don't know. We just released our second single from this batch of recordings called "Love Songs," it came out exactly a week ago actually. That's kind of what we're doing right now. We [feel] it's more important to us to amass an audience, to be playing a lot, to be touring as much as we can. And that sort of means at the moment releasing stuff incrementally and that's working well for us so far, so we don't have a date for the record. We will have a date for the record [soon], but for now we're riding those single releases and video releases subsequently.
NC: So what is your schedule for the rest of the year? Are you guys just playing a lot of shows?
Lily: Playing a lot of shows, yeah. We have CBGB Fest and CMJ, both in New York, which is nice because we get to stay home. Playing a festival in Chicago this coming weekend, and then we'll see.