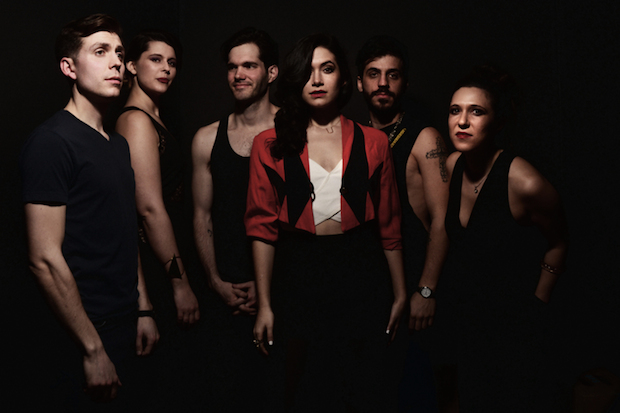 The New York City-based pop band Lily & the Parlour Tricks are bringing their indie girl group act to The High Watt on Tuesday, September 16. The band has been working on their debut record in here Nashville throughout the year, and now's the chance to see them live before it comes out later in 2014. One of our favorite local frontwomen Anna Haas and her band The Effect will open and hopefully give us a preview of her upcoming E.P., PASSION/POISON for a great night of female-fronted rock and roll.
Lily & the Parlour Tricks
Lily & the Parlour Tricks may hail from New York City, but the band has been hanging around Nashville a lot lately, recording their debut album with producer Emery Dobyns here in Music City for release later this year and playing two sets at Bonnaroo earlier this summer. The female-fronted sextet plays indie rock with a sweet side, influenced by 1960s girl groups. The video for their first single, "Requiem," was shot in Nashville between recording sessions, so you might recognize some of the locations. We'll be interviewing the group at the show, so watch for our review to find out more about their upcoming record and what the band thinks of Nashville.
Anna Haas + The Effect
Anna Haas is one of our favorite local frontwomen and thankfully for us the fiery redhead has been very busy lately. She just finished recording her new E.P. PASSION/POISON in Shreveport with producer Brady Blade for release in the spring and landed a spot as a background vocalist and keyboard player in Ruby Amanfu's (backup singer for Jack White) new band. Haas' powerhouse vocals and stage presence lead her eight-piece band through performances that have been getting raves from many publications, us included.
Lily & the Parlour Tricks and Anna Haas + The Effect will perform Tuesday, September 16 at The High Watt. The show is 18+, begins at 9 p.m. (doors at 8 p.m.), and tickets are available for $8 in advance, $10 at the door.