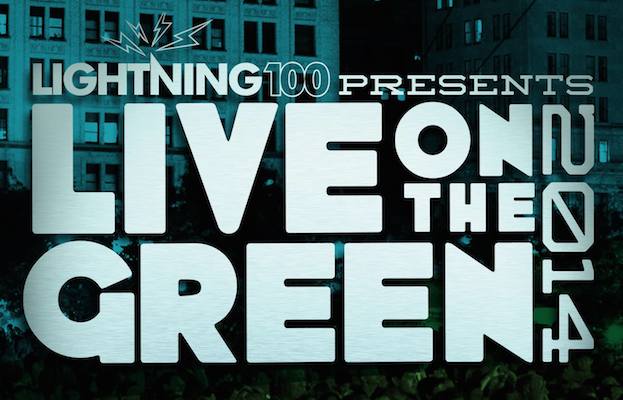 Last night's record breaking crowds were in full party mode as Cage The Elephant taught Nashville what rock and roll is supposed to sound like, but tonight marks yet another installment of this year's Live on the Green concert series down at Public Square Park. The three day festival finale in the heart of downtown Nashville turns up the heat with four acts tonight and an earlier start time.  Tonight features soaring up and coming rockers The Wild Feathers, the always impressive G. Love & Special Sauce, indie popsters Augustana, and local standouts Daniel Ellsworth & The Great Lakes.
The whole affair kicks off a little earlier tonight at 5 pm, and doors open as early as 4 pm. The event is all ages and, as previously mentioned, free, with plenty of stuff for the kiddos (courtesy of the our pal Mr. Steve [Lee]), so bring the family.
Those of you that have the VIP will be the envy of your friends, as it is sold out for the rest of the festival.  Keep this reasonably priced offer in mind for future years though, and, if you can find a friend with VIP tickets for this season, you should beg, plead, barter, or whatever to get your hands on those gems. Also, keep in mind that this is a massively popular event and parking is always tight; spots are available in the parking deck beneath the Public Square Park for $3. See you there!

THE WILD FEATHERS
Does anyone else out there remember when The Wild Feathers held a month long residency at The High Watt a little over a year ago?  We do, and we remember thinking rooms this small won't hold a band with this much potential for much longer.  Pretty excited to say that we were right about that, and now we have The Wild Feathers on much larger stages entertaining the masses with their twangy, catchy, deep fried rock n' roll sounds.  This is the second straight year that The Wild Feathers have been on the bill for LOTG, and, if it is anything like last year, we are in for a treat to cap off your Friday night. 

G. LOVE & SPECIAL SAUCE
Blending elements of folk, rock, and hip hop, Philadelphian Garrett Dutton (aka G. Love) has been a staple go to in our record collection for nearly two decades.  Collaborations with artists like Jack Johnson, The Avett Brothers, Slightly Stoopid, and others only reinforce our belief that GL&SS are one of the most underappreciated acts of the past 20 years, and his 2014 release, Sugar, is a testament to the continued quest for greatness.
AUGUSTANA
San Diego based rockers Augustana broke into the mainstream spotlight with their 2005 hit "Boston", which subsequently led to tours with Switchfoot, Maroon 5, Goo Goo Dolls, and numerous others.  They have only continued to hone their intricately pieced pop sounds over the years, and are currently touring in support of their fifth full length Life Imitating Life, which released earlier this year.
DANIEL ELLSWORTH & THE GREAT LAKES
Continuing trends of locals that will likely be headlining this event in future years, Daniel Ellsworth & The Great Lakes have continued to ride the success of their sophomore release, Kid Tiger, from earlier this year.  While that album is surely going to hit a lot of "Best Of" lists at the end of this year, it's the infectious live shows from DE&TGLs that have us standing in line for every gig.  I know this one starts a bit early for those of us that are working stiffs, but do yourself a favor and get there in time to catch some of this sure to be amazing set.
The Wild Feathers, G. Love & Special Sauce, Augustana, and Daniel Ellsworth & The Great Lakes will perform TONIGHT at Live on the Green at Pubic Square Park. The FREE all-ages show begins at 5 p.m. (fest site opens at 4 p.m.).