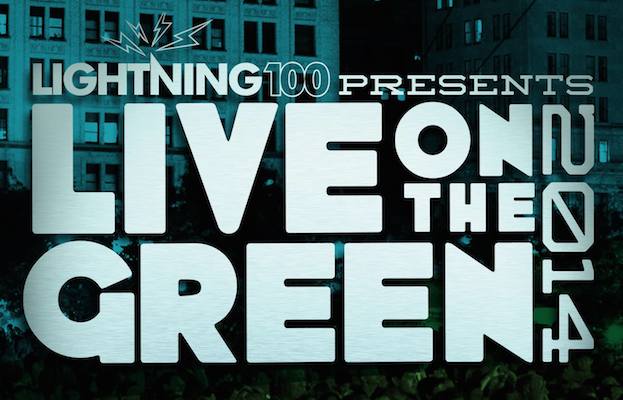 Tonight marks yet another installment of this year's Live on the Green concert series down at Public Square Park, which you may recognize as Nashville's premier destination for free live music. This year marks the first time that the finale is a three day festival in the heart of downtown Nashville.  Tonight starts things off with regional gone stratosphere rockers Cage The Elephant, indie rockers Delta Spirit, and Nashville/Los Angeles duo Johnnyswim.  Stick with us for the next two days for previews of the rest of the mini fest.
The whole affair kicks off at 6:15 pm, but doors open as early as 5 pm. The event is all ages and, as previously mentioned, free, with plenty of stuff for the kiddos (courtesy of the our pal Mr. Steve [Lee]), so bring the family.
If you want the VIP experience (which we highly recommend), you'll need to shell out $60. Also, keep in mind that this is a massively popular event and parking is always tight; spots are available in the parking deck beneath the Public Square Park for $3, or you can try to find free metered parking after 6 pm. See you there!

CAGE THE ELEPHANT
Cage The Elephant have certainly made strides towards stardom with their 2014 release Melophobia, and we've been on board since the beginning.  We gave you a sneak peek inside their Soundstage rehearsal of the album, rambled about the amazingness of their Bonnaroo set, and even got in to hang with them at Mercy Lounge.  Needless to say, you've been hearing a lot about Cage from us (and Lightning 100) this year.  And, it's for good reason, the third release from the alt-rockers has landed them on tours with Muse and The Black Keys, and that is just a side note to their extensive headlining tour.  Needless to say, this show is guaranteed to be a highlight of the festivities this weekend, so, fear no crowds, and get your ass out there.

DELTA SPIRIT
Southern California, now Brooklynite, indie-rockers Delta Spirit have been a blog favorite since their 2010 release History From Below, and the success of that album has propelled them through the release of their 2012 self-titled LP which pegged atop the Heatseeker charts.  Now, hyping the release of their newest album, Into The Wide, which drops next week, this is sure to be a set of sing-along hits and hopefully a few peeks into what's next for Delta Spirit.
JOHNNYSWIM
If pedigree was all it took, Johnnyswim would likely be a household name.  The duo formed of Abner Ramirez and Amanda Sudano (the latter of which sang with her mother Donna Summer), began their musical legacy in Nashville.  They have since moved to Los Angeles and have taken their eclectic folk, soul, blues, pop sounds from the likes of The Basement here in Nashville to a nationwide recognition, and unlike many other marriages, this one appears to be around for the long haul.
Cage The Elephant, Delta Spirit, and Johnnyswim will perform TONIGHT at Live on the Green at Pubic Square Park. The FREE all-ages show begins at 6:15 p.m. (fest site opens at 5 p.m.).