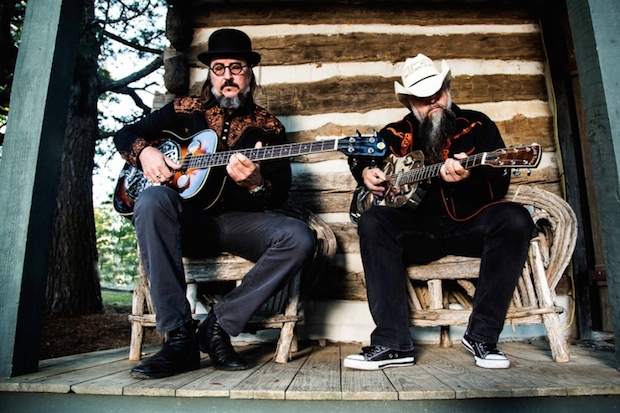 Get ready to wave your freak flags high, because legendary bassists and the creator of alternative, progressive funk-metal band Primus, Les Claypool is in town with his latest side project, an Americana, bluegrass two piece called Duo de Twang. Known for his ability to blend multiple genres together into a soupy, wonderfully unique mix of sounds, Claypool has enlisted the help of a high school friend, and M.I.R.V guitarist, Brian Kehoe to fill out his new acoustic hubbub. Unfortunately this 18 + show at 3rd and Lindsley is SOLD OUT, but maybe you can pull some strings and find your way in.
Comedic country singers Reformed Whores will kick things off at 8 pm (doors at 6) and from what we've heard, they're a perfect complement to Claypool's quirky stage persona. Learn more about both acts after the jump and get a taste of the awesomeness you'll be sure not to miss next time!
DUO DE TWANG
Claypool's been known to get a little weird with it, in the best ways possible, and Duo de Twang is no exception. The bare bones, stripped down two piece acoustic power house is just bass (of course), guitar and a basic beat stomped out on a tambourine high hat. In addition to some crazy covers, his often silly storytelling lyrical style is on full display, with the bands first album Four Foot Shack. What started out as just something the two life-long friends were doing for fun has gained some traction and they've been on tour promoting their new act and album. Check out their amazing bluegrass cover of Alice In Chains "Man in a Box" below, and fear not Primus heads; Les will be back on tour with the band that made him famous later this year.
REFORMED WHORES
Slightly raunchy and always hilarious, Reformed Whores are perfect mix of musicianship and parody comedy. Proudly proclaiming on their FB page that are "whorin' less and singin' more", the Brooklyn duo have one album under their belt and possibly some VD. With song titles like "Douchebags", "Drunk Dial" and "Girls Poop Too" you probably have a pretty good idea of what to expect. We can't wait.
Duo de Twang and Reformed Whores will perform TONIGHT at 3rd and Lindsley. The show is 18 +, begins at at 8 pm (doors at 6), but tickets are SOLD OUT.