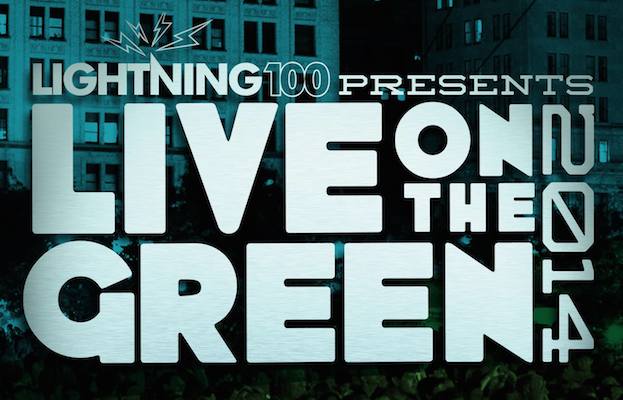 That's right faithful readers, Live on the Green, Nashville's best FREE concert series, is gearing up tonight for week two and you'd be crazy to miss out. Tonight's line-up features local rock 'n' rollers Goodbye June, native indie popsters (who've made a splash on the national/international scene) Wild Cub and in the headlining spot, Seattle folk-Americana road warriors The Head and The Heart. The festival site opens at 5 pm, music starts at 6 and runs till about 11 pm. It's an all-ages show and you can park your ride for only $5 at The Public Square Park Garage just below the fest site.
Now, if you're looking to kick up your LOTG experience to the next level, you can buy VIP tickets for $60 right here, but unfortunately this week's packages have SOLD OUT. However, for future installments of the concert series there are still some VIP options available, but they appear to be selling out as well, so get on it while you still can! For more info on tonight's bands, click on after the jump and for all things LOTG check out the official site.
THE HEAD AND THE HEART 
The free-wheeling folk band was formed around 2009 by Josiah Johnson and Jonathan Russell, after a series of open mic nights at Seattle bars, and has filled out to be a six member ensemble. Doing it in true indie fashion, the band self-released burned copies of their self-titled debut LP and distriputed copies to record stores and after shows all over the pacific Northwest. It was an immediate hit and retailers couldn't keep copies in-stock for long. Soon a frenzy of labels were reaching out to the band, who eventually signed with Sub Pop Records in 2010. The label subsequently re-released a remastered version of the album on CD and vinyl to critical and commercial success. The band relies heavily on vocal harmonies that blend perfectly with their piano and violin, and most of their songs have an old-timey Americana feel, especially in their lyrics, which are a throw back to Bob Dylan's folk years and other bands from the era like Peter, Paul and Mary. They are still on tour in support of 2013's sophomore release Let's Be Still, and we can't wait to see if they have some new material to share tonight at LOTG. 

 WILD CUB
Local indie pop rockers Wild Cub have enjoyed a meteoric rise to prominence ever since self-releasing their debut album Youth back in early 2013, thanks in no small part to their massively catchy and captivating single "Thunder Clatter". In 2014, they re-released their debut under the Mom+Pop Music label, and their rep has just continued to blossom. Early this summer they also dropped an EP called Letters Home From Far Away, featuring some live recordings and non-traditional covers (we told you all about it in this post), which we're hoping they break out tonight. Be sure to get their as early as possible to see yet another Nashville band that is poised to continue making a splash nationally and world wide.
GOODBYE JUNE
Through countless shows and steady touring in the US and abroad, Music City rockers Goodbye June have been building a name for themselves around town and have a growing presence nationally. Their debut album Nor the Wild Music Flow has been getting steady play from us since it first dropped in 2012, but we are digging their new song "Daisy" even more. A new album is close to being finished, so stayed tuned to NCFNN for more details as they develop, or just get to LOTG in time to hear some of their new stuff live and in person.
The Head and The Heart, Wild Cub, and Goodbye June will perform TONIGHT at Live on the Green. The FREE all-ages show begins at 6 pm (fest site opens at 5).