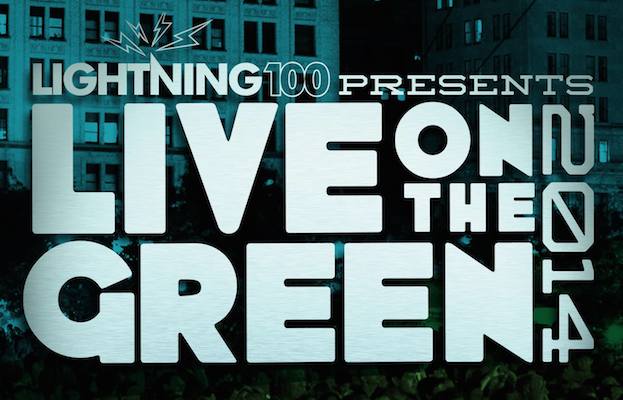 It feels like we were just bidding the 2013 season of Live on the Green farewell, but, here we are again, ready to kick off the most exciting year of the annual free fest ever TONIGHT, Aug. 14 at Public Square Park. As we told you a few months back, this season brings some exciting changes, most notably with the timeframe. Instead of running for six weeks, this year's LOTG will run for four, concluding with a new, epic three-day fest for its final week (extending the usual Thursday night of music to Friday and Saturday as well). The site has expanded to include an extra city block as well, and this year's lineup is better than ever, featuring performers like Cage the Elephant and Jake Bugg in the coming weeks. Tonight's inaugural installment is set to include City and Colour, The Weeks, and Spanish Gold, so, clearly, LOTG is geared up to hit the ground running. Find out more about all three bands and why you absolutely don't want to miss them, after the jump!
Per usual, LOTG is free and all ages, and music will run from 6 p.m. to 10:45 p.m. Gates open at 5 p.m., and there will be plenty of food and beer vendors on site to meet your needs. Parking is just $5 at the Public Square Park Garage below the festival site, and various other garages and street parking options are available on the surrounding blocks. Finally, if you're looking to up the ante on your LOTG experience, VIP tickets are available for purchase. Find out more about this week's installment below, and find out more about the entire season on Live on the Green's site.
CITY AND COLOUR
Dallas Green, better known by his performing alias City and Colour (Dallas = a city, Green = a color; clever, right?) has officially been releasing music as a solo artist for nearly a decade, but has essentially been playing and writing since childhood. Green first gained prominence as a member of acclaimed Canadian post-hardcore outfit Alexisonfire, and, even as City and Colour's critical attention and commercial appeal rose with each release, Green remained a member of the band until 2010 (they subsequently split in 2011, and Green took part in a farewell tour in 2012). A native Canadian, Dallas found pretty immediate success in his homeland, and has remained a chart-topping and award-winning artist there, while simultaneously breaking through to markets across the globe.
City and Colour's first release, Sometimes, was a largely stripped down and minimalist record, with each subsequent album becoming more layered and involved, as well as employing the use of additional musicians; last year's The Hurry and the Harm, especially, took on a more energetic rock and roll feel. The common thread of Green's solo output has always been the sad, personal, and melancholy subject matter, which is something Dallas admits to best connecting to. In his years of organic growth, City and Colour has shared the stage with the likes of Tegan and Sara, Pink, Butch Walker, Biffy Clyro, and more, has collaborated with a diverse array of prominent musicians on his records and in his touring band. Co-opting a punk rock mindset and ethos in his fan-driven, sincere approach to music, Dallas has quietly and prominently become one of the most beloved songwriters in modern folk and alternative rock, attracting fans from all walks of life and becoming a regular staple at music festivals. It should go without saying, but Green is one hell of a Live on the Green headliner, and is sure to set the bar impossibly high for the entire season!
THE WEEKS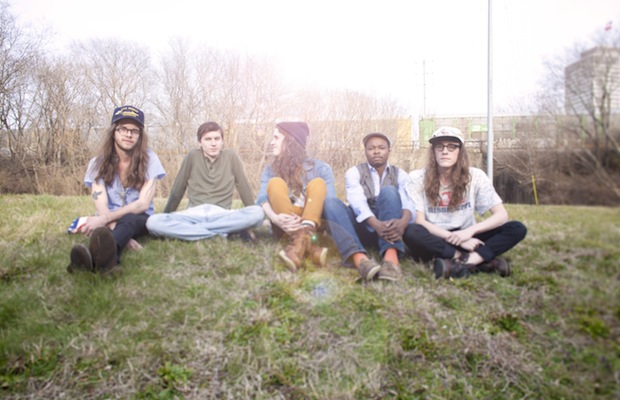 It seems only fitting that local garage/indie soul-rockers The Weeks would help kick off this season's Live on the Green, as they (along with Moon Taxi, Will Hoge, and The Wild Feathers) helped bring last year to a close. In the time since, the Mississippi transplants have continued to see their fame rise, nabbing another prominent array of festival placements this summer, and found new success in the reworking of an old single, "Buttons." They just dropped a new video for the track, to promote their new EP of the same name, so watch it below. If you haven't seen 'em yet, you've been living under a rock, but, regardless, show up early and celebrate one of Nashville's best young rock bands.
SPANISH GOLD
Though they're not specifically Nashville based, supergroup Spanish Gold's ties to Music City run deep. Most prominently, they recorded their debut, South of Nowhere, here in town at Dan Auerbach's Easy Eye Studios, and have taken time to perform at local haunts like The Basement and Grimey's. Featuring Patrick Hallahan of My Morning Jacket, Dante Schwebel of Hacienda (and City and Colour), and Adrian Quesada of Brownout, the trio carry quite a lofty pedigree, and their dancy, indie rock sound displays a seasoned polish new bands rarely exhibit. If you're not in Public Square Park by 6 p.m., you're missing out.
More from Live on the Green | Site | Facebook | Twitter | Instagram