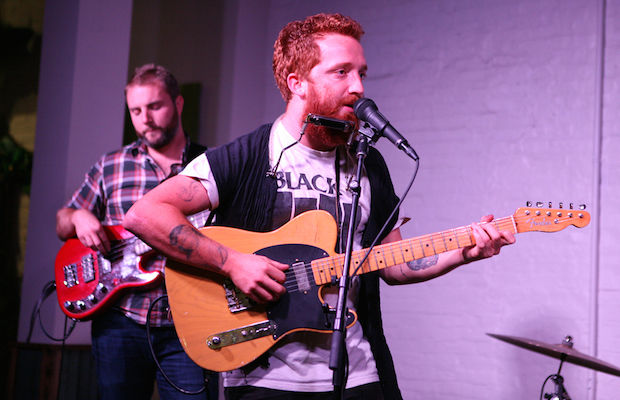 Diamond Carter
Acme Feed & Seed; Nashville, TN
August 5, 2014

Review by Philip Obenschain (@pobenschain). Photos by Michael Brooks.
Continuing our new weekly Tuesday night showcase at Nashville's premiere, brand new downtown restaurant and performance space, Acme Feed & Seed, this week we brought you Los Angeles transplants Diamond Carter, for a dynamic, crowd-pleasing performance. We told you a lot about the soulful, retro leaning pop rockers ahead of the show, but witnessing them live really transcended the sonic blueprint laid out by their recordings. While we won't go into a deeply analytical take on their performance, it being our own curated event and all, we wanted to provide you with a recap of what went down, and to showcase some photos of the event. Keep reading for more!
Diamond Carter. Photo Michael Brooks.
While our Acme residency officially kicked off last week, with Kansas Bible Company, Diamond Carter's performance was this writer's first chance to check out the space. A tour of the facility had me ecstatic for the weeks to come, and, in case you're not sold on the concept of a "cool" place to hang on Lower Broadway, I'm betting one evening at Acme's fourth floor bar might change your mind (check out the photo set at the bottom of this page for a taste of the view). Entering through the gift shop, I immediately noticed Acme's incredible, unpretentious design and admirable attention to detail. The space is at once cool and modern while channeling a noticeable air of old Nashville authenticity. Diamond Carter took the spacious stage at eight o'clock sharp, performing as a quartet and erupting with an energy and a precision that would challenge any one of the seasoned acts performing at the numerous other establishments along Nashville's most tourist-friendly row.
Diamond Carter. Photo by Michael Brooks.
Led by frontman Tyler Tuohy, who, much to my delight, donned a Black Flag t-shirt for the entirety of the show, Diamond Carter commanded the stage from the first note, alternating between mellow and more abrasive originals, pulling from their debut full-length as well as their upcoming sophomore album, and even finding space to include cover songs as diverse as The Rolling Stones and Lil' Wayne. Tuohy delighted in engaging the audience in call in response, a la an MC, and thoroughly impressed with his guitar work, waiting until the show's end to absolutely unleash his skills (I won't go into too much detail on exactly how, other than to say- it's something you really need to witness live). The rest of the group held their own as well, performing effortlessly and energetically. Multi-instrumentalist Cameron Black, especially, proved a huge asset to Diamond Carter's live show with his alternating saxophone and synthesizer work. A particular highlight came when local rocker Bree took to the stage for a duet with Tuohy, thrilling the audience and helping add momentum to the show's final hour.
Diamond Carter. Photo by Michael Brooks.
One of Nashville's most gifted up and comers, Diamond Carter are a band that should absolutely be on your radar, and one seemingly destined for even bigger things once their latest music arrives. For a chance to catch equally exciting emerging artists every week, all for free (as long as you're at least 21), be sure to join us at Acme every Tuesday night at 8 p.m. Enjoy more photos of Diamond Carter below!
_