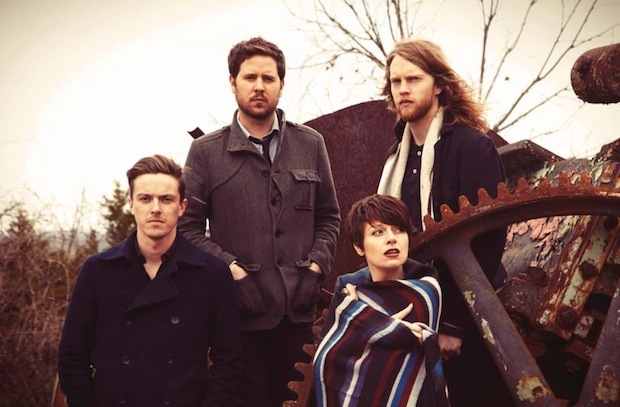 Local dream poppers Kate Tucker & the Sons of Sweden are kicking off a packed summer tour tonight at The Mercy Lounge. They are touring in support of last year's The Shape The Color The Feel project, which amassed a ton of engaging content. KT&SOS will be joined by locals Earl Burrows and Tetherball. The show is $8 and doors swing open at an early 7PM.
For a full preview and a new video for one of our favorite singles, "Blue Hotel", keep reading!
Kate Tucker & the Sons of Sweden
Last year's The Shape The Color The Feel remains one of the most ambitious projects in recent memory. With a $21,125 Kickstarter funded campaign, Kate Tucker & the Sons of Sweden created a gorgeous tapestry of 10 songs, 10 videos and a visual art installation. It's only fitting that the project will get a slew of tour dates. Kate Tucker herself says, "The Shape The Color The Feel would not exist without the community of artists and friends that supported and contributed to the project. We are so grateful to have worked with such incredible people in Nashville and beyond." KT&SOS will take the middle spot at 9PM.
Earl Burrows
Earl Burrows is a peppy rock quartet based in Nashville. We like the blues-wail vocals and jangly, barbed guitar attacks that nip at your heels. Earl Burrows has been ripping up the Stone Fox lately, along with a Basement show with The Katies, so it'll be interesting to see them close things out at the larger Mercy stage tonight at 10PM.
Tetherball
Tetherball has to be the hardest drunk game/sport to play. We're constantly at risk of being wacked in the face or running into that damn center pole. Cornhole, pool and even darts are so much safer. Fortunately, Tetherball the band has nothing to do with the dangerous game. Unfortunately, we can't find much else about the band. But we live for mystery, and we'll be there early for their 8PM set!
Kate Tucker & the Sons of Sweden will perform on tonight, Wednesday, July 23 at The Mercy Lounge. The show is 18+, begins at 8:00PM (doors at 7:00PM) and tickets are $8.