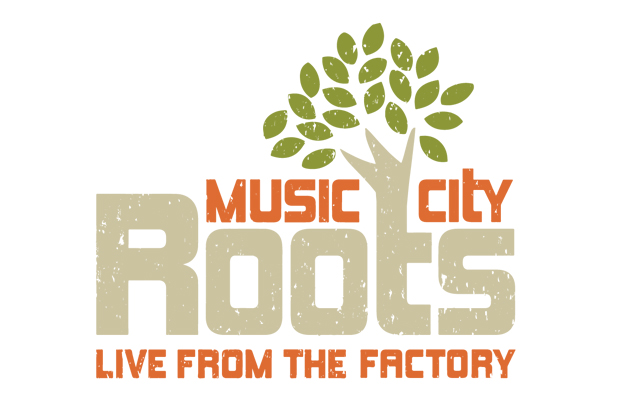 After almost five years at the Loveless Barn, this week's Music City Roots will be the first show in its new home at The Factory in Franklin, TN. Music City Roots has been known as an artist-friendly event since it's inception, and there is no reason to expect that to change in the new location. In fact, the MCR team has been working overtime during their "break" getting the venue and their new headquarters ready. The space will look different with its unique architecture, but should have a great new vibe as well. New sound and lighting rigs have been installed while the familiar podium space and chat room remain largely unchanged. Other exciting upgrades include a balcony overlooking the stage for the first time, a Roots Radio studio and MCR store-front.
This week's show features 12-time grammy award winner Emmylou Harris, prolific singer-songwriter Rodney Crowell, Verlon Thompson, and Humming House. Read on below to find out more about this sold out show, but don't fret, you can always catch the tunes for free on Hippie Radio 94.5 starting at 7pm!
EMMYLOU HARRIS
Emmylou Harris headlined the first Music City Roots show at the Loveless back in October 2009, and it is only fitting that she will kick things off at the new locale. The show will be a benefit for the dog rescue shelter that she runs out of her home, Bonaparte's Retreat. If you didn't already get your ticket, tune in on 94.5, and send your $15 to support the rescue here.
RODNEY CROWELL
Rodney Crowell is also a Grammy Award winner, a member of the Nashville Songwriters Hall of Fame and the recipient of the 2009 Lifetime Achievement Award for Songwriting from the Americana Music Association. Some of his compositions include "Til I Gain Control Again," "Song For The Life" and "Ashes By Now" which have been covered by legendary singers.
VERLON THOMPSON
Verlon Thompson has been a professional songwriter & traveling troubadour for over thirty years. He is well known as the trusted sidekick of Texas Americana songwriting icon Guy Clark, and his guitar work can be heard on recordings by Restless Heart, Pam Tillis, Guy Clark and many others.
HUMMING HOUSE
Humming House has been called a "musical experiment gone right…woven together from diverse backgrounds (Americana, classical composition, bluegrass, soul, and traditional Irish music), their playground of musical exploration has something for every generation". Their second album was recorded with Grammy Award-winning producers Vance Powell and Mitch Dane and they have had song placements on FX's "Justified" and The CW's "Hart of Dixie".
Emmylou Harris, Rodney Crowell, Verlon Thompson and Humming House perform tonight (July 9, 2014) at the new Music City Roots home at The Factory in Franklin. The show is all ages, begins at 7pm (doors at 6pm), and tickets are SOLD OUT. However, you can catch all the tunes from the comfort of your recliner, thanks to the fine folks at 94.5 Hippie FM.