Another year, another Bonnaroo. Needless to say, the No Country crew had a blast, and we were there in full-force to document the 13th annual installment of the Manchester, TN fest. In addition to our regular and semi-regular contributors, we brought in a few guests to weigh in on 'Roo (check out the key at the bottom), and we had expert photographer Mary-Beth Blankenship on site to capture some of our favorite performances. After so many months of anticipation, we can't believe it has finally come and gone, but, below, check out our recap and photos from Bonnaroo's final two days (and head here for the first two).
SATURDAY
ELEL. Photo by Mary-Beth Blankenship.
ELEL
ELEL are a favorite of mine, both as people and as a band. There's a magical quality to their music, and to hear it emerge from bedroom demos to a set at Bonnaroo was a magical experience for me. There were a lot of Nashvillians in the crowd to support our hometown boys and girl, but I really enjoyed seeing the people I didn't know bopping along, grinning and moving. I anticipated the drop on ELEL's fantastic single "40 Watt" with immense pleasure, knowing what was to come. And, sure enough, when the chorus line dropped in after 2 bars of kick drum, the tent went ape shit. ELEL are one of the most unique sounds out there, an evolutionary version of the Talking Heads for the 21st century, so for anyone lucky enough to catch their Bonnaroo set, I hope they have them marked down as a band to watch. [AS]
Being firmly planted on the ELEL band wagon and friends with all of them, it was truly heartwarming to see Nashville friends performing outside of the typical local venues. It's hard for me to rate their performance. There was nothing mind blowing about it, but that's just because I've watched them put together amazing sets for over a year now. Instead, I gauged the crowd. I looked for new faces that I haven't seen in Nashville venues. I listened in on conversations of people from Denver, Michigan, and New Jersey, and I heard them confirm what I've known all along… ELEL are the real deal. [MH]
The Wild Feathers. Photo by Mary-Beth Blankenship.
The Wild Feathers (acoustic)
One perk of working press at Bonnaroo (besides the air conditioning) is the occasional private, acoustic performance. This year, that performance came from Nashville's own The Wild Feathers, who also made their Bonnaroo debut. I didn't get a chance to catch their set proper, so it was great to start my Saturday off by getting to see some fantastic locals in a calmer setting. [PO]
Valerie June
Memphis' Valerie June captivated an early afternoon crowd with a lovely blend of folk, gospel and blues. After being awoken in my tent that morning to brash bass beats compounded by robot voice samples, June was essential to getting my ears retuned for the day. She wasn't afraid to be quiet despite overflow sound from another area. After a bit, I hardly noticed anything else besides June's bright voice and charming story about her home in "Tennessee Time." [WD]
The Lonely Biscuits
The Lonely Biscuits are a local rock-rap group that's recently had a rather successful last few years, so it's not surprising that they finally made their way to the Farm. Despite playing on one of the smaller stages, the group brought the same energy that's defined them so far, and the crowd loved it. The Lonely Biscuits play a somewhat chiller sound, which was actually quite nice for being the first set of the day. [JS]
Seasick Steve. Photo by Shawn Jackson.
Seasick Steve
One of the best parts of Bonnaroo is getting a chance to catch some legendary musicians that you otherwise might not see. This show was one such instance; not only did Seasick Steve (the producer of Modest Mouse and a number of other acts) play his own set, but he was joined by the one and only John Paul Jones of Led Zeppelin fame. It's not hard to imagine that this set might be pretty awesome, and indeed Seasick Steve and his companions totally rocked. They played the blues how it should be: raw and sincere. All of these guys were older, and their experience definitely showed on stage. [JS]
I started my Saturday with some Seasick Steve.  His last album, recorded in Nashville, is currently in my regular rotation at home, so I was excited when I found out he would be at Bonnaroo.  He started out the show as a two-piece with his amazing Swedish drummer, Dan, before being joined on stage by former Led Zeppelin multi-instrumentalist John Paul Jones.  The crowd went ballistic as JPJ came out and picked up the bass that had been awaiting him on stage.  As Steve rotated through guitars and diddley bows throughout the set, JPJ rotated from bass to mandolin to lap steel and back to bass.  At one point, Steve went down into the pit to find a young woman to bring on stage from the audience, so he could serenade her with a love song near the end of his show.  It was a fantastic start to what would prove to be a great day. [SJ]
King Khan & The Shrines
Of all the sets I caught at Bonnaroo, King Khan & The Shrines was the raunchiest and the funniest. Although he and his talented band of psychedelic soul rockers make great music, it is Khan himself that makes the most headlines. His ridiculously salacious lyrics and stage banter were hilarious and quite entertaining over a few afternoon brews. The bit about reaching over to a fellow man at stand-up urinals and shaking his penis dry for him (a 'Liberty Bell') was an instant classic, and when he brought an unsuspecting fan up on stage to rock out with him and his crew for the last 4 or 5 songs it was also awesome. Pretty sure I know who her favorite band is for life now. His predominately German bandmates (they are based in Berlin) also attracts some loyal followers. I met two guys who had flown in from Germany just for the weekend, and Khan was their number one show to see. When he came out shirtless in his skimpy gold undies for the encore, it gave all beer gut sporting men hope for rock stardom. [JR]
The first time I saw King Khan & The Shrines was by happenstance. After a particularly rowdy night at Exit/In, I forgot to close out my credit card, and, when I returned the next show night to retrieve it, King Khan & The Shrines just happened to be playing. This was an in and out mission. Get in, close out the three day old tab, and get out; and that's when you are the most vulnerable to King Khan & The Shrines. Those psychedelic garage rockers just lure your ass in. The music is solid, though not out of this world, and the lyrics, while politically rooted, are more silly than profound. Really, it's the spectacle of King Khan (Arish Ahmad Khan) in all his costumed glory bringing this whole spectacle to life. If you haven't seen King Khan & The Shrines, fix that, because this was easily in my top five shows of the weekend. [MH]
Cherub (Sonic Stage)
I'm a big fan of Cherub, and an even bigger fan of it's components Jordan Kelley and Jason Huber. We've seen Cherub kill it in multiple cities at this point, and it is clear that their fame has transcended the Nashville circuit. We heard about how amazing the Thursday night set was, and it was paramount to catch their set at the Sonic Stage. At the beginning of the stripped down set it was announced, "We're going to try this. It might be cool, and it might suck." With an attitude like that, there is no way it could suck. Manning acoustic instruments, they played with arrangements of some of their hit songs, and the crowd, as they always do with Cherub, ate up every minute of it. I had a meeting with a publicist that dragged me away, but, thanks Cherub, for the few minutes of chill out time. [MH]
The Bouncing Souls. Photo by Mary-Beth Blankenship.
The Bouncing Souls
Pop punk pioneers The Bouncing Souls felt a bit out of place on this year's bill, especially considering the fact that they're not on tour,  but still, as Bonanroo's token punk act of 2014, they brought an energy and diversity to the fest which was much-needed. I was surprised to see just how many people turned up to watch, especially amidst a crowded afternoon, but the Souls more than deserved their enthusiastic response, delivering a polished, career-spanning, and amped-up performance. [PO]
First Aid Kit
That's it, I'm moving to Sweden. Swedish Sister-duo First Aid Kit had been on my radar due to their Bright Eyes, Conor Oberst connection, but since returning from Bonnaroo, I can't stop listening to them. I'm usually not one for harmonies but these girls bring me to my knees, and their set is definitely in my top five for the entire festival. I can honestly say they are one of the most beautiful sounds I've ever heard. With songwriting on par to their musicianship, it was a truly breathtaking performance. May or may not have cried… [AS]
One of my biggest Bonnaroo regrets this summer was not getting to watch all of First Aid Kit's captivating set. The Swedish sister act were a standout this year, hands down, and seemed universally loved by both longtime fans and casual festival-goers. As amazing as they sounded outside, I can't wait to see how perfect their sound is when they make their Ryman debut  later this year. [PO]
Haerts
Given the trendy name and excessive blog hype, I wrote Haerts off last year as another blip on Hype Machine. Then at this year's SXSW, they obliterated all that skepticism to make me a hardcore fan. Haerts' Bonnaroo performance solidified my respect (er, maybe fanaticism) with another flawless festival performance. As uncool as it may sound, Haerts strikes me as a modern, amped up Flock of Seagulls. Where FoS ran straight into cheesy 80's nostalgia, Haerts seems to fly above all that. Credit lead vocalist Nini Fabi with an intense but graceful stage presence to pull it all off. [WD]
Tedeschi Trucks Band. Photo by Shawn Jackson.
Tedeschi Trucks Band
Susan Tedeschi, Derek Trucks, and their band sounded great on Saturday.  Susan's deeply soulful voice and Derek's amazing controlled yet intensely emotive slide guitar were in their usual awe-inspiring states.  They pulled songs from their steadily growing catalog of albums and corralled what appeared to be a good representation of the remaining Bonnaroo hippie scene for their performance. [SJ]
Cake. Photo by Mary-Beth Blankenship.
Cake
Saturday afternoon was pretty stacked for me, and it started off correctly with Cake. There's not much to say about Cake besides the fact that the band is insanely groovy and totally comfortable on stage. Unlike some of the other rants this weekend (there were several), Cake frontman John McCrea was actually funny and appealed to the audience, managing to get the audience to split into competing groups and even sing in harmony. Seeing such a strong connection between the audience and performers is rare in music nowadays, and it no doubt explains the success Cake has experienced. [JS]
I was surprisingly disappointed by Cake. Not because they sounded bad, but because the lead singer kept pausing in between songs to say, "What do we want to play next? We don't use a set list. We don't care what you want to hear." I get that mentality to a certain extent, but it was still off-putting to me. Maybe it's because I'd never seen them live before so I didn't know what to expect, but the energy also wasn't as high as I had hoped it would be. I did appreciate that John McCrea dedicated "Mustache Man (Wasted)" to "anyone out there who has a mustache, and not one of those ironic mustaches. A real mustache." And I can't complain about getting to hear "Short Skirt / Long Jacket" live, as that doesn't happen just every day. [MG]
Damon Albarn
This was one of the sets I was most excited for, if for no other reason than curiosity. What was this British pop auteur going to do? This is the man behind Blur, Gorillaz, and numerous other projects. This is the guy who resurrected De La Sol, and introduced the masses to Hieroglyphics, not to mention countless other musicians from all genres, eras, and corners of the world. With so much to choose from, what the hell was he going to play? Did he have any surprises in store? And, most importantly, would kids today know and appreciate the level of influence this man has had? I had the chance to sit behind the glass of his Hay Bale session, which was just him and a piano, I considered myself beyond fortunate. It was, however, not even close to a proper indication of what was to come. Later Saturday I meandered to the What stage, wrongfully questioning if he would still have the relevancy to fill such a large space given that the Gorillaz hadn't been active in over 3 years. Therefore, it was a real treat to arrive in that field and see it filled with what must have been close to 30,000 by the middle of his set. He understandably pulled a lot from his new solo effort, but he didn't shy away from his past, as some newly solo artist are want to do. Perhaps that's because in many ways, he's been solo for awhile, just not under his own name. Gliding from piano ballads, to Gorillaz dance tracks, to some melancholy Blur ("Out of Time" off of Think Tank, a personal favorite of mine), he retained the attention and adoration of his audience at all times. Given that he was playing ballads in the middle of the afternoon for an audience who may or may not have known his expansive catalogue, this was one of the most impressive performances of all of Bonnaroo. When he brought the surviving members of De La Soul out for "Feel Good, inc." they introduced Damon to the crowd as "one of the greatest entertainers of our time." Even on a weekend that saw Kanye, Jack White, and Elton John, this statement was resoundingly true. [AS]
Damon Albarn was one of my best surprises of the weekend. I went in assuming that it was only going to be his solo stuff, which I'm not incredibly familiar with, but he played quite a bit of Gorillaz songs. Hearing "Clint Eastwood", "Feel Good Inc" and "Broken" (complete with a full brass section) was pretty amazing. [MG]
After reading about all of the epic surprises in Damon Albarn's recent Governor's Ball set (many of which were repeated at 'Roo), I added the former Blur and Gorillaz frontman to the top of my must-see list (against a tough scheduling conflict with Cage the Elephant). Interview prep, hunger, and a busy evening ahead forced me to cut his set short, unfortunately, and I was a bit disappointed that his show was front loaded with brand new songs, but, still, Albarn sounded nearly flawless, and, from the looks of it, played everything I wanted to heart shortly after I departed. [PO]
Cage the Elephant
Cage the Elephant were, without a doubt, one of the coolest sets of the weekend. While my group of friends and I were really digging their tunes, the highlight of the performance actually came during a technical difficulty. Rather than awkwardly standing around until the issue was fixed, the band launched into a cover of a Dr. Dre beat, "Still Dre." Besides being an awesome track to cover, it really highlights the professionalism that Cage the Elephant bring to their sets. These guys have the whole rock show thing down, and they went all out for their Bonnaroo performance. If their show in Nashville in a few weeks is anything similar to their 'Roo performance, you absolutely need to go. [JS]
WHOA! This was my fourth time seeing Cage The Elephant. The first was years ago after their debut album at a small club that I'm not sure even exists anymore. The second time was their own Starry Nights festival, and the last time was at their rehearsal for Melophobia. Needless to say, I have never seen CTE in front of a crowd this size. The Which Stage was at absolute capacity on Saturday evening (even with Damon Albarn playing opposite them), and CTE did everything in their power to instill their rock stardom on the every person in the audience! From crowd surfing to 30,000 person sing alongs, this was another Top 5 show for me this year. I sometimes wonder if the reason they had so much more initial success in Europe is because their live show, swagger, and rockability is paramount only to The Rolling Stones. Keep it up boys, and see you at Mercy Lounge next week. [MH]
Phosphorescent
I missed out on Phosphorescent's June 11 gig at Exit/In, so I had to see Matthew Houck's adored project. His recognizable, weary voice filled the air, giving me a taste of redemption. The whole live sound was just as majestic as 2013's Muchacho. Listening to "Song for Zula" as the sun set over the farm seemed far too surreal. [WD]
Slightly Stoopid
As a longtime fan of Sublime, I immediately took to Slightly Stoopid and their similarly influenced sounds when I did a writeup for them before leaving for the farm. Although they've been around for ten plus years, they were new to me, but, when I saw them live I became an official fan. For starters, no show I was at all weekend had more people lighting up joints then this one. The storm cloud of weed smoke seemed to stop foot traffic dead in front of That Tent, and an already impressive crowd swelled to mass capacity for the medium venue area. Everyone was dancing along to the funky reggae bass lines and, even if you'd just caught a contact buzz, everyone was all smiles. Next time they play 'Roo look for them on one of the main stages, which it appears they could easily fill. [JR]
Following Cake and Cage the Elephant, my band of companions and I were ready for a slightly less rocking show. Luckily, reggae legends Slightly Stoopid had just began their set, which featured basically all of their hits. It's well-known that Slightly Stoopid are a festival favorite, and, yet, it wasn't until seeing them in that setting that the reason why really became clear. A number of people I talked to this weekend confided in me that Slightly Stoopid were their favorite act of the weekend, and they definitely made my top three. [JS]
Cayucas (Sonic Stage)
I'm a big fan of the splashy surf pop from Cayucas' debut album, and I thought that it would translate perfectly on a late afternoon at Bonnaroo. The smaller of their two performances at The Sonic Stage was a perfect fit, and, after a few technical difficulties, the guys cut right into a spot on performance of "Cayucas," and then playfully strolled through the rest of the album. I've heard ho-hum reviews of Cayucas' live sets, but, as a first timer, the only thing that dragged me out of there was hunger and my buzz. [MH]
Chromeo
Chromeo's set was a giant dance party, just as you would expect it to be. It was perfect timing, too; the sun was going down and it started to cool off so that all that dancing didn't give anyone a heat stroke. Dave 1 and P-Thugg brought the funk in front of a shiny, disco ball-like backdrop, playing a balanced mixture of classics like "Needy Girl" and "Night by Night" in addition to new songs like "Sexy Socialite" and "Over Your Shoulder" from their most recent endeavor, White Women. It was definitely a highlight of the weekend. [MG]
Bonnaroo really knows how to kick into high gear for night shows. Chromeo brought their A-game to Which Stage. The rock star personas of Dave 1 and P-Thugg keep getting bigger and bigger. In my book, they deserve it. Both dropped incredible amounts of electro-funk swagger on the field and never let up. Since seeing them in 2012, Dave 1 morphed into a hell of an axe-weilding co-frontman. P-Thugg was in no way playing second fiddle; he played maestro with his leggy keyboard and pumped up the crowd with thick talk box chants. [WD]
Lionel Richie. Photo by Shawn Jackson.
Lionel Richie
Lionel Richie is nothing if not an amazing showman.  He held the massive crowd in the palm of his hand as he performed songs spanning his many decades in the business.  He told stories and jokes between the hits and had the audience singing along the whole way.  To top it off, his band was super impressive, helping him nail the Commodores tunes as well as his solo works. [SJ]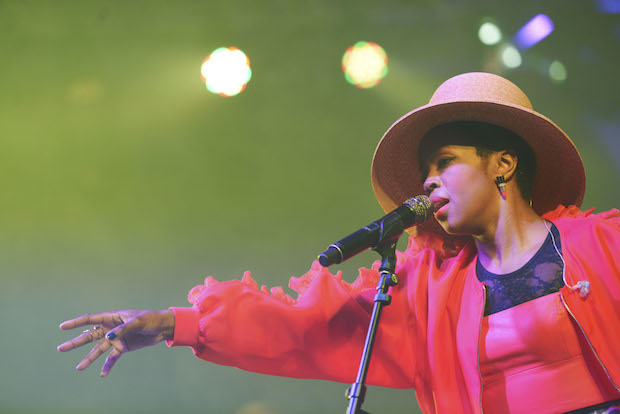 Ms. Lauryn Hill. Photo by Mary-Beth Blankenship.
Mr. Lauryn Hill
We weren't able to stay more than a few songs, since Ms. Lauryn Hill fell right before Jack White and, in characteristic fashion, started her set 30 minutes late, so all I will say is that she's still got it. She sounds amazing, she moved her crowd from the first beat, and given her relatively small body of work, had a set that was dressed to impress. When you're that good, maybe one album is all you need to put out. [AS]
20+ minutes late and looking feisty (I wouldn't want to be her bassist or sound guy), the enigmatic Ms. Lauryn Hill proved a surreal treat. The songstress' set was pretty evenly split between solo material, Fugees hits (including "Killing Me Softly" TWICE), and Bob Marley covers, and her band, one of the tightest at Bonaroo, perfectly complimented her soulful voice and hip hop flair. Lauryn Hill is a legend, and one that has become increasingly unpredictable and inconsistent in her career focus in recent years, so seeing her play such an amazing show in such an amazing setting felt like a once in a  lifetime experience. [PO]
Zedd
While preparing to head to my most-anticipated set of the weekend, Jack White, I managed to catch a couple of songs from buzzy DJ Zedd. Best known for his tracks that feature vocal collaborations, the EDM artist's set relied heavily on sampled hooks, and, though he couldn't match Skrillex in production value, he still sounded like a lot of fun, and would have been a great way to expel some energy ahead of Mr. White. [PO]
Asgeir
After attempting to fight my way through the hordes for Jack White's set, I gave up. I'll see Jack next month at Forecastle Festival in a much more attainable setting. And, when in the hell am I going to have a chance to see Asgeir again? So, off I went to a still moderately crowded On Tap Lounge stage. The Icelandic dream pop machine had hooked in all of the stragglers within earshot of that little tent. They played efficiently, with a little bit of apparent anxiety about performing out of their native tongue. The set was way too short, but it left me intrigued about Asgeir. Check them out if you get a chance. [MH]
Jack White. Photo by Mary-Beth Blankenship.
Jack White
Living in Nashville, we are shielded from much of the perception of the rest of the world. To us a celebrity is a person first, and this is a wonderful way to treat them. They are members of our community, and, in this view, Jack White is merely our resident rock star. This is all entirely true, but it was a holy shit moment when this past Saturday night he emerged on stage, bathed in blue light, to a crowd nearly 90,000 strong, and, from the first pulse of "Icky Thump," owned them. It was an eye opener that yes, this is our neighborhood guitar god, but oh yeah, he's also one of the biggest rock stars in the world, and depending on your definition of what a rock star is, he might just be the ONLY rock star in the world right now. This will likely be heralded as one of the great Bonnaroo performances, on par with Radiohead's acclaimed 2006 performance. He was electric, flailing across the stage with an abandoned care and sense of urgency and danger that has been lost on the cockless arena acts of the past few years. This man has balls, and everyone knows it and respects him for it. On "I'm Slowly Turning Into You," another Icky Thump classic, the crowd filled the space between the signature riff with a thundering "HEY!," to which Jack replied "Oh, are you with me? Alright then, let's do this" before driving home one of many vicious solos. Newer material from his two solo efforts cemented his relevancy, as the crowd was enraptured in songs like the dark, slithering "Lazaretto" and the southern gothic "Temporary Ground." And as if he had anything left to prove, Jack also took the crown for perhaps one of the most traditionally country sets, as White Stripes classics like "We're Going to Be Friends" have taken on a decidedly rootsy feel in the intervening years, and even newer material such as the aforementioned "Temporary Ground" harken back to his American music forefathers. And, though Loretta Lynn never materialized for anything of her excellent "Van Lear Rose", it's perhaps better that way. Jack proved he is King, and this was his court. When he left the stage at the end of the set, you can almost imagine him waiting in the wings before returning for an eight song encore, listening to the crowd chant the hook from "Seven Nation Army" and thinking to himself "Yeah. They're with me." [AS]
Hands down my top performance at Bonnaroo 2014; it isn't even a contest. His mastery of the crowd, which was eating out of his hand start to finish, his complete control of the shows tempo, the way he goaded on his band (equally encouraging and demanding at the same time) and, of course, the amazing setlist all made it one for the ages. Opting to play mostly White Stripes songs, much to my fanboy delight, I couldn't think of a single song I wanted to hear that he didn't play. Even his occasional rant, including one where he called out Rolling Stone Magazine as being "tabloid," didn't bother me. I do find it ironic that Kanye is ridiculed for such antics but with Jack White, whom it is just as expected of, the speeches are often praised. The "Seven Nation Army" encore chant, made popular now by nearly all live sporting events, gave me chills and when he closed out the show with the song, all 40,000+ persons in attendance went ape shit. Of all the moments in all my Bonnaroo experiences, hearing that song live and turning around to take in the crowd is the over-all number one moment for yours truly. Bravo Jack. [JR]
Behind only Paul McCartney and Radiohead ('06) on my list of greatest Bonnaroo performances of all-time, Nashville resident Jack White proved that rock and roll is alive and kicking with his jaw-dropping, masterclass in how to headline a festival. With a career-spanning set, featuring a healthy dose of White Stripes, Raconteurs, and Dead Weather in addition to White's own solo material, the singer played the tightest, best, and most epic renditions of his material I've ever heard. Readily acknowledging his new-Nashville roots and co-opted musical heritage, Jack and his incredible band flexed their range and understanding of rock, blues, and country music, captivating what was, without a doubt, the largest crowd of the weekend. Whether he's rocking Third Man Records' Blue Room or commanding the crowd from the Bonnaroo stage, Jack White is, perhaps, our generation's last rock star, and one who is infinitely deserving of that label. [PO]
Skrillex SuperJam. Photo by Mary-Beth Blankenship.
Skrillex SuperJam
I'll be honest here, the Skillex SuperJam wasn't really my thing. Perhaps it's because we were in the far back and the sound wasn't great, but the performance didn't seem nearly as engaging as I had hoped. While seeing guests like Robby Krieger and Damien Marley was certainly something special, this set just didn't do it for me as much as I though it would. [JS]
I popped in and out of the Skrillex Super Jam, which pretty much meant that I was about a half a mile away trying to figure out what was going on. Based on what I heard from those that committed to this set, I really missed out, but, I guess ignorance is bliss. [MH]
As much as I wanted to catch the Skrillex-helmed SuperJam (and even more intensely regretted not doing soon upon reading about it the next day), the gigantic crowd coupled with the worst last-night scheduling conflicts of all time made it nearly impossible for me to catch more than a couple of songs. Still, the idea of a DJ-helmed SuperJam was intriguing, and what little I heard sounded almost as cool and fresh as last summer's hip hop SuperJam. [PO]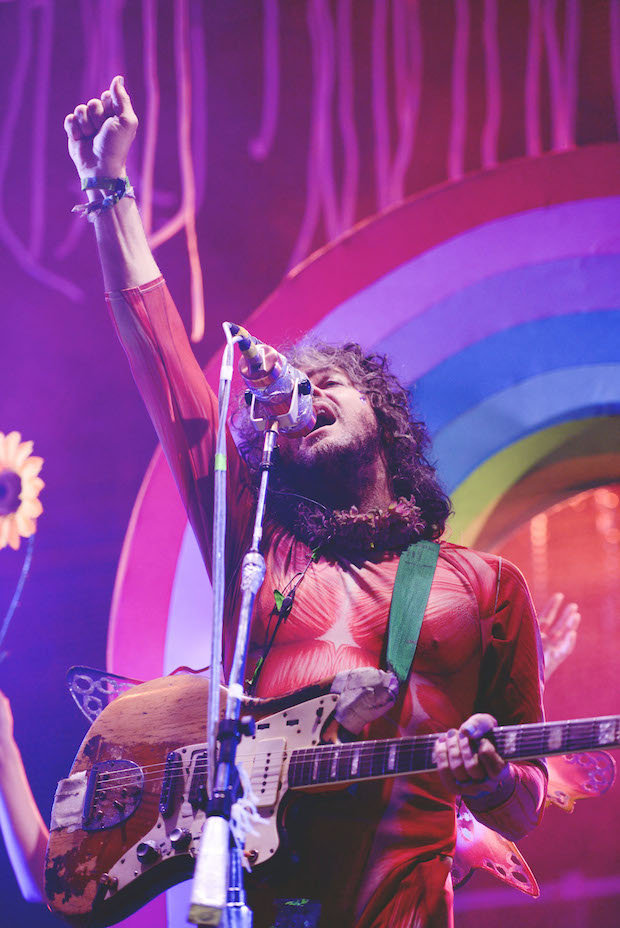 The Flaming Lips. Photo by Mary-Beth Blankenship.
The Flaming Lips
One of my all-time favorite bands, and, certainly, one of the planet's coolest live acts, The Flaming Lips chose to crank it down a notch for their Bonnaroo performance, which was a little less hyperactive and a lot trippier than your average Lips show. Laden with rainbows, costumed characters, magical mushrooms, and one big "FUCK YEAH ROO" sign, the performance was perfectly-suited to its late night spot. Opening with an obscure track from 1995's Clouds Taste Metallic, Wayne Coyne and co. then launched into their early career breakthrough, "She Don't Use Jelly," before transitioning into mostly new, fan-favorite selections. The flash and hypnotic qualities expected of a Flaming Lips performance were all present, as was some mild sense of near-controversy (the subtle mocking of Kanye West), so, all and all, it would have been mind-blowing for an uninitiated festival-goer, and just another fantastic performance (among many), with a few refreshingly new elements, for an old die-hard like me. [PO]
Frank Ocean (12:30am)
Things got a little out of whack Saturday night, so by the time we made it over for Frank Ocean's late night set, he only had a few songs left. On stage, with just a computer for his backing track, he had the Other Tent in the palm of his hand. Imagine that rave scene from the Matrix, and when the beat to "Pyramids" dropped in it was something like that. There were numerous feats of performance at this year's festival, but this certainly ranks highly. [AS]
One of my most-anticipated acts of Bonnaroo, and one of the few things that could pry me away from The Flaming Lips, breakout r&b artist Frank Ocean took a much more minimalist, stripped-down turn with his 'Roo debut than I ever would have expected. The buzzed about singer opted not to play with a band, instead plugging through his channelORANGE catalogue with only a microphone and a backing track, which, at first, kind of felt like Frank Ocean karaoke, but, as the set went on, began to feel like a real intimate and heartfelt endeavor, helped by the power and earnestness of the young singer's skill and delivery. I'd love to see him again in a grander setting, but Frank's 'Roo set, though not what I had hoped for, proved to be a unique and memorable one. [PO]
Nick Cave & The Bad Seeds
Similar to Frank Ocean, I only really managed to take in two songs from Nick Cave. Dark and fascinating, he was everything and more that one would wish him to be. I felt bad that more people had not stayed to watch him, but, given the lineup conflicts of Saturday night, he, by all accounts, delivered a mesmerizing performance. [AS]
I spent a lot of the Jack White set in a hospitality tent avoiding the crowds, happy to sit for a little while, but I left before that set was over to make sure I was in place for Nick Cave. The tent was surprisingly sparse (though it did fill once the headliner finished), but that was fine with me. Cave even seemed to play with the small crowd, coercing them into a huddled mass at the barricades at the stage, where he sang with more emotion and power than any singer that I can remember. The gothic dark rock drone behind him only carried his words further. At one point, he was laying on the front row of the crowd imploring them to touch his emotions. There aren't many chances to see Nick Cave, and he was at the top of my "to see" list…. and, he didn't disappoint. [MH]
After Frank Ocean abruptly ended his set a bit earlier than expected, I raced across Bonnaroo to catch as much as I could of the legendary Nick Cave & The Bad Seeds. I was disappointed to find them with such a sparse crowd, but used that to my advantage in order to sneak up close for the tail end of their set. What I saw, which roughly amounted to two songs, sounded amazing, and left me further frustrated by Saturday's late-night schedule pileup. [PO]
Chromeo (Secret DJ Set at Snake & Jake's)
When a buddy of yours, who is a promoter of a festival like Bonnaroo, tells you, "Be at Snake & Jakes at 1 a.m.," I should know by now to listen. I got caught up in the magic of the Nick Cave set though, and didn't make it over there until almost 2am. By that time, the word had gotten out that Chromeo was doing a surprise set inside the barn on the farm, and a significant line had formed. Instead of trying to get in, I found a spot to listen to the beats and check out the ecstatic people inside through one of the open doors. I'm not much of a dancer, so it's the same thing I probably would have done from the inside anyway. That being said, I won't be late for any more directives from promoter buddies again. [MH]
Darkside
Despite having never heard of Darkside, I attended this show at the insistence of my neighbor, who struggled to come up with a word besides "beautiful" to describe the act. I'd have to say that I definitely agree; Darkside's unique and sullen sound is unlike anything I'd ever heard before. The music was intensely personal, and while it wasn't high energy, the sheer artistic value of the set was enough to keep the crowd engaged as Darkside. [JS]
Photos by Mary-Beth Blankenship.
SUNDAY
Kansas Bible Company
I saw Kansas Bible Company at their first Nashville show, and have been an ardent supporter ever since. Similar to EL EL, it's been a joy to watch them grow, and to see a fresh audience from all corners of the country get to experience the KBC boys was a tremendous feeling. I'd not heard some of their new material, but alongside their fan favorites like "Creature of the Night," this 12-man strong crew had this guy and everyone else grooving together and smiling like idiots. Now that's a a good band! [AS]
Of the Road To Bonnaroo winners, I would have to give the nod to Kansas Bible Company. First off, they somehow fit 12 people on that tiny little stage, and then they proceeded to rip it apart with their brass influenced rock jams. The crowd was going nuts and steadily filling in. That was nothing compared to the all out energy explosion that happened when they finished things off with their ode to the Sunday headliner by covering "Bennie & The Jets". Keep the party rolling you guys! [MH]
Lucero
Southern tinged rockers Lucero were not on my "to see list," but I ended up catching their set from a distance by chance.  Hanging out, laughing with some of the Lightning 100 boys while they teased festival goers with a $10 bill on the end of a fishing pole, Lucero provided a perfect backdrop to the Sunday afternoon shenanigans. [MH]
They Came Together / Q&A with David Wain
I decided to take a break from the sweltering heat on Sunday and catch a special screening of the movie They Came Together, followed by a Q&A director with David Wain. When introducing the movie, he said, "There are two main characters, played by Paul Rudd and Amy Poehler, and then a third character, which might be the most important of all: New York City." Another movie about NYC? It's not like we don't already have enough of those, right? Well, that was exactly the point Wain was trying to make. It was made clear within the first couple of minutes that this was meant to be a parody of rom-coms, complete with a cheesy storyline of boy meets girl, but boy and girl hate each other at first, and then boy and girl end up falling in love with each other, but not without their fair share of obstacles, etc. It had the potential to be a great satire, but the jokes were so obvious that they weren't given the opportunity to truly be funny. There were scattered laughs here and there, but overall I found it rather disappointing, especially considering that it had such a great cast. [MG]
Black Pistol Fire
Remember how the Black Keys used to sound? Pretty much everything before Attack and Release, which was their first album in a new direction, was blues heavy and riff laden. Now take that sound and ratchet up the rock factor, take the pace three steps faster and inject louder/harder guitar riffs and you're starting to get a feel for Black Pistol Fire. The Austin, TX (via Canada) two-piece played Cafe Where, one of the smallest stages, and they are just starting building a name for themselves. But based on how many people rushed their merch table after their set, it won't be long till they are blowing up big time. I'd downloaded a couple of their tracks a few months back, but was floored by their talent level and showmanship. At one point, singer/guitar player Kevin McKeown climbed the speaker stack, nearly bumping his head on the roof of the tent and rained down rock from above. They said when they first came to Bonnaroo as fans several years prior, they wrote on the wish wall that they wanted to play here some day. Fucking mission accomplished, but it won't be their last time, and bigger stages/crowds are sure to follow. [JR]
Capital Cities. Photo by Mary-Beth Blankenship.
The Futures League
This was another band I got turned on to by writing about them. I really dig their single "Give My Lovin' A Try," and was excited to see them perform. Unlucky for them, they were performing at the least shaded stage (On Tap Lounge) on the hottest day of the weekend, during the hottest hour of the day. People were simply pooped. Most were passed out on the giant beanbag like cushions set-up in the lounge area and paid them little attention. I enjoyed what I heard, but didn't stay long, swallowing the ecstacy pill I'd bought earlier in the day on my walk to the next show. [JR]
Goat
I knew nothing of this band before I caught them live. It was another case of being drawn in on the walk by. Their tribal jam band sounds are accentuated by the fact that both singers and the entire band seemed to be wearing traditional tribal garb from various regions of the world. Some outfits looked African in origin, others Native American. The only thing I can be truly sure of was how much fun they were to watch. Towards the end of the set the drugs I'd taken started to kick in and it was perfect timing as I danced along to their bongo beats. [JR]
My buddy Ryan insisted we "check out this weird band Goat," so without any preconceptions I saw this set first on Sunday. To say this band is a bit strange would be an understatement, but that didn't stop us from fully enjoying their set. The group plays with an animalistic intensity that immediately speaks to a primal instinct in most people, and for that reason the audience was really into their set. I'm definitely glad I got a chance to check these guys out. [JS]
The Black Cadillacs (Sonic Stage)
Blues-heavy rock and roll band The Black Cadillacs did Knoxville proud multiple times during Bonnaroo. Not content to get rowdy on Saturday night, the Cadillacs kept the crowd going through the hot final day's heat. As a former Knoxville resident, I've caught the band quite a few times over the years, including sets in Nashville. But I'll be damned, this time they topped everything I've seen them do so far. The fearless guitars, relentless percussion, straight up murderous bass and raw vocals combined to form a rock juggernaut. [WD]
Fitz & The Tantrums
After quite a successful year, I was expecting Fitz and the Tantrums to put together a tight set featuring a number of their hits, and that's exactly what this stellar group did. Much like Cake, the highlight of Fitz's show was the interaction between the audience and the crowd. The group got the entire audience to get low to the ground (even calling out people who don't participate) during "Moneygrabber", and when the climax of the song came, everyone went wild. It was something to see for sure. [JS]
By the last day of Bonnaroo I was seriously dragging, suffering from post-Jack White depression, and scrambling to complete all of my work obligations, but, still, I managed to catch a handful of acts, the first of which was Fitz and the Tantrums. Sunday was a scorcher, especially compared to the rest of this year's mild weekend, but the heat didn't slow down Fitz' infectious energy or high-octane delivery. [PO]
Crowd. Arctic Monkeys. Photo by Mary-Beth Blankenship.
Arctic Monkeys
Commanding, perhaps, the largest afternoon crowd of the year, Arctic Monkeys not only sounded better than I've ever seen them play before, but proved, finally, that they're as certifiably huge stateside as they are in their native UK. With five fantastic albums of material to pull from, the indie rockers, who are also looking older these days, performed a stacked yet, and satisfied festival-goers' need for one last rocked-out show. [PO]
Washed Out
After a full day of energetic and upbeat shows, Washed Out was the perfect counterbalance. Instead of diving into the crowd, we recuperated out in the shade, and the Georgia based DJ proved to be the perfect soundtrack to our recovery. Washed Out proved to be the perfect afternoon set, and was a fantastic break before some of the higher energy shows of the evening. [JS]
The Griswolds
After I caught the last bit of Arctic Monkeys, I walked to Cafe Where to rest in the shade and drink tons of water. In already humid/hot weather X can be a killer since it makes you sweat twice as hard as normal. While I was sitting and cooling down, I was very impressed with Australian pop rockers The Griswolds who I had never even heard of before. A little bit edgier version of the Kooks is how I would describe them, and, by the end of their set, I'd added them to my growing, and growing, and growing "to download" list. [JR]
Broken Bells. Photo by Mary-Beth Blankenship.
Broken Bells
I had planned to watch most, if not all, of Broken Bells, but ended up only getting to listen in passing. I've seen the sum of the group's parts (The Shins and Gnarls Barkley) before, but, together, James Mercer and Dangermouse really clicked in an even more profound way than on their pair of fantastic albums. One of mainstream indie rock's best new(ish) bands, Broken Bells were a great late-Bonnaroo palette cleanser. [PO]
The Avett Brothers
I've been a long time fan of new grass, folk rock troubadours The Avett Brothers, ever since I saw them live at my second Bonnaroo. They have only refined their sound and improved upon their already very rowdy, and enthusiastic live performances. As I pushed up into the crowd I was lucky enough to be standing next to a very attractive brunette in her mid-twenties. I shared a bowl with her and her friends, and, before long, we were dancing together to some of their more upbeat songs like "Kick Drum Heart," and I thought about possibly trying to steal a kiss during a slower one like "The Perfect Space" but chickened out. After their trademark closer and crowd participation friendly "I, and Love, and You," we exchanged information, but since she lives in Baltimore, I doubt I'll ever see her again. She and her people left for another show, but I sat and made myself comfortable for Sir Elton. [JR]
Prior to seeing The Avett Brothers at Bonnaroo, I knew I liked the folk rock group, but their Bonnaroo set definitely bolstered my respect. Besides their incredibly tight harmonies and touching lyrics, the group did a fantastic job of interacting with the fans and dominated the stage. It was quite an impressive set, to say the least, and the fact that we got to see it from the pit made it all the better. There's little doubt in my mind that the Avett Brothers were one of the best groups I've seen at Bonnaroo this year (or any year, for that matter). [JS]
Little Dragon
Little Dragon was one of the last bands to play The Other Tent on Sunday night. Since I was only familiar with a few of their songs, I was pleasantly surprised to see that they were a full band and not just another DJ outfit. However, lead singer Yukimi Nagano was certainly the star of the show. She's small in stature but has a powerful voice that commands attention. With a great light show to accompany the R&B-infused electronic music, this was the perfect set to watch and unwind after a long weekend. [MG]
The Bluegrass Situation SuperJam
We were still feeling the acoustic vibe following the Avett Brothers set, so we headed on over to the Bluegrass Situation hosted by Ed Helms. I'm quite glad we checked this performance out, as it featured everyone from Dierks Bentley to Sarah Jarosz to Yonder Mountain String Band. Oh yeah, and the Avett Brothers showed up again for a few songs. This performance ended up being much stronger than I was expecting, and I'll definitely check out the Bluegrass Situation every year. [JS]
Elton John
You have to wonder about legacy acts sometimes. Sure, they can sell out arenas and rake in money like nobody's business, but that doesn't always mean they've retained their former glory. Elton, however, has managed to retain his best qualities, his voice and his playing, while gracefully adapting his performance to his age. Though I'm not a super fan, he was one of my favorite performances of the entire festival, if for no other reason than the respect I have for his skill as a performer and for how long he's been doing it. It's difficult to point to any song as a particular high light, considering it was a massive parade of hits, but certainly the massive sing-alongs that "Candle in the Wind" and "Tiny Dancer" turned into were highlights. And who doesn't love some "Crocodile Rock," I mean come on! When he got to "The Bitch is Back," I had to wonder if the bitch had ever left. Elton was the perfect way to round out what had to have been one of the best Bonnaroo lineups in all of the festival's 13 year history. [AS]
Whether we want to admit it or not, we are all Elton John fans on some level. As he tore through his greatest hits parade of songs, I was shocked how many of them I recognized, even if I couldn't tell you all the songs titles. In the epic three hour set, highlights included "Tiny Dancer," "The Bitch is Back" and, of course, "Rocket Man," which is my personal favorite. During the last chorus of the latter song, some group of revelers, who'd been carrying around a massive Buzz Lightyear balloon all weekend, released it in tune to the music and the crowd cheered as the "rocket man" floated up into space, coated in green lasers from laser pens. A man also purposed to his girl friend not five rows in front of me (she said yes), and the vibes were super feel good all around, with the ecstasy running pretty strong for me until the very end. I'd timed my drop perfect. It was another epic 'Roo in the books ,and I couldn't think of a better, more appropriate way to close it out. [JR]
I wouldn't consider myself a diehard Elton fan, but I do have a tremendous amount of respect for the legendary piano man, and hoped to hear a few hits before I hit the road to beat the crowd. I thought maybe I'd hear "Bennie and the Jets," "Candle in the Wind," or "Tiny Dancer" but certainly not all three within the first five songs. From the looks of it, the rest of his set was just as stacked, but, with enough Elton to satisfy my fix, I was on my way home from another successful year on the farm. [PO]
Photos by Mary-Beth Blankenship.
_
[AS] Adrien Saporiti
[JR] Jacob Ryan
[JS] Jack Smith
[MG] Meredith Galyon
[MH] Matt Hall
[PO] Philip Obenschain
[SJ] Shawn Jackson
[WD] Wes Davenport