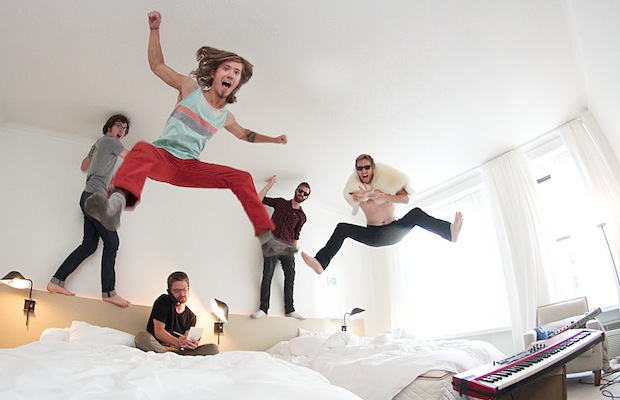 After we went to hang out at Marathon Music Works last night to celebrate with our pals from The 615, we figured out how to get people out to shows the week of Bonnaroo.  You pack them full of kickass talent, and you make them free.  When we arrived, a line covered the sidewalk all the way from the doors at Marathon back to 16th Street, and, by the time we got in, the room was near capacity.  It was a solid night with The Weeks, Leagues, and Buffalo Clover; but, the good times don't stop there.  We have three more nights of FREE for you this week!
Tuesday features two blog favorites with St. Paul & The Broken Bones and J. Roddy Walston & The Business taking over Marathon again.  Wednesday night, you can head back to Marathon to see Moon Taxi! And, Thursday night, Nashville Dancin' returns to Riverfront Park with performances from Houndmouth, Nicki Bluhm and The Gramblers, Los Colognes, The Kernal & His New Strangers.  Don't forget there is also a free in-store with The Orwells at Grimeys on Thursday the 12th as well!
We're insanely busy trying to find rain boots for this weekend on the farm, but we have left you with some media embeds for all the bands! Have fun this week Nashville!
TUESDAY | 6.10
ST. PAUL & THE BROKEN BONES and J. RODDY WALSTON & THE BUSINESS
Marathon Music Works | 8pm | Free | 18+
WEDNESDAY | 6.11
MOON TAXI
Marathon Music Works | 8 pm | Free | 18+
THURSDAY | 6.12
NASHVILLE DANCIN': HOUNDMOUTH, NICKI BLUHM & THE GRAMBLERS, LOS COLOGNES, THE KERNAL & HIS STRANGERS
Riverfront Park | 6pm | Free | All Ages
THURSDAY | 6.12
THE ORWELLS
Grimey's New & Preloved Music | 6pm | Free | All Ages