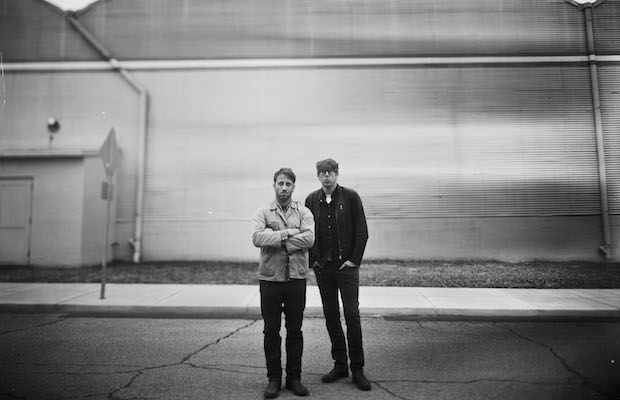 Over the the weekend, Nashville residents The Black Keys headlined Alabama's Hangout Fest, marking only their second North American performance of 2014, and first since January. The group are gearing up for a huge world tour, beginning this summer, in support of their brand new eighth full-length, Turn Blue (catch 'em at Bridgestone Arena Dec. 8). As high-profile bands with new albums and upcoming tours are wont to do, the blues-rock duo have been incredibly busy lately, dropping singles, premiering videos, making television appearances, and more. If you've been paying attention to the site for the past few weeks, then you've surely noticed our barrage of Keys coverage. We're filling you in on the latest today, with the band's recant Colbert performance, new Entertainment Weekly cover, passive-aggressive beef with Spotify, and an interview from Hangout Fest. You'll find it all after the jump!

Last week Dan Auerbach and Patrick Carney stopped by The Colbert Report to chat Turn Blue and to perform two tracks from the new album, which was released May 12 through Nonesuch Records.
The pair appear on the cover of the latest issue of Entertainment Weekly, the Summer Music Preview, alongside actor Danny McBride. Check it out, along with a behind the scenes video, below.
Do you find most of your music on streaming services these days? Though Turn Blue initially was available to steam through iTunes, Spotify users might have to wait awhile. It's not unusual for artists to withhold their music from streaming sites, but this seemingly passive-aggressive response on Spotify's part (Coldplay got one too) is new: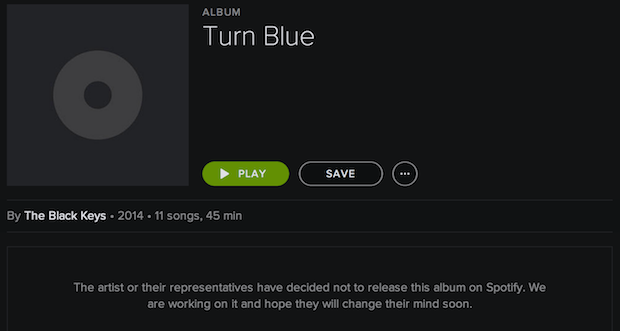 Finally, VH1 posted a quick interview from Hangout Fest, which mostly revolves around Patrick Carney's non-beef with Justin Bieber. Check back for more inevitable Black Keys coverage next week!
More from The Black Keys | Site | Facebook | Twitter | Spotify