American Authors
w/ Wild Cub, Oh Honey
Exit/In; Nashville, TN
April 2, 2014

Review by Philip Obenschain (@pobenschain). Photos by Mary-Beth Blankenship.
Folk pop breakout act American Authors visited Nashville's Exit/In earlier this month, backed by local indie rockers Wild Cub and folky duo on the rise Oh Honey. Predictably packed (all three bands have had an incredibly buzzy past few months), the show boasted an audience comprised of a healthy mix of regular showgoers and somewhat-out-of-place looking students and teenagers, likely present due to Oh Honey's recent debut on hit television show Glee or American Authors' inescapable radio hit "Best Day of My Life." Though most excited for our hometown boys Wild Cub, I went into the show with high hopes that the touring acts would live up to their recently amassed hype, and left pleasantly surprised.
Oh Honey. Photo by Mary-Beth Blankenship.
Though Oh Honey were the band I was least familiar with, and the only act I hadn't had a chance to see previously, they not only wowed me from the first note, but nearly stole the show. Made up of core songwriting duo Mitchy Collins and Danielle Bouchard, the Brooklyn folky, indie pop group were rounded out by a full backing band, allowing them to fully recreate the lovely tunes present on their recent debut EP, With Love. It's clear that the two, Collins especially, come from more energetic, rock and roll backgrounds, and their delivery, while whimsical and hypnotically poppy, harbored more bite and energy than most similar-sounding bands. Sincere in their style and lyrical themes (they played some painfully honest tunes), and folk inspired as a function, not a gimmick, Oh Honey left me confident that they're destined for much, much bigger things this year, a fact already evidenced by their current tour with James Blunt and upcoming ryun with The Fray. Proving that they don't take themselves too seriously, the group managed to sneak in a mashup of TLC's "No Scrubs" and City High's "What Would You Do?," capitalizing on my own '90s nostalgia and firmly sealing the deal: I'm a new fan.
Wild Cub. Photo by Mary-Beth Blankenship.
Wild Cub alone could have packed the room in most ordinary circumstances, but, this particular evening, I got the sense that the American Authors and Oh Honey fans, especially those attracted by their radio and Glee pulls, respectively, had the hometown crowd outnumbered. Wild Cub are a bit of an odd band to crack. Their debut, Youth, which I adore, is much darker and moodier than one might expect, if only familiar with breakout single "Thunder Clatter." Their live show is an extension of this moodiness, alternating between energetic, poppy bursts and dark, layered, and droning runs. Champion performers, Wild Cub always seem to feed off of the energy of being home, and their Nashville sets are unparalleled. Rocking a shirt that simply read "HEY Y'ALL," frontman Keegan DeWitt blasted through the set with even more poise and confidence than usual. The guys have been out on the road for the past several months straight (the longest stretch of their career, I believe), and it shows. While always an incredible live band, Wild Cub sounded road worn and almost automatic in their performance, allowing tunes like "Colours," "Blacktide," and, of course, "Thunder Clatter" to land harder and sound more filled-out than ever before.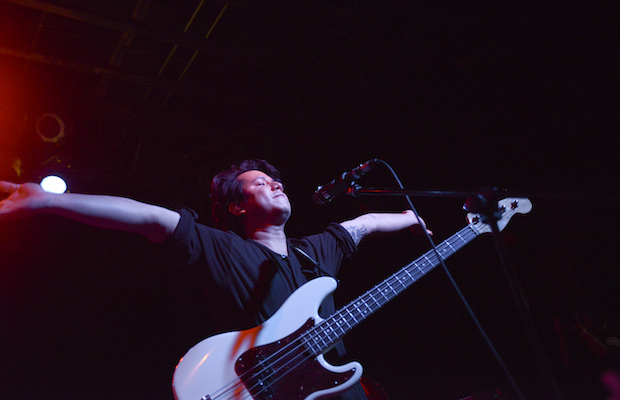 American Authors. Photo by Mary-Beth Blankenship.
Surprisingly, the crowd began to thin a bit throughout American Authors' set, a fact made even more shocking since they saved "Best Day of My Life" for last (it was, however, a school night and a late show). My first experience with the Brooklyn band was last summer, when I chatted with them and caught their performance at Lollapalooza. At that time, they were beginning to see traction based on some smart placements; in the 9 months since, they've essentially exploded. Riding high with "Best Day" and garnering great response with their full-length debut, Oh, What a Life, American Authors have gone from opening a show at The End to headlining the considerably larger Exit/In in mere months. Only time will tell if their traction will list, but, based on their quickly-adopted and seasoned-beyond-their-years live show, I'd say these guys are the real deal. Former students of the Berklee College of Music (where they got their start), American Authors are not just expert musicians, but excellent showmen. Working the Exit/In stage as if it were a much larger room, the group not only sounded great, but also engaged the audience on a profound and personal level, never losing steam or energy, even throughout the newer and lesser-known tracks. Assisted by an extra live musician, the band flexed their range from more traditional indie rock to trendy, indie folk, proving their versatility and cementing their broad appeal. I'm curious to see what the next few years have in store for this group, and want to leave you with a bit of advice: don't write American Authors off based on their lucky break; this is a band worth a second listen. Preferably in a live setting.
_