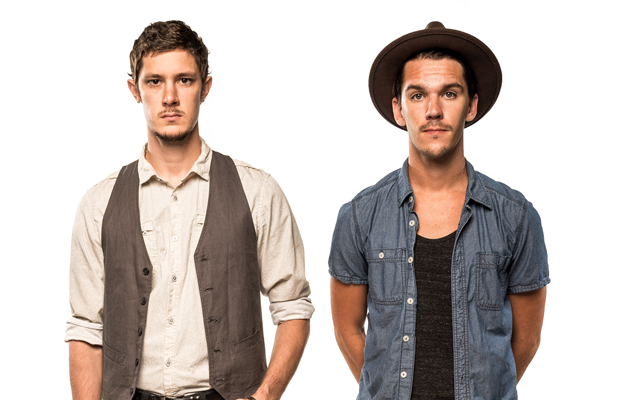 Tonight's the night! As we told you last month, Nashville (by way of Birmingham) folky/poppy/country rock duo (and the rest of their band, now officially billed as members) John and Jacob will return TONIGHT, April 10, to 3rd and Lindsley. Their last Nashville outing (and first headlining date ever in Music City), also at 3rd and Lindsley, sold out ahead of time back in January, so, if you're ready to see what all of the fuss is about, grab your tickets now for round two! Seryn will support, and we've got more about the bands after the jump!
JOHN AND JACOB
Duo John and Jacob have been writing together for the better part of a decade, and have amassed an impressive array of accolades: a Billboard #1 song, an MTV O Music Awards nomination, love from Red Bull, CMT, and Lightning 100, and, most recently (and perhaps prominently), a featured song on ABC's Nashville. Drawing from old school country, pop, and soul influences and channeling folk and rock sensibilities, the duo have an organic knack for writing relatable and unpretentious tunes that are sure to appeal to fans of all genres. Check out our interview with the band from earlier this year and review of their sold out last appearance at 3rd and Lindsley, and keep an eye out for their debut full-length this summer!
SERYN
Denton, Texas folky, indie pop outfit Seryn boast diverse instrumentation (seriously, they can rock a ukelele like no other), an incredible ear for arrangement, and a knack for crafting hypnotic, unbeatable hooks and sweeping harmonies. They find their way to Music City often, and fit right in with Nashville's landscape of tremendous players and songwriters. A natural, logical fit to support John and Jacob, Seryn are more than enough reason to be sure to show up early tonight.
John and Jacob and Seryn will perform TONIGHT, April 10, at 3rd & Lindsley. The show is all ages, begins at 8 p.m. (doors at 6 p.m.), and tickets are available to purchase for $10.