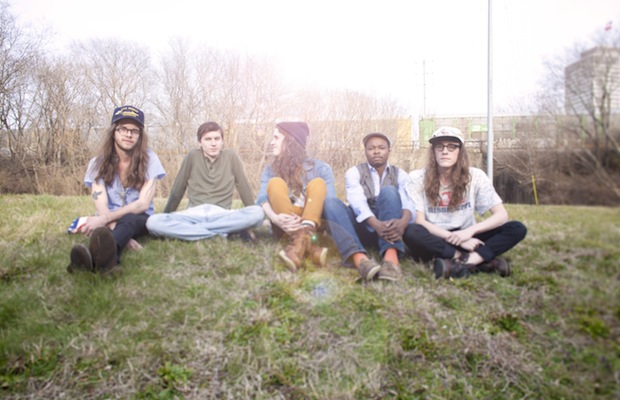 Last we heard from The Weeks, they were opening for buzzy newcomer Jake Bugg at the legendary Ryman Auditorium, and, not long before that, they took over Mercy Lounge for an epic two-night stand, with a handpicked batch of quality supporting acts. For their latest headlining outing, the Mississippi transplants will return to Cannery Row for a scaled-down affair, this time at Cannery Ballroom, with just fellow local artist Robert Ellis as support. The show's still a month away, May 10, but in celebration of the boys' first proper home base headlining show of 2014, we're giving away a pair of tickets. Read on for details on how to enter and to find out more about the bands, and snag your tickets here if you just can't wait.
THE WEEKS
If you're an active reader of this site, then you should know all about The Weeks. Originally form Mississippi, but pretty firmly settled into Nashville at this point, the southern rock quintet have had a spectacular past few years. We've seen them grow from local opener to East Nashville Underground headliner to festival staple, nationally renowned touring act, and home base headliner. Signed to Kings of Leon's Serpents & Snakes Records,  the group released their best record to date, Dear Bo Jackson, last year, and have been touring the world pretty much nonstop ever since. With their busy schedule these days, The Weeks' Nashville shows are less and less frequent; that, paired with their ever-growing, road-worn performance chops, make them one of Music City's unmissable live acts.
ROBERT ELLIS
Hailing from Texas but based in Nashville, singer-songwriter Robert Ellis is not only a friend of The Weeks', but a perfect match to open for them. Ellis' sound is so eclectic that a single description could barely do it justice, but his haunting, deeply personal delivery, ear for layered arrangements, and affinity for old folk and country is undeniable. His latest album, The Lights from the Chemical Plant, is one of the best Nashville release of 2014 so far. Listen for yourself below!

_
ENTER TO WIN TICKETS
Must be 18+ to enter, per show's age requirements. Winner will be announced Monday, April 21 at 5 p.m. CST, and will receive a pair of tickets. For a bonus chance to win, RSVP to the event here, and share it on your Facebook wall. Enter below (you will be redirected to your e-mail, where you will need to hit send):
If you're having issues with the above form, you can alternately send your full name in an e-mail to [email protected] with "The Weeks Giveaway" in the subject line, and please let us know if you shared on Facebook.
_
The Weeks and Robert Ellis will perform May 10 at Cannery Ballroom. The show is 18+, begins at 8:30 p.m. (doors at 7:30 p.m.), and tickets are available to purchase for $15 in advance and $17 the day of the show.