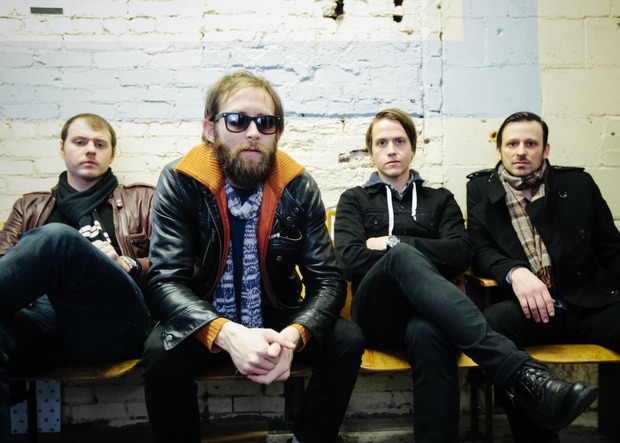 We ran a ticket giveaway last summer when MODOC rolled through Mercy Lounge, and it certainly has been a big year for the Nashville rockers. So, you know we are excited that they are coming back to party with us this Sunday as part of Nashville Sunday Nights.  The opener for this one is just an added bonus with blog faves All Them Witches.  Per usual, Nashville Sunday Nights takes place at 3rd & Lindsley, and doors open at 6pm… which is recommended for those who want to relax to wind their weekend down before the show kicks off at 8pm.
We run through both of the acts below, and also give you a chance to enter to win a pair of tickets to this show.  Of course, if you aren't the gambling type, you can just go ahead grab your tickets here.
MODOC
Fuzzy, hard hitting, and tight as hell, MODOC is definitely rock on the rise. While many of us in Nashville may take the local rockers for granted, we may lose our privileges soon. Beyond numerous festival appearances, MODOC has gotten placements with quite a few television shows, as well as, being named Fox Sports' "Band Of The Week" last month. Needless to say, the rest of the country is taking notice of the Nashville rockers, so it is probably time that you go hang out with these fellas while it is still a hometown gathering. The release of the official video for their hot single "Runnin" is coming out soon, but, in the meantime, you can get the vibe in the session shot live at Smoakstack Studios below.
ALL THEM WITCHES
In this time of football bowls and playoffs, MODOC better not overlook their opener for fear of the upset. All Them Witches have been impressing the hell out of us with their powerful bluesy rock sounds for a while now, but we were blown away seeing them perform at our recent caroling party. They stripped down the classic carol "Do You Hear What I Hear?" with a largely violin fronted instrumental version, which further showcased the talent of these incredible musicians. We often tell folks to get their in time for the openers, but this time we implore you to get there early or you will miss out.

_
ENTER TO WIN TICKETS
Must be 18+ to enter. A winner will be announced Friday at Noon, and will receive a pair of tickets. For a bonus chance to win, RSVP to the event here, and share it on your Facebook wall. Enter below (you will be redirected to your e-mail, where you will need to hit send):
 _
If you're having issues with the above form, you can alternately send your full name in an e-mail to [email protected] with "MODOC Giveaway" in the subject line, and please let us know if you shared on Facebook.
MODOC & All Them Witches perform Sunday January 12th at 3rd & Lindsley. The show is all ages, begins at 8pm (doors at 6pm), and tickets are available to purchase for $10.