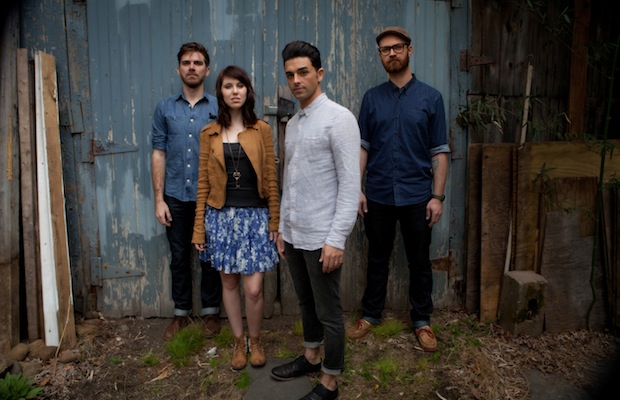 If you think you spot a familiar face above in Twin Forks– yep, that Chris Carrabba of Dashboard Confessional (and Further Seems Forever) fame. If you're expecting a Dashboard 2.0, however, you can forget it. A thoroughly new, refreshingly sincere, and sonically different act in every way, Twin Forks are firmly rooted in folk, Americana, and indie pop. This is not some sort of self-indulgent side project, or a way for Carrabba to prove his range- this is a real, and really incredible, band. Dashboard fans will certainly find something familiar in Chris's unique voice (which just seems to get stronger and stronger with age), but, fan of Carrabba's previous work or not, everyone should approach Twin Forks with an open mind and blank slate.
Joined by North Carolina's Matrimony and Nashville's own Great Peacock, Twin Forks will make their Nashville debut this Thursday, Oct. 10 at The End. Tickets are still available online right here, but, if you're feeling lucky, you can enter to win a pair below! Keep reading for contest details, as well as more about all three bands!
TWIN FORKS
Rounding out Twin Forks are The Narrative's Suzie Zeldin, Bad Book's Ben Homola, and Jonathan Clark. The group, who formed earlier this year, have been touring relentlessly, and just released their fantastic eponymous, debut EP. Despite the fact that poppy folk bands are a dime a dozen these days, Twin Forks have managed to carve out a unique niche of their own. Their songwriting is top-notch, their command of composition and blend of influences shows off a deeper understanding of the musical tradition that informs the genre than most of their peers, and their pop sensibilities allow their songs to exist with an accessibility, yet maturity, that few other acts have managed. Twin Forks don't sound like just another folk band, because they aren't. They're a band writing honest, genuine, folk-informed songs on their own terms, and they're damn good at.
MATRIMONY
We first told you about North Carolina's Matrimony ahead of their debut at Bonnaroo earlier this year. As the name would imply, the group was formed through a marriage. Folky Irish singer Jimmy Brown married indie singer-songwriter Ashlee Hardee, whose brothers later joined the band, and, through matrimony, Matrimony was born. Channeling folk tendencies and blending them with some edgier, rock-influenced aesthetics, Matrimony is a great fit to compliment Twin Forks.
GREAT PEACOCK
Hailing from Nashville, folky pop duo Great Peacock, whose named started as a joke, have honed their knack for crafting hook-laden, emotionally dense, and harmony-filled tunes that balance an old folk appreciation, rock sensibilities, and modern indie pop sound. They share the passion, sincerity, and uniqueness of the touring acts on the bill, and are a great reason to show up early.
_
ENTER TO WIN TICKETS
Must be 18+ to enter, per the show's age requirements. Winner will be announced Thursday, Oct. 10, at noon, and will receive a pair of tickets. For a bonus chance to win, RSVP to the event here, and share it on your Facebook wall. Enter below (you will be redirected to your e-mail, where you will need to hit send):
If you're having issues with the above form, you can alternately send your full name in an e-mail to [email protected] with "Twin Forks Giveaway" in the subject line, and please let us know if you shared on Facebook.
_
Twin Forks, Matrimony, and Great Peacock will perform 10/10 at The End. The show is 18+, begins at at 8 p.m., and tickets are available to purchase for $12.50.