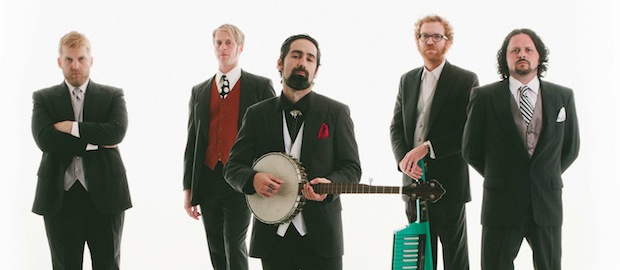 Long time No Country faves, Blitzen Trapper, roll through town tonight in support of their upcoming seventh release, VII, which releases on September 30th via Vagrant. We've seen these guys a bunch of times now, and it is always an awesome experience of experimental folk. New local pop sensations, Phox, get things started around 9pm. Get out to see some live music tonight!
BLITZEN TRAPPER
Blitzen Trapper were a favorite since their 2007 release Wild Mountain Nation, and then were blown away by the follow up Furr in 2008. The 2010 release Destroyer of the Void might have missed a bit of the mark for us, but they quickly corrected that with their 2011 release American Goldwing. Based on our initial peeks at VII, and we feel like this is going to be another solid release from Portland's favorite experimental folk band. You can have a listen to the gospel inspired "Shine On" below to get an idea of what to expect.
PHOX
Where did PHOX come from? They just appeared from a poof of smoke within the last couple of months. I mean, we kinda keep an ear to the ground with new bands about town, but this one just appeared out of no where. Luckily for all of us, the Nashville via Wisconson band are a solid new addition that hopefully we will see a lot more dates for in the coming months. You can check out their playful Audiotree video for "Evil" below.
Blitzen Trapper and PHOX will perform September 23 at Mercy Lounge. The show is 18+, begins at 9pm (doors at 8pm), and tickets are available for $14 in advance or $16 at the door.