Unless you have been living under a cyber rock for the past couple of weeks, you know that we are having our Two Year Anniversary Party this Saturday (May 25th) at The Basement. We've already brought you articles/interviews with Ben Elkins of EL EL, Jared Corder of *repeat repeat, Milktooth, and Daniel Ellsworth, who will also be bringing Beck's "Song Reader" sheet music to life.  We'll be spotlighting more of the folks that have joined our bill as we round out the week. But, right now, let's talk about Colorfeels.
Ok, ok. Colorfeels are actually bringing the party to the party after the "Song Reader" portion of the night with a full live set of their own music, but it's not a party if you leave someone out (that's lots of party)! So, we sat down with Saturday night's headliner to find out what they have been up to, their thoughts on Beck, and the "Fun Maker". If you haven't partied with Colorfeels before, trust us, you are in for a treat.
Our Colorfeels interview and some tunes are after the jump. There is more info about the party at this link here, or you can hop over to the Facebook page if that is more your speed. This thing is surely going to reach capacity, so make sure you get there early to celebrate this special night of music with us!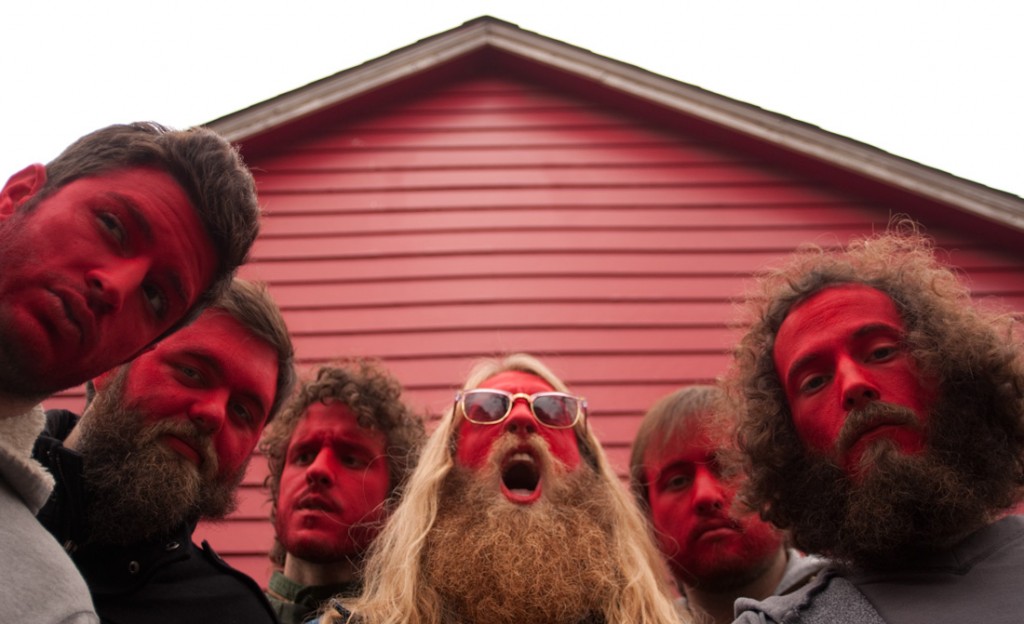 Colorfeels have certainly been on our radar since we started this little rag two years ago. We were big fans of their 2011 full length Syzygy as well as their 2012 single "Shapes", and, seeing them again a few weeks ago at the Cinco de Bike-O party, we knew we had found the right guys to take us into year three with a bang. We sat down with Parker Cason (guitar), Justin Maurer (guitar, keys), Josh Minyard (percussion, keys), Matt Scibilia (drums), and Taylor Zachry (bass), who are your Colorfeels, to find out a bit about what they have been up to. Be sure to check out some of their music below to get you in the mood!
Tell us a little bit about what Colorfeels have been up to?
We purchased a 15-passenger van in February and spent most of March touring from Atlanta to Austin to New York City and everywhere in between. It's been great playing with the current five-piece of Colorfeels, which including at least three keyboards, two sets of drums, and a handful of guitars.
We've definitely enjoyed your earlier releases, and your live shows just kill. So, what's coming up next for you guys?
We've been playing some new songs in our live shows that really need to be recorded. One of our goals for the summer is to do something about that. We plan to lay low, and spend a lot of time in the studio. So, our advice is to keep your ears open for more new Colorfeels material soon.
We've asked a few folks this question, so, it's your turn now. With all the bands in Nashville, why should people come out to see your show/band?
Our Wurlitzer "Fun Maker" always lives up to its name.
What do you think of Beck, and his song reader idea?
Beck is a damn genius.
Do you guys play any Beck covers, or are there any of his tracks that grab you guys?
We learned "New Pollution" a while ago. It will most likely see the light of day once again this Saturday. It's an amazing party jam and a lot of fun to play.
Who are you most excited to see perform the Beck "Song Reader" at the party?
We have a warm place in our hearts for Mr. Ellsworth and his Great Lakes. We seem to run into them a lot, including in Savannah, GA. Additionally, Steve Lee booked us for one of our first "8 off 8th"s, and his music is awesome. He's a great choice for playing Beck songs.
—-
Check out some Colorfeels tracks below, and realize why you want to be at this party!