"Long distance information, give me Memphis, TN…"
And Memphis in mud it was! For those of you who aren't from the 901, Memphis in May (MIM) is a month-long festival that is made up of 4 main events, and we got to check out the kick-off event of this year's fest: The Beale St. Music Festival. The other 3 events include International Week (events highlighting the country selected to be showcased; this year's is Sweden), The World Championship Barbeque Cooking Contest, and the Sunset Symphony. Thanks to photographer Shawn Jackson of Sundel Perry Photography, we have tons of exclusive photos for you as well as our thoughts on the festival after the jump!
We fittingly started the Swedish-themed festival with the talented multi-instrumentalist from Sweden most famous for his technical abilities as a guitarist, Yngwie Malmsteen.
Can you shred with your teeth? (Seriously, if you can, email me because I want to know how.) Yngwie kept the rock going even though the temperature was dropping to the low 40s by that point.
Next on our schedule were Grammy-winning rockers (and one of our personal favs) the DEFTONES. The band made one of their first appearances since the April 13th death of the band's former bassist, Chi Cheng, who had been in a coma since 2008 due to a car accident. Rock-lovers in the crowd knew the Fedex Stage was the place to be on Friday night.
Competing with the 10:45ish timeslot for Hall & Oates (we love them too, but have not yet figured out how to teleport) were grunge heroes Alice in Chains.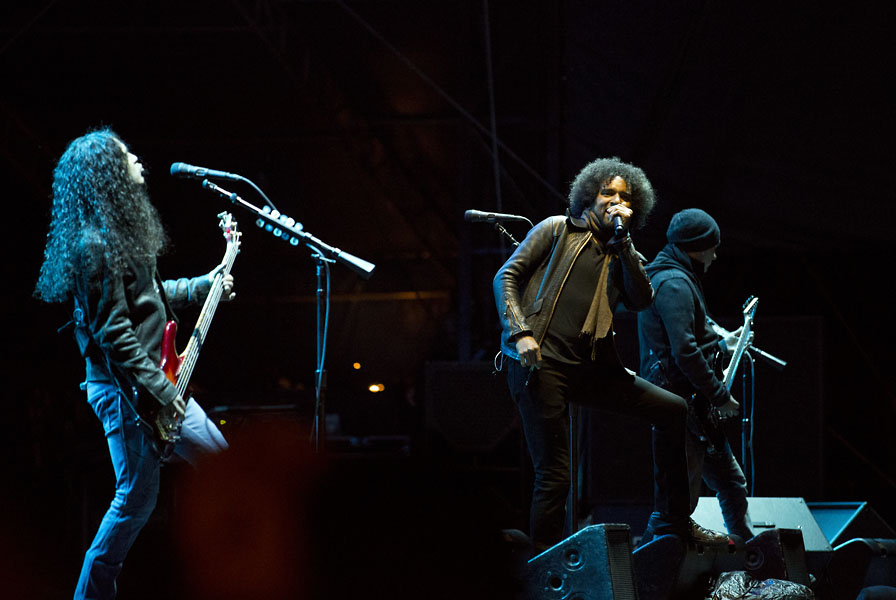 We returned on a cold May Saturday (did I mention it was crazy muddy?) to catch another full day with a killer lineup. Highlights for us included The Black Keys, Blind MS Morris, soul queen Mavis Staples, rock n' roll pioneer Jerry Lee Lewis, The Roots, and Dwight Yoakam. 
Sunday we finished strong, and got into some Vintage Trouble, Gary Clark Jr., Smashing Pumpkins (yes, they're still a band – and they still rock), Three Days Grace, and Public Enemy. 
If you missed out on Beale St. Music Fest this year, be sure to sign up for a Ticketmaster alert by adding the festival to your favorites, so you can snag a 3-day pass when they go on sale next year for around $80. Seriously, I dare you to find a festival with a better lineup that is cheaper. Want more? Check out our gallery below for more exclusive pics.