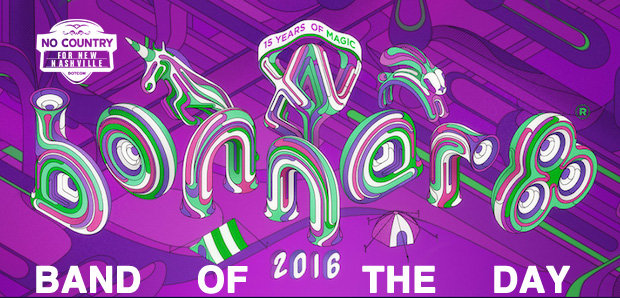 Bonnaroo Artist | Adventure Club
Bonnaroo History | Newbie
Stage & Time | Saturday night | The Other Tent | 1:45 a.m.
As we've been doing for the past several years now, we're making it our mission to help you get acquainted with as many bands as we can from Bonnaroo's impressive 2016 lineup.  We'll start from the bottom and work our way up, paying special attention to the smaller and lesser known acts on this year's bill. Keep reading for your Bonnaroo Band of the Day…
LEARN
It's no secret that Bonnaroo has joined festivals all over the country in providing late night EDM sets with some of the top producers and DJs in the biz to keep the kids moving late into the night.  This year is no different, as rising Montréal duo Adventure Club will be providing the late night beats on the backside of Centeroo at The Other Tent.  Adventure Club first made waves in the EDM scene with their inventive remixes of artists like Brand New, Metric, Temper Trap, or Alexisonfire, to name a few, and their debut EP, Calling All Heroes, put their original work on display.  The EP shot to the top of the iTunes Dance Album charts, and singles began raking in #1's on music aggregator site HypeMachine, further highlighting their perfect melding of viscous dubstep synths along with delicate vocals and upbeat melodies.
The rising success offered up new opportunities for the young duo, including a collab with Krewella on the total banger "Rise & Fall," and spots on almost every EDM focused festival in the world, as well as more mainstream festivals like Lollapalooza.  What audiences have discovered as Adventure Club's tour miles rack up is that their live show is a sight to behold.  Backed with an arsenal of visual effects and LED panels, the experience is far beyond the music.  This should be a perfect late night snack for the spaced out wandering masses on the Farm.  It is worth some serious consideration on your schedule, because even if you don't particularly dig their sound one second, just wait, they'll hook you the next.
LISTEN | "Rise & Fall" (ft. Krewella)
WATCH | "Gold"
CONNECT
More from Adventure Club | Site | Facebook | Twitter | Spotify
More from Bonnaroo | Tickets | Lineup | Site | Facebook | Twitter