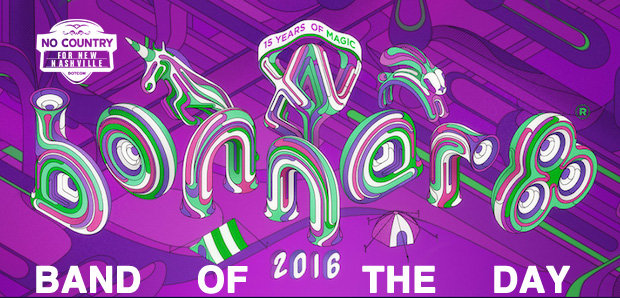 Bonnaroo Artist | Lord Huron
Bonnaroo History | 2013
Stage & Time | Sunday | This Tent | 7:45 p.m.
As we've been doing for the past several years now, we're making it our mission to help you get acquainted with as many bands as we can from Bonnaroo's impressive 2016 lineup.  We'll start from the bottom and work our way up, paying special attention to the smaller and lesser known acts on this year's bill. Keep reading for your Bonnaroo Band of the Day…
LEARN
Indie folk band Lord Huron have supplied an original yet vintage approach to music since they first came together in 2010. Founding member Ben Schneider recorded three songs that were inspired by his relationship with nature and the world around him during a trip from Los Angeles to his original home in Michigan. He eventually released the tracks as the Into the Sun EP, which gained a huge cult following. Schneider recruited some of his longtime friends to help him recreate the songs in a live setting (drummer Mark Barry, bassist Miguel Briseno, and guitarists Brett Farkas and Tom Renaud), and the group released a second EP, Mighty, just a few months later. Thanks to the success of their track "The Stranger," they earned coveted spots at many major music festivals, including Lollapalooza and Outside Lands.
In 2012, the band signed a deal with IAMSOUND Records and headed into the studio to record their debut full-length album. Lonesome Dreams was released later that year to huge acclaim for its infectious story-songs and stunning Western-inspired visuals that helped make the band stand out during a time when many bands were striving to be the next Lumineers.
After nearly two straight years of touring, Lord Huron regrouped and headed to Whispering Pines Studios in Los Angeles to record their next project. 2015's Strange Trails keeps the style and sound that fans have come to know and love and evolves it into something utterly special. Fans and critics hailed it as one of their best releases yet, causing the album to debut at number one on the Billboard folk chart. Although their recorded works are incredibly well produced and thought out, their live show is just as beautifully orchestrated. Make sure you catch their set at This Tent and help wrap up your weekend with some of the most stunning and entrancing modern-day folk pop around.
LISTEN | "Time to Run"
WATCH | "Fool For Love" (Official Video)
CONNECT
More from Lord Huron | Site | Facebook | Twitter | Spotify
More from Bonnaroo | Tickets | Lineup | Site | Facebook | Twitter