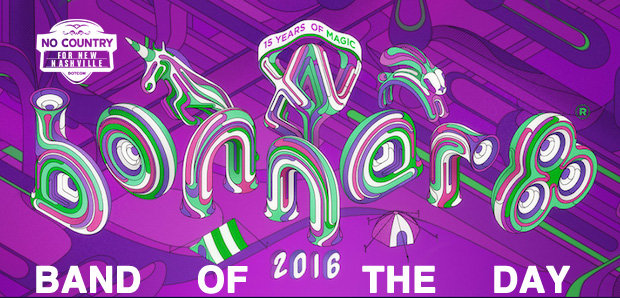 Bonnaroo Artist | Cymande
Bonnaroo History | Newbie
Stage & Time | Sunday | Which Stage | 1:45 p.m.
As we've been doing for the past several years now, we're making it our mission to help you get acquainted with as many bands as we can from Bonnaroo's impressive 2016 lineup.  We'll start from the bottom and work our way up, paying special attention to the smaller and lesser known acts on this year's bill. Keep reading for your Bonnaroo Band of the Day…
LEARN
Funk band Cymande are comprised of Caribbean born and London bred musicians who were first discovered in 1971 when they met producer John Schroeder, who worked hard with the group in crafting a sound that drew from afro-beat, reggae, rock and roll, and funk. The result was the exciting and original sound of their Chess/Janus Records self-titled debut, which became the fastest selling album the label had ever put out. The group quickly found themselves touring with greats like Al Green, Kool and The Gang, and Albert King, among others, reaching audiences worldwide with their newfound fame. Cymande joined The Beatles and The Rolling Stones in the list of British history makers in America, beoming the first British band to perform at the Apollo Theatre in Harlem, New York. Their success continued all the way up to 1975, when the band stopped touring. After decades away from music, Cymande returned in 2014 with a slightly altered lineup but the same group sound.
The band's style can simply be described as upbeat and versatile in their ability to switch around through a plethora of different styles, anchored by grooves led by talented drummer Sam Kelly. Navigating British funk, nyah-rock, afro-rock, and calypso rock, the  the group are hold down a Highlife feel in songs like "Bra," while tracks like "Breezemen" truly showcase their funk and jazz talents. Cymande have managed to cast their unique mark on musical history; perhaps not as big as some of their peers, they are no less legendary, and they're sure to be the perfect way to help kick off your final day at Bonnaroo.
 LISTEN | "Bra"
WATCH | "Do It (This Time with Feeling)" (Official Video)
CONNECT
More from Cymande | Site | Facebook | Twitter | Spotify 
More from Bonnaroo | Tickets | Lineup | Site | Facebook | Twitter