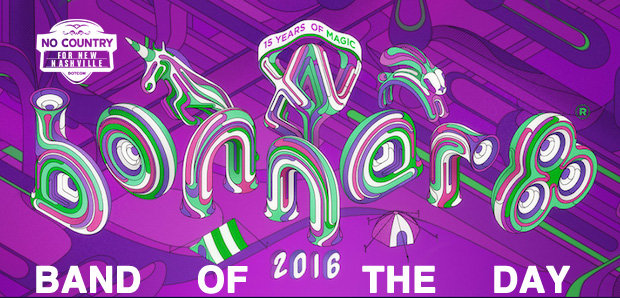 Bonnaroo Artist | Polly A.
Bonnaroo History | Newbie
Stage & Time | Sunday | On Tap Stage | 7 p.m.
As we've been doing for the past several years now, we're making it our mission to help you get acquainted with as many bands as we can from Bonnaroo's impressive 2016 lineup. In addition to the main stage acts, we also want to be sure to give the Club Stage bands some love, so, for the remainder of our coverage, we'll be doubling up with a second daily spotlight. They might be the smallest artists on Bonnaroo's bill, but the Club Stage boasts some of the best and most exciting up and coming acts around. As with our main stage previews, we'll start from the bottom and work our way up. Keep reading for your Bonnaroo Club Stage Band of the Day…
LEARN
Milwaukee bred and New York based, Polly A. (aka Meleni Smith) has had quite the journey to reach her musical dreams.  She got her first taste of music in the family home, and discovered her voice in grade school.  After high school, she moved to New York to embrace her musical dream, and began to take things seriously as a student at Columbia University.  She found a home for a brief time at Columbia Records, where she made some waves with the track "Meet Me In The Bathroom" in 2005.  After an amicable split, Smith focused her energy on songwriting, contributing singles for Alicia Keys, Selena Gomez, Natasha Bedingfield, and a co-write credit for J. Cole's "Crooked Smile." The songwriting wasn't fulfilling her completely though, and she signed to Adam Levine's 222 Records in 2015, through which she is about to release her official debut EP Ghetto Gold Dream.
An artist that weaves influences of R&B, reggae, alternative, and hip hop into her music, her debut single "The Brooklyn Sun" focuses those influences into her personal sound, which is bound to appeal to the pop starved masses.  Her late Sunday set and the pick me up musical output should be a perfect exclamation point for sun-saturated and exhausted fans at Roo.  Head below to get familiar to see what we're talking about with a video for the new single and a really fun track "Nature" from a 2014 mixtape called Distorted Fairytales.
LISTEN | "Nature" 
WATCH | "The Brooklyn Sun" (Official Music Video)
CONNECT
More from Polly A. | Site | Facebook | Twitter | Spotify
More from Bonnaroo | Tickets | Lineup | Site | Facebook | Twitter