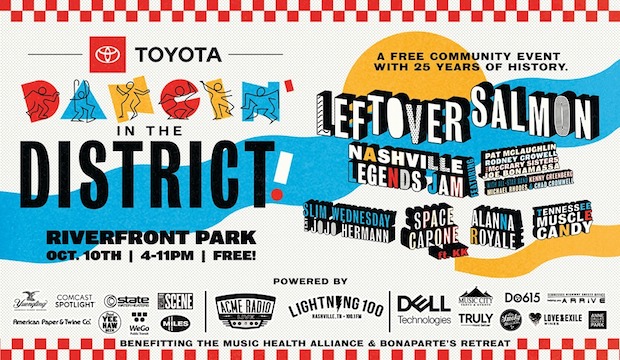 An event that predates the launch of our own site, though one longtime Nashville residents surely remember and hold dearly, community-focused, all ages, free music festival Dancin' in the District was founded in the early '90s by local restauranteur and entrepreneur Tom Morales, responsible in subsequent years for famed local spots like Acme Feed & Seed (whose Acme Radio division helped revive the event). Something of a spiritual precursor to similar festivals like Live on the Green and Musicians Corner, Dancin' began at a time when Lower Broadway had largely drifted away from its musical history, becoming rundown and largely abandoned by locals, and its surge in popularity as a free, weekly musical event is credited with helping revitalize interest in what has since become the city's tourist epicenter and development core.
Though, for now, the exciting return of Dancin' after a decade has simply been announced as a one-off celebration of the festival's history and a reminder of the downtown community spirit that the prior incarnation embodied, we're hoping it won't be so long until to see it once again return in one form or another in the future. Boasting a cool lineup of Leftover Salmon, a "Nashville Legends Jam" with Pat McLaughlin, Rodney Crowell, The McCrary Sisters, and Joe Bonamassa (with an all-star band of Kenny Greenberg, Michael Rhodes, and Chad Cromwell), plus Slim Wednesday ft. JoJo Hermann, Space Capone ft. KK, Alanna Royale, and Tennessee Muscle Candy, the all ages, family friendly, totally free festival returns tonight, Oct. 10, from 4-11 p.m. at Riverfront Park downtown! Expect local venders and sponsors in addition to tons of great music, and find out more right here.
Dancin' in the District takes place today, Oct. 10 at Riverfront Park. The festival is all ages, begins at 4 p.m., and admission to totally free.
More from Dancin' in the District | Site | Facebook | Instagram